Matt Tildesley
Fathers' support forum was a lifeline in a difficult time, says Matt Tildesley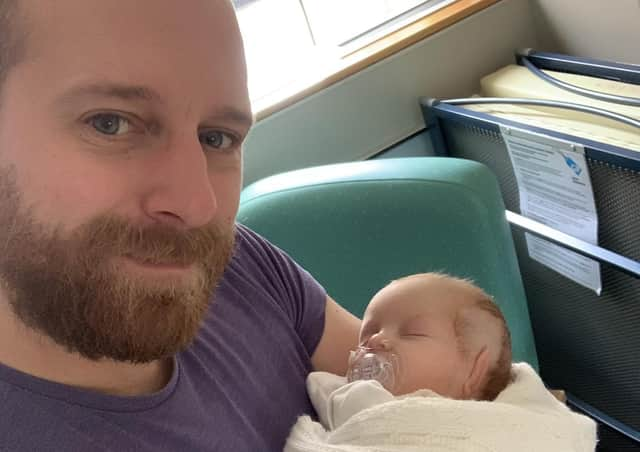 Matt Tildesley with his daughter Aurora-Grace
I'm a father and a policeman. It was a group of men, just like me, who helped support me after my newborn daughter, Aurora-Grace, was diagnosed with a rare form of childhood cancer when she was just 14 days old.
Children's cancer charity, CLIC Sargent's Mind the Chaps is an open and welcoming support forum for dads whose child has or has had cancer. It's a space where fathers can go to talk freely and share their feelings with other men and dads who are going through similar experiences.
It's also where I found an unexpected source of support and strength after Aurora was diagnosed with neuroblastoma, two weeks after she was born. Neuroblastoma is a rare form of cancer that mostly affects babies and younger children.
While changing a nappy one day, my partner Emily, noticed Aurora's tummy was much bigger than normal. Initially when we went to the doctor it was diagnosed as wind. However, Emily wasn't so sure and we sought a second opinion. This time it wasn't dismissed as wind and the doctor was much more concerned. Within about 24 hours of seeing the doctor we were told to take Aurora to the Sick Kids Hospital and get her checked over as the examining doctor wasn't happy with what they were seeing.
Within three days our lives changed completely. We went from the Thursday and her being diagnosed with wind, to Friday evening being in Sick Kids, and by Saturday we were taken into a room in the hospital and told "your daughter has cancer".
It was almost surreal, you don't realise what's happening. You just jump through it and everything's going by in a bit of a blur.
Several weeks later, I joined the Mind the Chaps support group on Facebook. It was somewhere I could go to and speak with other dads who had or were going through exactly what I was.
People on the outside of this world of cancer don't understand it but once you're in this bubble, speaking to people with the same minds who know what you're going through and have been through it themselves – it's reassuring, a bit like a comfort blanket.
It's almost – it sounds strange to say or think it – but reassuring to know that other people are going through what you're going through. To share emotions and lend advice and give you wee words of hope.
After three cycles of chemotherapy and several Mind the Chaps meetings, Aurora finished her treatment in June last year. She's happy and healthy and along with her four-year-old big brother, Jacob, we're enjoying life at home together.
I'm still part of the group today and having been through this I'm able to return and offer the same support I was lucky enough to receive to other men and dads whose children are going through treatment now.
CLIC Sargent is the UK's leading charity for children and young people facing cancer and their families, working to stop a cancer diagnosis destroying young lives.
It has received nearly £11 million since 2016 thanks to players of People's Postcode Lottery.
This funding allows CLIC Sargent to provide care and support, financial assistance, home from homes – spaces close by to hospitals where families can stay during treatment, and much more.
During the pandemic, CLIC Sargent has been working tirelessly to keep its homes for families in Edinburgh and Glasgow open.
CLIC Sargent currently has ten Homes from Home across the UK, which help families avoid the stresses of travel and accommodation costs while providing a place for them to be together close to the hospital.
CLIC Sargent's associate director of services Tracy Cosgrave, said: "Cancer doesn't stop for Coronavirus. Parents are still being told the devastating news their child has cancer and that's why we are fighting hard to keep our Homes from Home near hospitals open so that we can continue to be there for the families of children and young people living with cancer at a time when they need it most."
Matt Tildesley, Police officer and CLIC Sargent Mind the Chaps service user
Want to join the conversation? Please or to comment on this article.