Lou Reed's Perfect Day has got me thinking about how to create one in these troubled times – Jim Duffy
Lou Reed performed the song Perfect Day. It had not been one of my favourites, to be honest. Until now.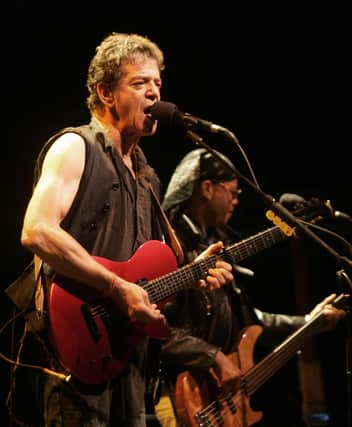 Something has changed this year. There has been a shift in how I am feeling about things, about stuff. Some things that were important a year ago and front of mind are no longer occupying my thoughts.
I don't have the fight in me that I had a few years ago. More mellow? Maybe. Perhaps it's growing older, less testosterone, not as fit and supple as I was and not sleeping as good as I used to.
My mental health is good and I am eternally grateful for that. This pandemic has changed how many of us think and act and feel. For me, it has made each day that little bit more important as I strive to have my Perfect Day.
For years as so many of us worked long hours, fought with bosses or partners or neighbours etc, we may have missed so many opportunities for that Perfect Day. Running too fast with stuff, burning the candle at both ends and seeking advancement in careers can take its toll on our lives.
Not nirvana every day
Raising kids is not easy either as we worry about them, their health and well-being, their education, their friendships and their futures. And then we have that boomer generation, my generation's parents, who we now need to look after as they too advance in years at a time when the pandemic has robbed so many of a lifestyle and, in many cases, life itself. This all makes me think hard when I wake up in the morning about creating that Perfect Day.
Listening to the lyrics in the Lou Reed song is good to do. But, I guess many of us are not looking for nirvana every day. I don't think that's on the table. What is and could be is just knowing that we can influence someone's life for the better for a few moments. Perhaps cherish that cup of tea or coffee with a family member. Take that little bit extra time to get inside the head of our kids and grand-kids to help them work out their "problems". I think that could be the makings of a Perfect Day.
But, there is so much more to it than that and it has to start with mindset.
The world just now is obsessed with so many things that we have no control over, but which take so much space in our mental hard-drives. Our brains only have so much capacity. A bit like the hard drive on a computer. We buy a computer or iPad-type device and it comes bundled with say 128 gig of memory space. That space is where stuff is stored. And it gets cluttered with documents, security updates, files, photos and a whole lot more. But, just imagine that to be your brain. Despite your best efforts to organise it, it gets very busy and this affects its performance and ultimately our performance.
Shouting at the radio
This may resonate with you. With a lot going on inside our heads, we can wake up discombobulated before the day even starts. And that is not great for creating a good mood. Or we can let events of the day get to us. One only needs to look at the chaos and volatility being played out in the USA at the moment to feel anxious. Who actually is the President-elect and what will Trump do in the next 90 days? It is frightening to think what could play out. Throw in an economic recession, people losing jobs and businesses and the list goes on. These events can affect mood, mindset and interfere with our attempts to just to function well.
But, simply knowing that and accepting that these events are outwith our control is good, but ultimately my day today will not really affect many outcomes. Perhaps thinking more about creating a Perfect Day for those around me is more important than shouting at the radio when I hear the most offensive gibberish being espoused by US politicians and commentators.
My question to you for his weekend is what efforts you will make to de-clutter the hard drive in your head and empty it of superfluous "stuff". Can you get more grounded to simply enjoy moments? I hear a lot about people talking about 'getting in the moment'. And you know what? It is jolly hard do to, especially if like me you have ants in your pants and think like a futurist. Alas, it takes discipline as it is so very important.
A flower for a loved one
Each of us will be able to play out a Perfect Day in our minds. But, making that happen is not as easy. I could give advice, but I'm just learning myself. And learning is actually great fun.
It's the little things I think. Picking a flower and giving it to a loved one. Sending a "good morning" WhatsApp or text to someone and wishing them a fab day. Emptying the dishwasher before being asked. Acknowledging a kindness or piece of work someone did. Buying a £10 gift on Amazon or even better at a local shop and gifting it to someone. Enjoying a relative's time together. Looking at some old photo albums together. Baking a cake, yes even a Betty Crocker. Watching a movie with someone. Smiling at a stranger.
For many, there is no such thing as a Perfect Day. It's just a chimera. I'm not so sure. Four or five little things in any day can make it perfect. I think the best line in Lou Reed's song is this: "Just a perfect day – you made me forget myself."
How wonderful would it be to do that for another human being?
A message from the Editor:
Thank you for reading this article. We're more reliant on your support than ever as the shift in consumer habits brought about by coronavirus impacts our advertisers.
If you haven't already, please consider supporting our trusted, fact-checked journalism by taking out a digital subscription.
Comments
 0 comments
Want to join the conversation? Please or to comment on this article.