Lord Maginnis's defiant bullying and homophobia show how much work is needed to rid politics of macho intolerance – Kirsty Strickland
"This report relates to bullying, and to harassment associated with the protected characteristic of sexual orientation. The report includes language that is offensive and homophobic and may be upsetting to many readers.''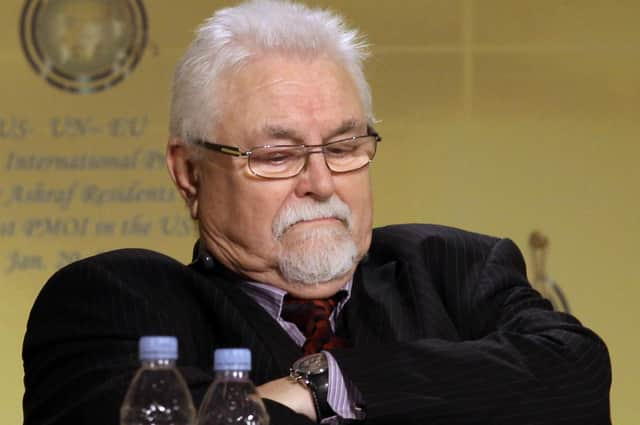 Over the course of 106 pages, it details complaints made against Lord Maginiss by SNP MP Hannah Bardell, parliamentary security officer Christian Bombolo and Labour MPs Toby Perkins and Luke Pollard.
After an extensive investigation, the House of Lords Commissioner for Standards, Lucy Scott-Moncrief, recommended that Lord Maginnis be suspended from the Lords for at least 18 months while he undergoes "bespoke behaviour change training and coaching".
"On balance, we concluded that it would be disproportionate to recommend that Lord Maginnis be expelled. While the behaviour complained about is clearly unacceptable, he should have the opportunity to engage with the coaching and improve his behaviour towards others.''
The recommended suspension will be put to his fellow peers for approval tomorrow.
Aggressive and rude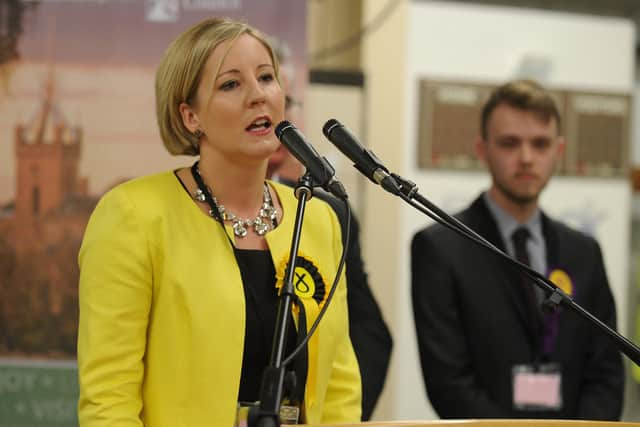 An 18-month suspension, with the potential to be extended, is a severe sanction by parliamentary standards. But when you read through the personal statements given by those who made complaints – as well as Lord Maginnis's intransigent and, at times, offensive responses – it doesn't seem like enough.
The report concluded that Lord Maginnis had bullied Mr Bombolo during an incident in January, when the security officer asked him to show his pass to enter the estate. Mr Bombolo said the incident had left him feeling "worthless".
Ms Bardell, who witnessed the incident and tried to intervene said that she was treated "rudely and aggressively" by the peer. After she raised his conduct during a point of order in the House of Commons, Lord Maginnis spoke to a journalist at the HuffPost and said: "Queers like Ms Bardell don't particularly annoy me."
Ms Bardell says this period has had a severe impact on her mental health. She received a "credible" death threat and a slew of online abuse after speaking out about the peer's conduct. In testimony to the investigators, Lord Maginnis cruelly suggested that Ms Bardell has a "psychopathic disorder".
Reforming this unelected chamber
It is ironic that a chamber known for its ornate fixings and finery seems more like the Wild West than the image of nobility it is designed to project.
It is a place where peers, such as Lord Maginnis, can subject their colleagues to aggression, intimidation and hateful comments, all while retaining the fancy title that sets them above everybody else.
If the concept of an unelected chamber stuffed full of party donors wasn't ludicrous enough on its own, the boorish entitlement of men like Ken Maginnis certainly doesn't harm the case for reform.
It cannot be right that workers on the parliamentary estate are subject to more rigorous – and decisive – HR practices than the powerful people who are sent there to represent us.
Would a parliament cook, cleaner or security worker be offered "bespoke" behavioural training and coaching if they persistently displayed a pattern of unacceptable behaviour? Of course not. They'd be warned, disciplined and then booted out. No months-long investigation funded by the taxpayer and no third, fourth or fifth chances.
Of course, due process is important and the committee should be commended for its professionalism and diligence in what must have been a gruelling investigation. They've done exactly what was asked of them and, having arrived at a conclusion, imposed a sanction in line with the boundaries set by the code of conduct.
But when you have a member of either House who has been found to have bullied colleagues, shown no contrition, and continued to exhibit the behaviour that was the cause for complaint, you have to ask who is benefiting from what will be a costly and time-consuming attempt at rehabilitation.
Maginnis alleges a conspiracy
The report says that Lord Maginnis did not acknowledge that his behaviour was unacceptable in relation to any of the complaints.
"At times during the investigations, he was dismissive of the incidents and the impact they had on the complainants and continued to use disrespectful language in relation to Ms Bardell and Mr Pollard and was also disrespectful of Mr Bombolo.''
In responding to the conclusions of the report, Lord Maginiss denied bullying and harassment, calling the report "ridiculous". He said he is a victim of a conspiracy and told the BBC he will refuse to undertake the recommended behaviour coaching.
One can only presume that when his suspension is nearly finished, there will be an evaluation and another report on how well he complied with the first.
Not like Geri leaving the Spice Girls
An unfortunate feature of the public's loss of trust in parliament and politicians is that nobody expects them to be role models.
When a politician is found to have behaved badly, there aren't small children up and down the country tearing down their posters or chucking party rosettes in the bin. We almost expect disappointment. It's not like Geri leaving the Spice Girls.
They don't need to be saints, or to have never made a misstep. And we shouldn't strive for sanitised public figures who have been reared for politics. That's how we end up with so many damn Etonians and look at the mess they've gotten us into. But character is important. If they show themselves to be unsuited to and undeserving of the power they have been given, there has to be proper recourse.
If you haven't read the full report yet, do. This isn't a tale of "misspeaking" or over-reaction on the part of the complainants.
It highlights a cultural problem that goes far beyond Lord Maginiss, the House of Lords and even Westminster. The desire to move away from the macho intolerance of the politics of old is real. But it will take more than behavioural coaching to get us there.
A message from the Editor:
Thank you for reading this article. We're more reliant on your support than ever as the shift in consumer habits brought about by coronavirus impacts our advertisers.
If you haven't already, please consider supporting our trusted, fact-checked journalism by taking out a digital subscription.
Comments
 0 comments
Want to join the conversation? Please or to comment on this article.