Lockerbie: Three decades on, we still have a responsibility to pursue the truth - Chirstine Jardine
It was like one of those moments when you wake up in the middle of the night, switch on the TV and BBC news is playing it's "This week in History" segment.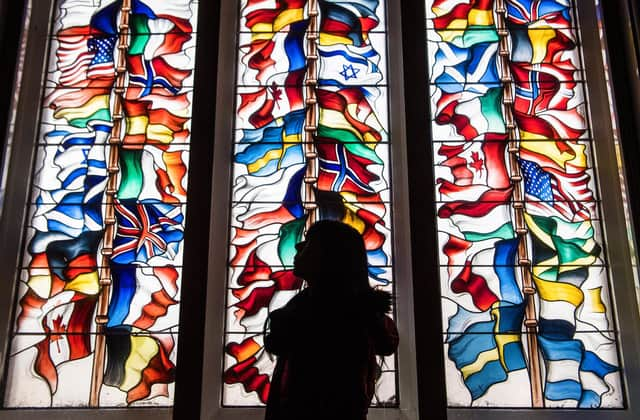 On my screen was that horrific picture of the front section of PanAm flight 103 lying on Tundergarth hill, blown apart from the rest of its fuselage.
An image with which we have all become too familiar over the past three decades.
The report detailed charges against a man accused of responsibility in the Lockerbie bombing.
Except that this was not a replay of a past account.
This was actually the news last Monday, 32 years to the day after that atrocity over Lockerbie which claimed 259 lives in the air and 11 more in the town.
In the US, Attorney General William Barr had announced charges against a Libyan national suspected of making the bomb which destroyed PanAm flight 103.
I realise that for an entire generation this is a story from the past which, I appreciate, may seem only as relevant to them as any other tragedy from history.
But for those who experienced it, either through personal loss, the impact on their community or involvement in the legal or media controversies that have persisted it is as immediate and pressing now as it was in December 1988.
I have always considered myself lucky not to be one of those who was called out to cover what, with the initial newsflash, sounded like a small aircraft had crashed and perhaps hit a petrol station.
It sounded bad, but nothing compared to what was eventually revealed.
I was actually decorating our Christmas tree that evening, a little later than usual certainly, but we had just moved into our first house and were excitedly preparing for festive visitors.
Being based at that time in Aberdeen I never expected to have much involvement in the story but, over the years I, like so many others, have found that Lockerbie has, in some way reached, and touched us all.
Perhaps because I was not that much older than many of the 35 students from Syracuse University who were passengers on that flight I often think about developments in the story in terms of what they might have been doing with their lives.
I was a young radio reporter, near the start of my career, when I first interviewed Dr Jim Swire whose daughter Flora was one of the victims.
In November 1991 I had moved to TV in Glasgow and was in the BBC newsroom on an early shift when we got notification of the event later that day which would announce the indictment of Libyans Abdelbaset al-Megrahi and Al Amin Khalifa Fhimah on 270 counts of murder, conspiracy to murder and violating Britain's 1982 Aviation Security Act.
By the time Megrahi was convicted by a Scottish Court sitting in the Hague ten years later I was the mother of a four-year-old.
When he was released on compassionate grounds by Scottish Government Minister Kenny McAskill on account of the cancer which was later to claim the Libyan's life my professional focus had moved from journalism to politics.
On the day that the latest charges were announced I watched the TV interviews with relatives of those who had died and couldn't help wonder how old they might have been when it happened, and how much of their lives has been dedicated to resolving this case.
Over the years there have been conflicting claims and explanations of who might have been responsible and why.
There are accounts of a warning to the US Embassy in Finland of an impending attack, later claims of so-called "deals in the desert" and political motivations for both the arrest and release of Megrahi.
The regime held responsible by the United States and others for the atrocity – Libya's Colonel Gadhafi – and the only person so far convicted of the murders are gone.
In March of this year the Scottish Criminal Case Review Commission ruled that there could be a fresh appeal on Megrahi's behalf and referred the case to the High Court of Justiciary.
Then this week came the charges against another individual accused of being part of that Libyan conspiracy.
If every development and controversy over the years is so etched in my memory that I can recall them at an instant what must it have been like for those directly affected?
Because while this was an event with massive international implications we should never forget that for the families of those 270 victims who had the past 32 years stolen from them, it was a very personal crime.
For them the names etched on the memorials at Dryfesdale Cemetery near Lockerbie, or in the United States are loved ones taken from them, and lives full of promise cut short.
What contribution could they have made to society, to perhaps even resolving the current pandemic, if they had been allowed to fulfil their potential?
It is the same question I ask myself about victims of the London Tube bombings, 9/11, the terrorist attacks in London and so many more.
And how easily it could have been any of us who has ever taken a transatlantic, or any other type of flight, Tube journey, or simply been in the wrong place at the wrong time.
That is why three decades later I believe we still have a responsibility to each of them to continue to pursue the truth, whatever it is.
And justice, however long it takes.
Chirstine Jardine is the Lib Dem MSP for Edinburgh West
Comments
 0 comments
Want to join the conversation? Please or to comment on this article.