Lockdown has changed many of us so life after Covid may be more different than we expect – Jim Duffy
Let me ask you a serious question. What kind of person will you be when lockdown fully ends and a new 'normal' begins?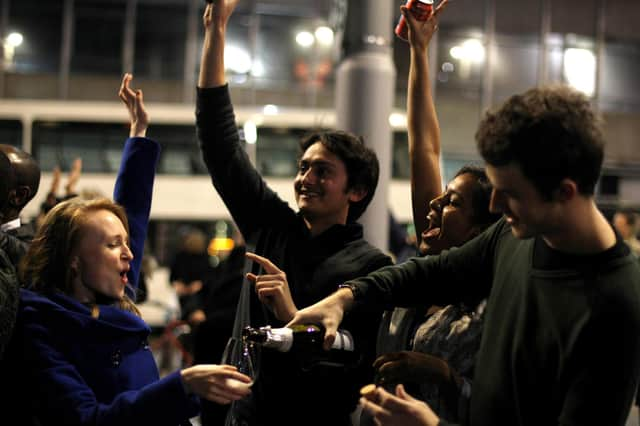 As human beings we develop all the time as we grow older. We start off life with little or no wisdom, then it starts to mature within us.
By our 50s, we are supposed to be wiser, more street savvy and able to look at the world through a more reasoned, sophisticated lens. Our tastes also become more refined.
When I was young, I didn't like mushrooms, asparagus and red wine. Now, I can't get enough of all three. Our attitude to people also changes as we are drawn to certain types that stimulate us or makes us feel comfortable in who we are.
But, I fear the last 12 months has changed me and many of you so much so that the excitement, expectation and euphoria of opening up might not be as magical as it is being portrayed.
During lockdown our habits have changed. Spending more time indoors with the same surroundings and routines has had an impact on how we prepare to live the day from the moment we get up.
So many people, from those already retired to those on furlough, have got out of the routine of getting up, grabbing breakfast and heading out into the big wide world.
Consequently, we have slowed down. The rush to action is no longer there. So, when we 'open up', just how willing will we be to jump out of bed and burst through the front door into the rain? If we are being honest, maybe that feels a bit scary just now. And as for socialising…
Let's look at pubs and restaurants. These venues will be rammed to the gunnels with super-excited, exuberant types swigging lager like there is no tomorrow.
You know who I mean. The "extroverts" as characterised by Myers-Briggs, who love people, love chatting loudly and generally being a nuisance to us more quiet types. These fun-loving characters will be swinging from the rafters, over-compensating for 12 months of lockdown.
I don't think it will bring them any more joy as they over-indulge and over-do it. But, the thought of sharing a busy restaurant with them sends shivers down my spine even more so as I have been in "solitary confinement" for the last year. And I bet many of you will feel the same way perhaps like a prisoner who has spent three years in jail and gets released. One minute you're institutionalised, the next out in a busy street with new sounds, smells and sights.
Then there is going to be the huge rush to go on holiday. Oh my God! I can envisage it now at Glasgow or Edinburgh airports. Queues round the blocks as the airports will not have ramped up their staff enough.
Bars in the airport jammed packed with pints of lager and Bacardi and cokes being doubled up like no-one's business. Weans will be running around also feeling free and being louder than usual.
The planes themselves will be sing-a-longs, bevvy galore and huge cheers when they hear "ladies and gentlemen, welcome to Alicante airport".
Then, of course, the bars will be spilling out onto the street in the holiday resorts. I predict some of the worst behaviour ever seen by Brits abroad. I might leave a summer holiday till next year – just to be on the safe side. Normally, I could deal with it, but I wonder how you feel about being "let loose" again. Baby steps maybe?
What about meeting friends and having dinner parties in each others' homes? I think you will be surprised at just how much you and they have changed. How they think, approach the world, greet you and deal with you in their houses again might feel a little different.
I'm very much used to my own stable now. Having other human beings come in and be around it might feel a trifle alien. The art of the dinner party may have been lost. It might be a takeaway from now on. Perhaps an earlier finish may be expected as your friends' routines have changed. Who knows? But, just be prepared for behaviours you did not experience before.
Simply because lockdown is over, it may not feel like the war is over. Many people feel angry and a little bitter. They have been robbed of a year and, for some, robbed of a livelihood.
Relationships that just about held together during lockdown may fracture now that reality is back in play. Communication might be strained in so many situations.
Remember, we have been used to long silences or only a couple of voices in our households. Suddenly, there will be voices everywhere. Some telling us what to do, others asking us stuff as we navigate around shops, cafes, bars and institutions. In short, we cannot hide behind a mask anymore. Just think about that for a second.
The version of me today is very different from the version 12 months ago. I look at government differently. I look at finance differently. Where I spend my time in the future will be more selfish and targeted.
Who I want to bring into my social scene will be only about those who cared over the last year. But, I have to accept that my friends and those I know may also have changed. I will have to be mindful that their mindset may be different. It won't all go back to the way we were overnight. I'm prepared for this. Are you?
A message from the Editor:
Thank you for reading this article. We're more reliant on your support than ever as the shift in consumer habits brought about by coronavirus impacts our advertisers.
If you haven't already, please consider supporting our trusted, fact-checked journalism by taking out a digital subscription.
Comments
 0 comments
Want to join the conversation? Please or to comment on this article.