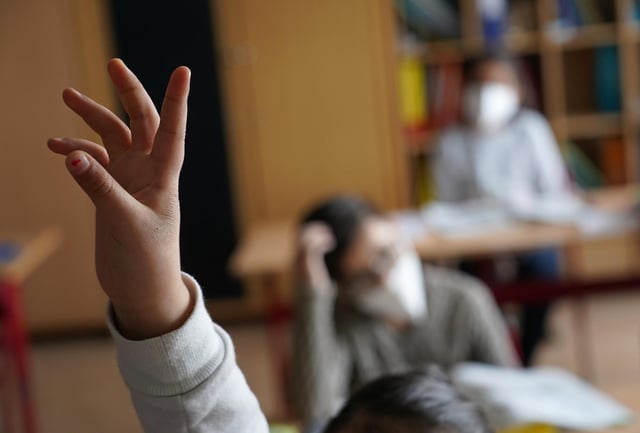 The hand-wringing over a 'lost-learning generation' ignores the fact children have scaled the steepest learning curve of their lives during the pandemic, says Martyn McLaughlin (Picture: Sean Gallup/Getty Images)
There is a very good reason for this: normality has yet to return to our education system, and it will be some considerable time before it does. The idea that exposing children to a period of prolonged and intensive teaching will allow them to 'catch up' is predicated entirely on academic achievement. This is important, but it is far from a priority.
With more pupils set to return to school next week, the experience they will encounter will be markedly different to what they knew before March 2020. Children remain in silos, separated from their friends, unable to socialise or play as they once did. Under such circumstances, is it really in their best interests to ask them to undertake even more schoolwork?
Those calling for such measures are putting quantity before quality when it comes to education. One such voice in the debate has been the think tank, Reform Scotland.
Under the auspices of its Commission on School Reform – a grandly titled symposium designed to ape the independence and credibility of a public body – it is advocating an intensive programme of additional learning which would see children undergo an extra eight hours of tuition per week for two years, or five hours per week over three years.
The shortcomings of this suggestion are laid bare in its own report, a document speckled with crude calculations and sweeping assumptions, which concedes that staffing this vast national effort would require university students and after-school club staff to join the teaching cohort.
It would be little more than a bums-on-seats, box-ticking exercise, which should not necessarily come as a surprise given Reform Scotland's directors – who include lobbyists, a corporate tax adviser, and an investment manager – are more familiar with the boardroom than they are the classroom.
Every child has seen the rhythm of their education disrupted over the past year, but each has been impacted in different ways. Few dare say it, but one of the fallacies propagated over the past year has been the description of today's schoolchildren as a "lost learning generation".
This is a tag predicated entirely on our assessment-obsessed educational culture, and it ignores the fact that many, if not all, pupils have been forced to scale the steepest learning curve of their young lives.
The hard-won autonomy, flexibility, and resilience they have gained along the way should be acknowledged, celebrated, and enshrined in their future learning. The last thing they need at the moment is to be depicted as failures, and cowed into assimilating even more of the curriculum in a shorter space of time.
Indeed, from the perspective of pupils, it must be hard not to perceive the reductive deficit narrative as a penalty they must pay for circumstances entirely out of their control. Some supposed educationalists have even floated the idea of children repeating the past school year. This is not a remedy. It is a punishment, and the psychological pressure it would place on pupils is deeply unfair.
The reality is that any such quick fixes are doomed to fail in isolation. It is becoming increasingly clear that it will take years, if not decades, to mitigate the devastating impact of the pandemic, and the idea of catching up will only succeed if we accept that it is a marathon, not a sprint.
Becky Francis, chief executive of the Education Endowment Foundation, a charity dedicated to breaking the link between family income and educational achievement, has rightly pointed out that the narrative around getting children back to normal is too simplistic to be helpful.
"We're going to need a really concerted, sustained strategic approach to the remediation of learning loss," she explained. "We need a short-term approach, a medium-term approach, and a long-term approach to this issue of compensation and mitigating the impact of the pandemic on young people's learning and life chances."
It would be useful if the starting point of that process was a renewed reflection on the latent functions schools serve in society. Unlike academic achievement and the transmission of skills, these qualities are not easily gauged, but they are arguably even more important, and should be prioritised as part of the recovery.
The past year has not only disrupted classroom learning. It has strained the ties between children and their peer groups, as well as their families and the communities in which they live. It has weakened or broken the support structures on which they depend. It has denied them the socialisation and physical development provided by group sporting activities. It has left them without the nourishment and joy of cultural activities and trips to museums and galleries.
Placing a focus on these things would not come at the expense of educational achievement; it would be in service of it. It would ensure children feel safe, valued, and enriched, and it would grant them the cognitive and emotional stability with which to thrive in other areas.
Then, and only then, should we consider how best to increase provisions of formal schooling, with an emphasis on providing targeted and specialist support for those pupils from disadvantaged backgrounds and who have additional support needs.
Doing so will not be easy, given the absence of national standardised assessment data during the pandemic, but in the short to medium term at least, there is a chance to turn the problem on its head, and tweak the curriculum so that it adapts to children, instead of vice versa.
It may sound too radical a set of proposals for those with a myopic obsession with metrics, but perhaps they should ask whether they are measuring the right things.
A message from the editor:
Thank you for reading this article. We're more reliant on your support than ever as the shift in consumer habits brought about by coronavirus impacts our advertisers. If you haven't already, please consider supporting our trusted, fact-checked journalism by taking out a digital subscription.