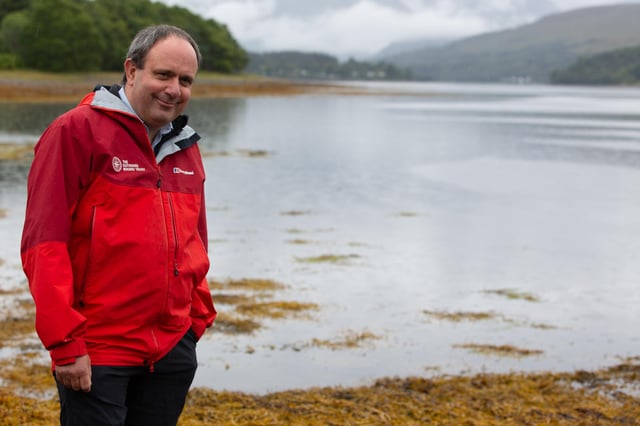 Martin Davidson, director of Scotland and Innovation at The Outward Bound Trust.
Since 21 March 2020 we have not been able to work in our usual way. Lockdowns, travel restrictions and government guidelines forbidding school residentials mean that our traditional charity offering is currently off limits.
But our mission is "to inspire young people to defy their limitations so they become strong, resilient and curious, ready for the challenges of life". A mission that is needed now. More than ever.
We had to adapt and formulate a new plan. And as things changed so fast our plans had plans! However our focus was always the same - using our skills to support as many young people in Scotland as possible.
Here was our catch-22. We couldn't deliver residential courses. We needed to innovate to deliver our mission. There was no guarantee that our innovation would get results but we had to try.
To help young people readjust, reconnect and thrive post-lockdown we came up with two new propositions.
In School Adventures – taking Outward Bound to schools until students can come on residential.
Opening our residential centres for activity days in the holidays.
These ideas may sound simple, but as an educational charity we had to secure the funding needed to make it happen.
We couldn't do it without our donors…
Thankfully our supporters are as passionate about what we do as we are, and wanted to support young people in Scotland now, not wait until the pandemic is over. Rathbones is one of our supporters who understood the challenges we were facing and stepped in to help:
"Rathbones is proud to continue our support of the fantastic work carried out by The Outward Bound Trust. The mental health impact of the pandemic on young people is hugely concerning. We have been encouraged by The Trust's ability to innovate in times of deep uncertainty and to continue offering access to the vital life skills that will be required in an uncertain future. Realising the requirement for financial support during this period we were happy to double our previous years donation."
It didn't stop there, Swagelok Scotland, Mowi Scotland and Northwood Charitable Trust have all been generous in their support and their funding has already made a positive difference to young peoples lives in Scotland. Take a look at our 2020 Social Impact Report: outwardbound.org.uk/evaluation-covid.
COVID has shaken up our whole society. As we come through this it is important our donors trust Outward Bound. They understand that young people are at the centre of everything we do, and they enter a relationship with us as partners who care about the wellbeing of young people in Scotland, not just funders.
Non-NHS charities have taken a huge hit these past 12 months. The Charities Aid Foundation reported that at the height of the pandemic donations for young people dropped by nine per cent. Yet it is with increasing evidence we see the devastating impact Covid-19 has had on their lives. Here at Outward Bound we are making plans to ensure we remain for another 80 years to help them recover.
Martin Davidson, director of Scotland and Innovation at The Outward Bound Trust