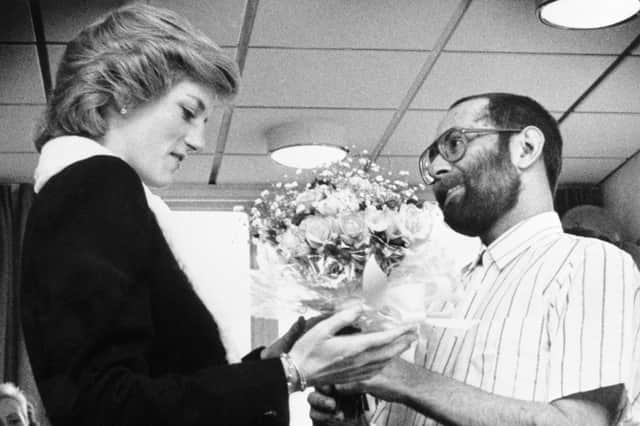 Princess Diana is presented with a bouquet by Aids patient Martin Johnson during a visit to the Mildmay Mission Hospital Aids Hospice in East London in 1989 (Picture: PA)
For a previous generation, Cathy Come Home opened the public's eyes to the reality and pain of homelessness, changed perceptions and led to the creation of Shelter.
For me, Channel 4 drama It's a Sin falls into that select category. At a time when binge watching has become a way of getting through lockdown for so many of us, those same people admit to being unable to do that with this Russell T Davies masterpiece.
It's painful viewing. Frightening. This account of how Aids ripped through a generation in the 1980s reaches into your emotional memory and tears at your conscience for reassurance that you never were guilty of turning away.
There was one moment in an early episode which for me epitomises what this drama has been forcing my generation in particular to confront.
Fear and guilt
A female character is visited by a group of friends one of whom she alone knows has the fatal and rampant infection which is yet to be properly defined or understood.
After they have gone she takes the mug from which he was drinking, wraps it in a tea-towel and smashes it. She was afraid of touching it. Of contact with someone she loved.
The red ribbon is worn as a symbol of awareness and solidarity on World Aids Day (Shutterstock)
In that one moment, I felt all the fear and guilt I knew in the 80s come rushing back. Neither was its pertinence today lost on me.
Because like Cathy Come Home in the 60s, It's a Sin deals with an issue that we are still struggling to come to terms with.
Yes attitudes have changed. People are no longer 'outed' by their hospital care in the way that a colleague told me a member of her family had been in the 80s.
A man in his 40s, he had never told his family that he was gay. Even when he was diagnosed with what was then a death sentence, he told them he had cancer.
They accepted it, even though they had to wear protective gear to visit him in hospital.
The medics of course knew, and I suspect everyone knew, but society was still keeping up the pretence and refusing to acknowledge or allow people to be who they were.
Diana's simple but significant act
Looking back I wonder if the reality is that Aids and HIV outed society's failure. Failure to accept to accept and acknowledge the gay community.
There have been significant moments in our journey since then.
In 1987 Diana, who was then Princess of Wales, opened the new HIV ward at Middlesex Hospital and shook hands with Aids patients without wearing gloves.
It's shocking to think how significant that simple act was. This was not Covid, you didn't get it shaking hands, but people didn't know that.
In the same year, "Aids: Don't die of ignorance", the major government public information campaign, was launched and delivered a leaflet to every household in the UK, warning that it was impossible to tell who had the virus.
People were afraid. Arguably the leaflet didn't help.
The same colleague told me that even medics in the hospital where her relative died, people who knew and understood how it was transmitted, were afraid.
They somehow suspected it of being more sinister and patients were effectively left alone to die. Ponder the contrast with our reaction to Covid.
Has the stigma been eradicated?
But the biggest moment for me was November 24, 1991. My 31st birthday was the day that one of my heroes died.
We had all known that Freddie Mercury had Aids but his death prompted what I remember as the first and still most significant outpouring of public grief and acknowledgement.
But that was 30 years ago. Where are we now? How much thought have we given it in the intervening decades?
Do we still subconsciously label it as 'belonging' to one community in our society?
Our attitude to conditions around gay blood donors has made me wonder if the stigma has been eradicated.
Today there are 38 million people around the world living with HIV/Aids. Almost two million of them are under 15 years of age.
The estimated total number of new infections in 2019 was more than three times higher than UNAIDS's 2020 target, despite a reduction over the last 10 years.
Inequality a barrier to progress
Access to treatment and access to testing we know open the door to prevention, treatment and care. We know that more now than ever.
Today HIV can be treated with a single pill and, properly cared for, people are no longer infectious. There is even a free home-testing kit.
But as we have learned during the past year, it is inequality which is the biggest barrier to progress. Perhaps we should remember that in this LGBT history month.
It's a Sin has had more 6.5 million views since its release. And it nearly didn't happen.
The comparison between the past 12 months and the 80s is unavoidable. Again we are living through the advent of a new disease.
Does it resonate, does it hurt so much because when we watch we are forced to confront, actually, the essence of who we were, who on some level we might still be?
We've made progress as a society, but we are not quite at the finishing line yet. This generation, who knew nothing of the start of the story, might now have the chance to write its end.
Christine Jardine is the Scottish Liberal Democrat MP for Edinburgh West
A message from the Editor:
Thank you for reading this article. We're more reliant on your support than ever as the shift in consumer habits brought about by coronavirus impacts our advertisers.
If you haven't already, please consider supporting our trusted, fact-checked journalism by taking out a digital subscription.