Lesley Riddoch: Truth an early casualty of pandemic
It's been left up to 'independent' scientists to go where politicians and advisers fear to tread, says Lesley Riddoch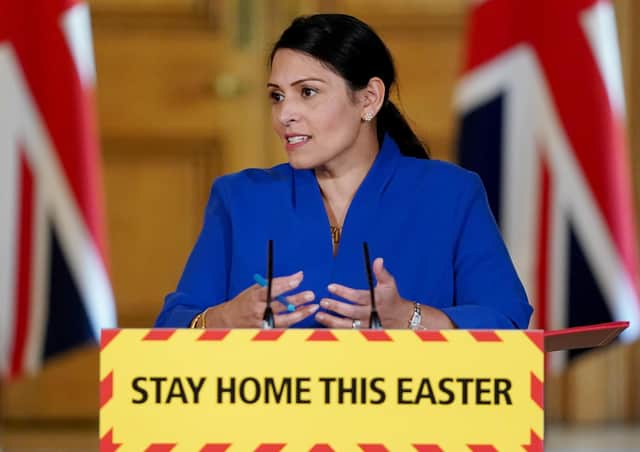 Priti Patel failed to own the government's delay in providing enough personal protection for frontline staff. Picture: Pippa Fowles/10 Downing Street/Crown Copyright/PA Wire
Where are folk finding leadership during this coronavirus crisis?
It's easier to list the places it's been missing.
And that says a lot about the unhappy state of authority in Britain today.
There's been a flurry of messages from the great and the good, giving solace to those with automatic respect for their social superiors.
But that's not a majority of British voters, let alone Scots.
Back in the 90s, research in the far-from-revolutionary BBC found over-50s would accept opinions handed down by authority figures like "tablets of stone," but under-50s expected challenge, authenticity, earned respect and a diversity of views and switched channels after more than 30 seconds of a 'suit' or 'talking head.' Admittedly, researchers also identified a return to existing sources of authority during times of crisis.
But I'd guess you don't need to be a republican, atheist, socialist or revolutionary, to find the current round of "comfort messages" somehow inadequate.
The Queen made her first Easter audio message yesterday and it will of course, have reassured some. But a YouGov poll found only 42 per cent of Scots thought the Queen's first broadcast would help lift morale – consistent with republican sentiment north of the Border, and perhaps connected to the rule-breaking dash to Balmoral by her son and heir. The media's delicate tiptoeing around Prince Charles' transgression highlighted a willingness to go easy on the aristocracy and may have further weakened trust in some broadcasters' bona fides.
Boris Johnson obviously made headlines last week, and yesterday (Sunday) thanked NHS staff for saving his life.
Most folk – including non-Tory voters – will be relieved he's recovered but aghast at tabloid headlines suggesting his exit from intensive care made 10 Apri a genuinely Good Friday, despite the fact1,000 "ordinary" British people died.
Still, the temporary absence of the Prime Minister finally prompted a press conference by the Home Secretary, who proved the only thing worse than a three-week long "no-show" is a sullen and hesitant reappearance. Priti Patel stumbled over the number of coronavirus tests in Britain but more importantly, failed to own the government's failure to provide enough personal protection for frontline staff; "I'm sorry people feel there have been failings." This weasly apology was not worth making and must have rubbed salt into countless wounds.
Dominic Raab, once described as "a ball of barely repressed anger," has hardly instilled confidence. His credentials as stand-in Prime Minister arise from the corrosively divisive Brexit era when Boris appointed him First Secretary of State to send a clear signal that his government would definitely 'get Brexit done'. Now Raab is nominally in charge of an entirely different and more dangerous situation, until a caretaker Prime Minister is chosen, or Boris Johnson recuperates.
The Tories predictably dismissed calls for a Government of National Unity, but yesterday new Labour leader Keir Starmer did succeed in his call for parliament to resume working on 21 April.
That's good news. But the Commons failed to force urgency from the government during the early stages of the pandemic – inevitable perhaps given the "winner takes all" nature of British democracy which is designed to work against collaboration or serious challenge. Indeed, the spectacle of Tory MPs surging round Boris Johnson at the speakers' chair in March suggests a belief in personal invulnerability is worryingly embedded at Westminster.
So, what can Labour achieve as the virtual Official Opposition?
Keir Starmer must tread a fine line. Neither he nor his new bench want to look petty or point-scoring. He's already said it's "not the time" to ask if the government was too slow to act. Agreed. But the public has a reasonable fear that the government's early cavalier response may still be an instinctive reflex among decision-makers. It will take direct questioning to reassure on that front, not pulled punches or Churchillian reassurances.
The public also needs leaders to give political shape to the profound re-evaluation of human worth taking place among the entire, door-step clapping electorate, but so far, political leaders have ducked the opportunity to broaden and deepen debate. The Archbishop of Canterbury felt able to say on yesterday's Marr Show; "If we continue to let the market rule – there will be enormous suffering." Well, quite.
But Starmer has been reluctant to re-open big arguments about Britain's dangerously unfair distribution of wealth. Memories of Jeremy Corbyn's failed efforts are fresh. But someone must start that ball rolling. And if not Labour then who? Shadow Foreign Secretary Lisa Nandy said this weekend she wants a transformed country after coronavirus, with higher pay for key workers. But she went on to insist that government must listen more to front line workers. Really? More listening. Will that really cut it?
Caution is understandable, but citizens need leadership from democratic sources, not comfort from unelected figures whose authority is questioned by substantial sections of the population.
There's been a lot of admirable straight-talking from scientists, but some let-downs too. The government's scientific advisers failed to deliver the full awful truth about the scale of threat for two valuable months – a revelation that's dented confidence in those steering government strategies.
Analogies are constantly made between war and this pandemic, so perhaps we shouldn't be surprised to learn truth has been an early casualty. Equally, the profound shock of the last three weeks will have knocked much complacency out of the system. But that shocking story highlights weaknesses we know to be endemic in the British state – a tradition of deference, and a myth of exceptionalism, as Irish writer Fintan O'Toole has described it.
So, it's been left to "independent" scientists to boldly go where politicians and some advisers fear to tread. It was the chief executive of the Wellcome Trust, Sir Jeremy Farrar, who delivered the gloomy news this weekend, that "second and third waves of this illness are almost inevitable". He also made clear that global supplies of a Covid-19 vaccine can't be created by "borrowing" vaccination resources from campaigns to combat other serious diseases like measles.
These are tough realities we need to think about and process.
So of course political leaders must respect our current emotional fragility – but democracy demands they are honest and robust as well.
Want to join the conversation? Please or to comment on this article.