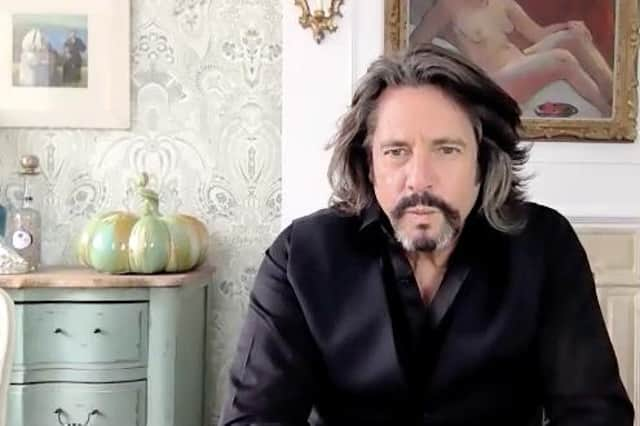 I explain why he's here, "I was thinking I would love to interview you…" Making a showman's bowing gesture at once gallant and devious, just short of twirling his moustache, he returns "…and I would love to grant that desire, Laura".
When he was presenting Changing Rooms – returning rebooted late this summer – and I was a schoolchild, this goth with notoriously billowing shirtsleeves became my style icon.
I was drawn to his message of maximalism, and promotion of the idea that whether one lives in a council house or a manor, why shouldn't one dream of the Baroque, or paint on Greek pillars? In the MDF dreamscapes he installed, I saw equal-opportunity flights of fancy.
"I have always been very focused on the concept of design democracy…" he begins. "Back to the Roman Empire, people were forever trying to proscribe what someone could wear or furnish their house with based on their social standing, and if they broke through that barrier it was somehow illegal." Design can still subvert class, he theorises.
"It's not something I'd bore people about in a lift" – he mimics quavering sanctimony – "but it's always been explicit in my message."
"So in a slightly weird kind of an Aleister Crawley way, yes I do think that you should do what thou wilt. In a Rocky Horror Show way, 'don't dream it, be it'.
"We're all trying to find our own cool. Or at least the cool kids are trying to find their own cool. There are plenty of kids out there that aren't cool enough to have cool. But you found your cool. I found my cool. And I think that's quite romantic for a lot of people. It feels invigorating, empowering."
Dour, macho, working-class stereotypes never contained me. LLB bemoans his middle-class upbringing, "Even John Betjeman couldn't make it sound sexy. And of course you don't want to be blundering around telling everyone how marvellously upper-class you are because you'll end up as Boris Johnson."
"Look at Victoria Beckham. Incredibly posh. But actually, theoretically not." He recalls an anecdote about Prince Philip and a throne-mounted boat on the Thames. "He said I'm not sitting on that – I'd look like Mr Beckham! That shows the fluidity of this perception of posh. There was the Queen's consort concerned he might be tarred with the same brush as Posh Spice's husband."
We discuss the "Grey Renaissance", contemporary mania for bloodless decor. He remembers begging home decorators to abandon beige. "The problem is people leave it at grey. A grey on grey on grey interior effectively gives you a mid-1980s estate agent's office."
As tongue in cheek as he is eloquent, he emphasises, "grey needs to be bone structure, onto which you put the maquillage. We're a swirling paisley of extraordinary oddness underneath a carapace of stiff upper lip. Our homes should be weird if they're going to properly express who we are."
We end the call agreeing eccentricity should be enjoyed more.
A message from the Editor:
Thank you for reading this article. We're more reliant on your support than ever as the shift in consumer habits brought about by coronavirus impacts our advertisers.
If you haven't already, please consider supporting our trusted, fact-checked journalism by taking out a digital subscription.