Laura Waddell: Has power-dressing at work had its day?
Does the power dresser really hold power? Or is dressing to impress a relic of yesteryear?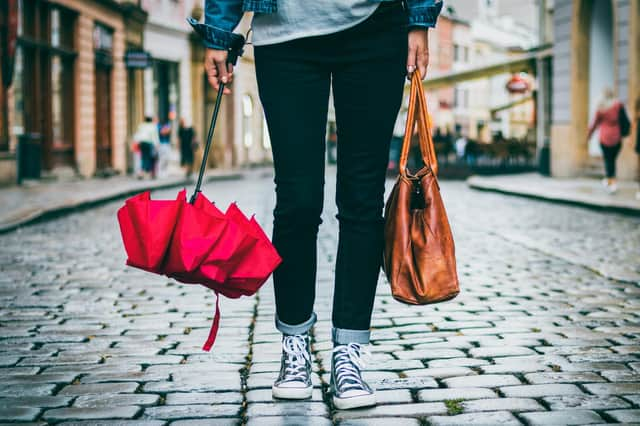 I worked from home for two years before the pandemic flipped our working world, and took some time out after, so my workwear is decidedly lacking. Not only has my body changed size and shape since I last shared an office - my working wardrobe long dispersed between charity shops - but so have my tastes.
In my 20s, when I was making my entrance into the tweedy publishing industry as a working class hopeful who had summoned enough audacity to knock on its doors, I had a different concept of best foot forward. The heels, blazers, and cute little blouses I frequently wore were a kind of armour: in an industry notorious for skewing posh, I wanted to look smart, not scruffy; confident, not self conscious. The ironic thing is, if anything sartorial might have identified my outsider class, it would have been the inclination to overdress. Those wealthy and comfortable with their place in the world need impress no one - they can afford to be downright slobbish.
But I also had a very different lifestyle then. I smile at the memory, but it also feels faintly preposterous that once I stored two spare pairs of heels (in different colours!) under my work desk for occasions out, which might happen, as it does to 20-somethings, on any given day of the week. Working in town, there was always something social going on, but often it had a tinge of work to it. My heels took me to book launches, book fairs, bookshop openings, poetry nights, creative community events, film premieres and award ceremonies (god, does publishing love its awards). Fun times; not a schedule I'd care to keep now, more protective than ever of my personal time. To be blunt, I'm completely burnt out on smudging the line between work/life balance. There are no office-to-pub heels under my desk now. In professional environments where heels are still commonplace, I always wonder what the wider culture - and pay parity - is like. Does the power dresser really hold power? Or is dressing to impress a relic of yesteryear?
Post-lockdown, the great return to office life was mitigated by a new understanding of flexible working. A new precedent had been set for working from home and the four day week. But still, great mileage for style writers, keen to share (or dictate, depending on your perspective on fashion do's and dont's) the new rules of office dressing. The biggest focus tends to be of course, on ditching what we'd worn on Zoom: sweatpants and leggings below the waist, cheery colours above that popped (or looked marginally less depressing) on camera. Some rejoice in a return to supposedly grown up dressing, advocating for smart tailoring, pressed cuffs, and muted palettes. It has its place. But do we want to live and work so buttoned up day to day? I suspect in many workplaces with a 'smart casual' dress code, the casual is overtaking the smart.
Now in my late 30s, ready for change, I've taken the plunge into a new creative industry. In many ways, it is a re-entry to the workplace. Having completed an intensive training course where I was among the oldest, I've taken inspiration from the breezy, utilitarian style of my younger compatriots. I never thought I'd want to wear jeans and trainers to work, but here I am, pounding the pavement on my new commute - and I feel good. I haven't, however, entirely forsaken an admiration for glamour, beauty, eccentricity and extravagance. With my first pay packet in my new job, I splurged on a pair of thigh high faux snakeskin boots. I just won't be wearing them to work.Taking a brave stand
A few years ago French actress Adèle Haenal came to Anglosphere feminist attention for her protest of Roman Polanski at the prestigious César Awards. Standing up and walking out of the ceremony, she made a striking figure among other French stars who, in all their finery, stayed seated. Last month she announced she was walking out of the French film industry altogether, quitting in protest at its "general complacency […] vis-à-vis sexual aggressors."
It takes a lot of integrity for Haenal to step away from her career. She sounds certain, but some days, the decision might taste quite bitter. I get the sense, however, that Haenel possesses one of those spirits so sickened by the injustice she sees that she can no longer play along with an industry she fundamentally disagrees with the culture of. An industry, as the #TimesUp and #MeToo campaigns highlighted, is full of horror stories of predation on the vulnerable, aided by power players who not only look the other way, but glorify and reward abusers wielding economic and cultural power in places like Hollywood. Choosing to turn her back on a world she has achieved success and acclaim in takes significant strength of character. Haenel's statement continued, "You have the money, the strength, and all the glory [but] you won't have me as a spectator." Withdrawing labour can be a powerful statement. At a disadvantage in an insurmountable power dynamic, it can feel like the only option.Earlier this week, Texan rapper Megan Thee Stallion said she was taking time away from music to heal from a traumatic shooting she experienced several years ago. The industry around her hasn't offered the grace and support she deserves; instead, she has been taunted about the incident in mocking lyrics by high profile peers. Not only is healing from trauma made more difficult by such circumstances, so is, I imagine, finding the motivation to contribute anything at all to such a toxic industry atmosphere.Not all who are pushed out of their careers by misogyny have the star power to make headlines. More often, they simply drop out, retreating for sanity and safety, burning out and disappearing. Yet, with its stubborn refusal to take accountability, there is no more defensive ideology than toxic masculinity, and its unwillingness to see consequences for violent misogyny lie with its perpetrators, rather than ending with its victims.
Comments
 0 comments
Want to join the conversation? Please or to comment on this article.