Most of the comparison rests on the length of the Conservative tenure, with the party clocking up 13 years in charge by the time the election is held in late 2024, as in 1992. Having vanquished the Militant Tendency, Neil Kinnock was expected to lead a moderate Labour party to victory, but even after the Poll Tax debacle, John Major won another five years because Labour hadn't earned the electorate's trust. That his government created a stable and growing economy from the dark days of Black Wednesday and the sterling crisis made no difference as sleaze, not competence, became the hallmark of the Major years and Tony Blair's New Labour swept to power.
The Spectator magazine last week reported that many Conservative MPs expect to lose their seats in a repeat of 1997, and elections expert Sir John Curtice has been predicting a similar wipe-out for some time, repeatedly pointing out the difficulty of overturning a 21-point polling deficit in the teeth of the cost-of-living crisis. Although Rishi Sunak has improved the position he inherited when Labour was 51-24 ahead, the party has been stuck around 27 for three months, with only a message of new economic discipline when voters just want their incomes boosted. But as John Major proved, even putting more money in their pockets is no guarantee of electoral success.
The gloom was compounded last week with the International Monetary Fund forecast that the UK will be the only G7 economy to shrink in 2023 and the Bank of England's 0.5 per cent interest rate hike, and with business leaders now beating a path to Labour's door it's not pessimistic but realistic to think Rishi Sunak needs a miracle to reverse that poll deficit. But who could say with certainty it will take several election defeats for the Conservatives to become electable again?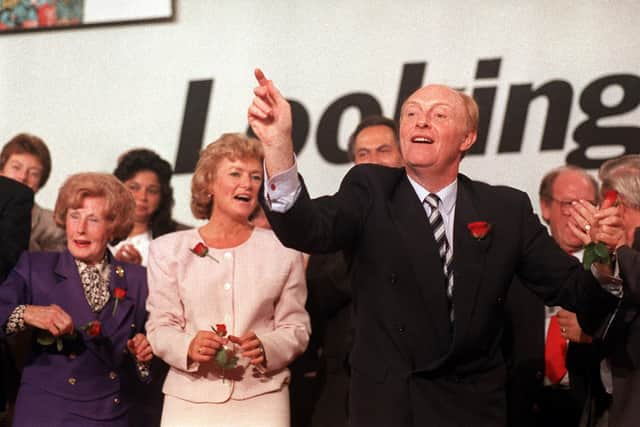 Amidst economic stagnation and public sector strife, it's arguable there are more similarities with 1974 than 1997. Perhaps it's because only the over-60s remember those times that the comparison isn't being made, but when Conservative PM Edward Heath called the February 1974 election, it was against a background of industrial strife ─ nearly 24 million working days were lost to strikes in 1972, with electricity blackouts to ration power station coal ─ and inflation rising from just over seven per cent in 1972 to 9.1 in 1973.
He too had a Black Swan event, the oil crisis sparked by October 1973's Yom Kippur War as Arab nations turned off the taps because of western support for Israel. Heath's gamble failed, but Labour only won a minority victory, securing a small majority in the second election eight months later. It didn't take long for the already fragile economy to collapse, with inflation averaging 24 per cent in 1975 and just under 29.5 million working days lost to strikes in 1978-79's Winter of Discontent. And then came Margaret Thatcher.
While the unions don't have the same ability to grind the country to a halt as in the 70s, every television news bulletin shows their political muscle is still considerable, especially when it's nurses and paramedics on the picket line, but the 1970s showed it was a pressure with which Labour was less well-equipped to stand. If Sir Keir Starmer does make it to Number 10 next year, he will inherit an economy which is at best sluggish, just as did Harold Wilson, not the boom which persuaded Tony Blair and Gordon Brown to stick with the Conservative programme. Of course, the world is a very different place to 1974, but so too is it vastly different to 1997 and a change of government won't change the challenges, particularly the need to sort out the future relationship with the EU.
But if Sir Keir is fretting about winning back the so-called Red Wall seats of Northern England, he needs more than one Scottish seat, and until 2015 Labour hadn't won fewer than 40 Scottish seats since the 1950s. Although Tony Blair's 1997 majority would still have been a healthy 32 without the 56 Scottish MPs, his advantage in 2005 would have gone without 41 from Scotland.
To complicate matters, some in the SNP are now hoping for a Starmer victory, including SNP strategist Stephen Noon, who last week suggested a Labour government could be persuaded to grant a referendum in 2027 or 2028 as the price for the SNP-Green government approving Labour plans for UK constitutional reform, but that would require back-tracking on Nicola Sturgeon's "de facto" referendum plan for the general election, which on top of the gender reform fiasco would be a further blow to her authority. And it could be a problem for unionists thinking about a Labour vote.
As the SNP tears itself apart over gender recognition and the jailing of rapist Adam Graham in a woman's prison ─ support for independence dropped six points in the latest YouGov poll ─ Labour is tying itself in the same knots. With their own MPs heckling their colleague and domestic abuse survivor Rosie Duffield, an opportunity to speak up for the majority is being missed, and mixed messages about their attitude towards the strikes don't suggest the height of the wave currently being surfed is sustainable.
A 1997 re-run needs a Tony Blair and, sadly for Sir Keir, he looks more like Neil Kinnock. He couldn't be described as another sunny Jim Callaghan, but if he gets the keys to Number 10 his stay might be just as short-lived and 2029 might be the SNP's window of opportunity. But who'd bet on Nicola Sturgeon being around to take advantage?