King Charles really needs to see the new 'monstrous carbuncle' on Edinburgh's Leith Walk – Stephen Jardine
Interchange at the top of Leith Walk in Edinburgh is an embarrassment next to James Craig's beautiful New Town
"Brand new from Fisher Price, My First Urban Planning Kit. Featuring lampposts, benches, barriers and railings, your toddler can have their first go at cityscape design pushing their imaginations to the limit. Warning, not for adults." Sadly that caution was ignored by whoever designed the new interchange at the top of Leith Walk in Edinburgh.
Passing on the tramline I kept thinking, maybe it will be nice when it's finished. Then I realised, it was. What was a perfectly serviceable roundabout at a key junction has been transformed into a sprawling hellscape of cycle lanes, street furniture, pavements going nowhere, random posts and weeds. If the Twitter mob ever decides to have a virtual execution, this looks like the perfect place to do it.
These things aren't easy. The junction has to accommodate cars, bicycles, trams and pedestrians but surely that is an opportunity to do something iconic and amazing? Instead, it looks like a primary school project in urban realm design in Uzbekistan.
It's not like the planners have anything else to inspire them in Edinburgh, except of course for the perfect New Town. Somehow in 1768, 26-year-old James Craig came up with a vision for Charlotte Square and St Andrew Square which remains iconic to this today and so much better than what an army of designers and consultants with computer-aided design are now able to achieve.
Last year, reports of the £2.7m redesign mentioned that stakeholders including community councillors and residents' groups had been invited "to discuss the projects goals, constraints and provide an opportunity to raise issues that could be included or excluded from the project". That must have been a fun meeting because what seems to have been excluded is any attempt to make this a public space that people will want to use.
The whole project reeks of design by committee. Back in the day, James Craig came up with a grand vision. Now an army of consultants feed in their ideas and you end up with everything from 'a hostile vehicle mitigation wall' to accessible pathways and bicycle provision. Every box has been ticked except the one for something to look nice or even interesting.
The result is something that is neither one thing nor another. It could be a dear green space, surrounded by trees and providing respite from all the surrounding concrete. Or it could be a transport interchange with a taxi rank, bike parking, and tram and bus stops.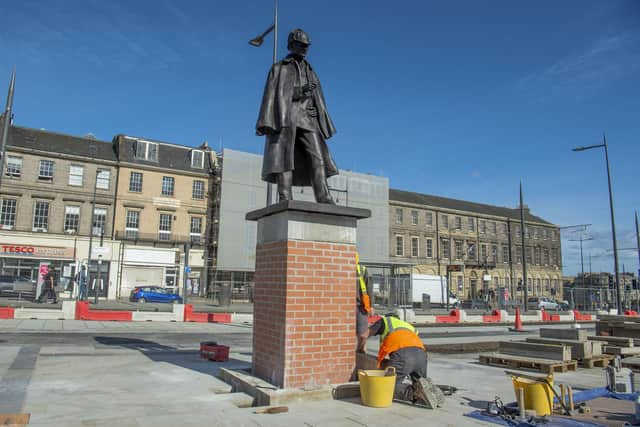 Instead, it is the worst of both worlds, a jumble of street furniture, barriers, posts and paths going nowhere, combined with an attempt to create a space where people will want to sit. Like a picnic in the middle of the Newbridge roundabout, that is a very unappealing prospect. Edinburgh is a Unesco World Heritage Site. It has a reputation for being one of the most visually stunning cities in the world. Why do we seem to be so keen to throw away that special prize at every opportunity?
However, let's try and be positive. A project this remarkable deserves a grand opening ceremony. Let's invite King Charles to do the honours. It's now 40 years since he made his famous "monstrous carbuncle" comment about architecture so I reckon he needs some fresh inspiration and we have that right here.
Comments
 0 comments
Want to join the conversation? Please or to comment on this article.