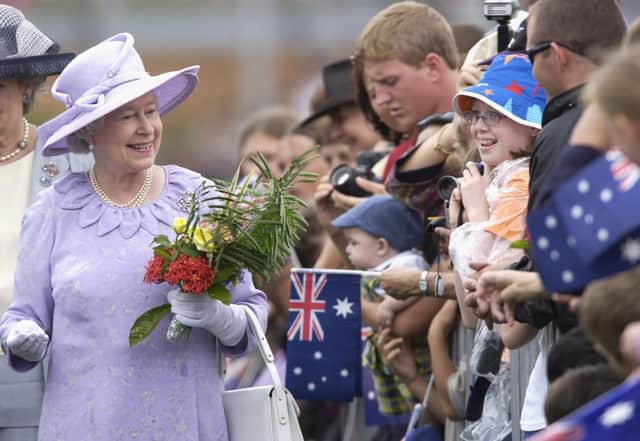 The Queen meets her Australian fans at the Roma Street Parklands in Brisbane, Australia in 2002. The Commonwealth stands as Elizabeth II's global legacy (Picture: Darren England/Getty Images)
And what a moment this is, not just here in the UK, where a tiny, rather shy, aristocratic woman morphed from a middle-aged head of state into the nation's beloved grandmother.
Here in Malawi, her death has been greeted with the same mixture of shock and respect. As President Chakerwa said in his tribute her, "…she demonstrated the same solidarity with our quest for socioeconomic liberation as she had done with our political independence.
"For us, as a nation, her inimitable legacy as a friend of Malawi will forever be etched on our hearts and indelibly marked on the pages of our history, a history she positively shaped in more ways than we can put into words."
Our queen was also once the Queen of Malawi, or to give her official title at the time, "Elizabeth the Second, by the Grace of God Queen of Malawi and of her other Realms and Territories, Head of the Commonwealth."
She surrendered that role when Malawi became a fully independent republic on 6 July 1964, just as she gave up her position as head of state in the other African countries once colonised by Britain in the name of the Royal Family.
I imagine the Queen's personal relationship with sub-Saharan Africa was much the same as most other Britons. Hereditary guilt at the callous way we, and other European countries, carved up the great continent. The roots of the genocide in Rwanda, for example, can be traced back to 1919, when Belgium "inherited" the country from Germany.
Our ancestors exploited whatever riches they could find, often evoking God as they did so, and largely ignored the needs of the indigenous population. When, in the late 1950s and early 1960s, the winds of change howled through Africa, we handed back control of countries like Malawi, and have spent the last 60 years trying to make amends through institutional aid and charitable giving.
The Queen's reparation for colonialism was the Commonwealth. When she ascended the throne in February 1952, during a visit to Kenya, the Commonwealth was only three years old, and comprised of only eight countries.
Today, it has a membership of 56 independent states, ranging from the tiny Pacific nation of Nauru with a population of only 10,000 to India with over 1.4 billion people.
There are 21 African countries, including two – Rwanda and Mozambique – which were never colonised by Britain, eight in Asia and three in Europe. And rather startlingly, the Commonwealth contains around one third of the world's population, with 60 per cent under 29.
This rather disparate collection of countries – some of the richest in the world and many of the poorest – stands as the Queen's global legacy. Her official duties as its head may have been largely ceremonial, but there can be no doubt that her voice was heard loud and clear in the corridors of power.
In the 1980s, she was fearful of a Commonwealth split if tougher measures were not taken against apartheid South Africa while the British prime minister at the time, Margaret Thatcher, was opposed to economic sanctions. When Nelson Mandela became President of South Africa, the Queen and he became firm friends. Peter Hain, the former Labour minister and anti-apartheid campaigner, recently recalled a telephone conversation between the two world figures.
"On his 90th birthday, he [Nelson] was phoned by Her Majesty the Queen. They were very close. He was handed the phone and said 'Hello Elizabeth, how is the Duke?'
"Afterwards his wife reprimanded him, She said 'you cannot refer to Her Majesty like that!' He replied: 'But she calls me Nelson!'"
But the challenges facing the world – and particularly the Commonwealth nations – will require more than personal chemistry between two historical figures. Tackling climate change – which will see countries like Malawi pushed even further into extreme poverty – is the single biggest issue facing all of us, and it demands a sustained, determined approach.
King Charles will inherit his mother's role as head of the Commonwealth, and no doubt he will make some fine speeches about the need to protect the world's fragile environment, but he alone cannot drive the global change required.
The new Prince of Wales, William, has made it clear that he is ambivalent about inheriting the job, suggesting earlier this year that he doesn't mind if the country is one day led by someone other than a member of the British Royal Family.
And that is how it should be. But I suggest there is a role for the young prince in using his considerable soft power to secure sustainable development for those Commonwealth countries, such as Malawi, which are struggling to survive in today's uncertain economic and environmental conditions.
President Paul Kagame of Rwanda said on the Queen's death that the Commonwealth was her biggest legacy, but recent polling by Afrobarometer showed that only 46 per cent of Africans thought former colonial powers – including Britain – have a positive economic and political influence on the continent, while nearly two-thirds (63 per cent) believe China does.
In the years ahead, King Charles and his son have a chance to help transform the Queen's beloved Commonwealth into a radical force for global change. It is their turn to shape world history.