It is a measure, of course, of how far to the right UK politics has drifted since 1980 that the sight of Labour MPs on picket lines should be a matter of debate at all; their party was founded as the political wing of the trade union movement. It's more than 40 years, though, since Margaret Thatcher launched her great 1980s' culture war against the miners, and against the very idea of trade unionism, and since then, Labour has had to deny all knowledge of such arcane 20th-century practices as striking and picketing, in order to have any hope of winning power at Westminster. Last summer, Starmer said plainly that "those who want to be in government should not be on picket lines"; and he sacked shadow minister Sam Tarry, for appearing on a picket line at Euston Station.
Yet the only constant in politics is change; and these days, the old Conservative game of taunting Labour for its trade union links no longer finds the response it once did. Well over half of the UK population now supports striking health workers, with high numbers also sympathetic to teachers and transport workers; and there are times, during this winter of discontent, when it seems as though Starmer may be overdoing his imitation of the sharp swerve to the right that carried Tony Blair into Downing Street in 1997, after 18 years of Tory rule.
That some such swerve was needed, to rescue Labour's electoral fortunes, is probably indisputable. Between the general elections of 2017 and 2019, Labour's vote fell by almost eight per cent, driven down by a fiercely personalised campaign against Jeremy Corbyn, and by exasperation with Labour's wishy-washy stance on Europe.
At last week's London Labour Conference, Starmer therefore unleashed a broadside against the Corbyn leadership of which he was part, saying Labour was no longer the party voters rejected in 2019, that never again would Labour be a party of "protest not public service", and that the party had to prioritise "sound money in public finances", while making support for Nato non-negotiable, in order to win back the trust of the British people. And Starmer is also tacking to the right on matters constitutional, still not daring to challenge the now largely mythical public support for Brexit, and undermining his own Scottish party and leader, rather than support their view that the Tory government's heavy-handed and opportunistic Section 35 order is hardly the way to deal with any genuine disagreement over the Scottish Government's gender bill.
All of which doubtless makes sense, under current electoral conditions; Labour is now riding high in the polls, almost 20 per cent ahead of the chaotic fin-de-regime Tories.
Yet there is something about the extremity of the meltdown over which Rishi Sunak is now presiding – the fierce cost-of-living crisis, the crushing energy bills, the breaking-point stress on so many public services – that sometimes leaves Starmer looking less than equal to the challenges he faces, even as he cruises towards Downing Street; and if he wants to govern well, following the next UK general election, he might perhaps be wise to spend some time looking at the real distribution of votes in recent elections, before he makes sweeping assumptions about what the people – or peoples – of the UK really now want from their government.
The 2016 Brexit victory that still holds him in thrall, for example, was won by a margin of less than two per cent. Boris Johnson's legendary "landslide victory" of December 2019, much referenced in Starmer's battle against Corbynism, was won with only 43 per cent of the vote, and with policies that have never enjoyed majority popular support.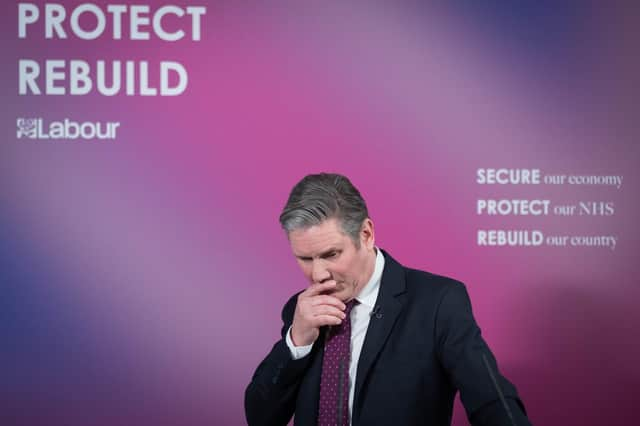 Starmer might also look at the result of the 2017 general election, in which Labour under Jeremy Corbyn came within two percentage points of Theresa May's Tories; he should certainly revisit John McDonnell's powerful 2017 manifesto, probably the most coherent and far-sighted programme for UK-wide renewal any British political party has produced this century, although that may not be saying much.
And he should also carefully study voting patterns in Wales, Northern Ireland, and Scotland. That exercise might show him, among other things, just how counter-productive it is for a party trying to rebuild support in Scotland continually to dismiss the SNP as a bunch of right-wing disruptors who can easily be ignored, when Scottish voters have been steadily and consistently choosing them as their centre-left government for the last 16 years.
The structure of a Westminster election, of course, demands none of this of Starmer. He can and probably will win without paying attention to anything much at all, except how his relentlessly focus-grouped positions are playing with key British media, and with swing voters in the key seats Labour needs to re-take from the Conservatives.
Trying to heal the broken Britain he will inherit, though, is a very different matter. And my guess is that very early in his career as Prime Minister, he will find that any serious attempt at repairing the economic damage done over years of Tory rule, and the huge geographical and constitutional breaches it has helped to deepen, will require a kind of economic radicalism that currently seems far beyond his reach; and perhaps also a willingness to renegotiate the sacred absolutes of Westminster sovereignty that no British Prime Minister has dared to contemplate, since the day a century ago when David Lloyd George signed Ireland's independence treaty, and set at least one part of these islands free, to shape its own destiny.