Kate Forbes backlash belies SNP's longstanding religious ties – Martyn McLaughlin
The SNP leadership contest is still in its infancy, but even in the frantic week that has followed Nicola Sturgeon's resignation, the party has been given much in the way of food for thought.
The dominant issue so far has been the religious beliefs of Kate Forbes, a member of the Free Church of Scotland, who has previously said that while she has never hidden her faith, she has, at times, found herself "tiptoeing around" it.
What a difference 48 hours makes. Since confirming her candidacy on Monday morning, discussion about the 32-year-old's suitability for Scotland's highest office has been framed almost exclusively through the prism of her faith. A good deal of the debate has been characterised by an ignorance which betrays the declining influence of religion in Scottish civic discourse, and a hysterical minority of commentators have fallen into a trap of their own making by insisting that an evangelical Christian should not be able to become First Minister.
Those who insist on pushing such views might well reflect on their compatibility with a pluralistic society which purportedly promotes tolerance of opinion, freedom of thought, and the right of people to live in ways that accord with their own beliefs. Naturally, Ms Forbes has faced variations on that very question. It is, of course, right that the public should know something of the lives and beliefs of those putting themselves forward for such a crucial role, and politicians of faith should expect scrutiny around how they intend to reconcile their religious conscience with the compromises of political life.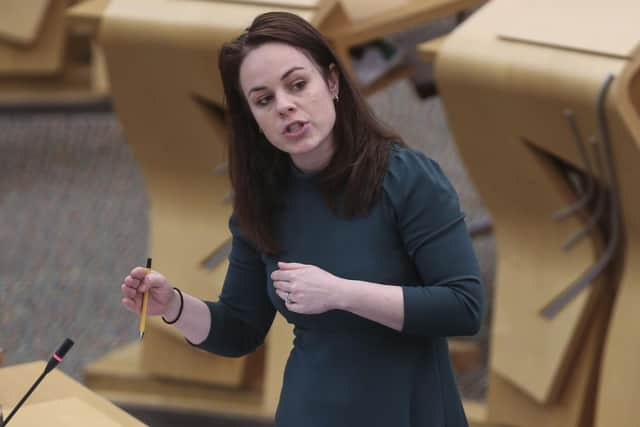 The Finance Secretary, to her credit, has been open about her views, insisting that she is a "servant of democracy", but her responses have been poorly judged, and her candour has come at a price. Her admission that she would have voted against same-sex marriage has understandably upset and angered the LGBTQ community, and she has failed to acknowledge the anxiety and distress she has caused many.
Three junior ministers who initially backed her have withdrawn their support, and that trend may continue unless Ms Forbes reconsiders how to articulate not just her faith, but the values it has instilled in her. Talking about love, compassion, and empathy would go a long way to placate some, though not all, of her critics.
To my mind, the most striking takeaway from all this is that anyone should be surprised that a potential SNP leader should hold such deeply Christian views. For all that other tensions around the constitution are fraying the party's long-standing unity, religion exerts its own stresses. It is an issue that has been adroitly kicked to the periphery under Ms Sturgeon's premiership, but Ms Forbes has changed that. A party wrestling with its first leadership contest in nearly two decades must ask itself what influence faith will bear on its members' votes. The answer may dumbfound many.
Despite being the dominant electoral force in Scotland's devolutionary era, there has been little in the way of discussion or insight into how religion informs the lives and views of those who make up the SNP's rank and file. The one notable exception was a study back in 2011 by James Mitchell, Robert Johns, and Lynn Bennie, who found that the proportion claiming a religious affiliation stood at 56 per cent, noticeably smaller than the corresponding proportion in the 2001 Scottish census, where the figure was 67 per cent. But the vast post-referendum membership surge enjoyed by the party since, coupled with a society that is increasingly secular, means it would be careless to try and extrapolate that data.
What is clear is that the SNP is a party that has shifted course significantly and, at times, unexpectedly over the course of its near-90-year history, and as it finds itself on the verge of another moment of transition, its hybrid political philosophy remains in flux. It has always found room for the socially conservative alongside the radically liberal, and all who fall in between.
In that respect, it would be foolish to depict Ms Forbes as the black sheep of the party on account of her religion. Indeed, were she to become its leader, it would mark the continuation of a tradition that has seen members of the Free Church occupy powerful positions in its hierarchy. Ian Blackford is a member of the same flock, as well as the vice-chair of the Christians in Parliament group at Westminster.
That those facts remain so obscure is perhaps testament to the former SNP Westminster leader's ability to accommodate his faith alongside his politics. There was no clearer demonstration of that than his use of a free vote to legalise same-sex marriage and abortion in Northern Ireland in 2019, a stance which drew the ire of David Roberston, the former Free Church moderator, who accused Mr Blackford of pushing an elitist agenda that would spell "the death of Scotland".
Other SNP high heidyins down the years have also been able to facilitate their membership of the Free Church with their day jobs, albeit with considerably more controversy. In 1980, when Robin Cook brought forward an amendment to legalise homosexual acts in Scotland, Donald Stewart, the SNP MP who would go on to serve as the party's president and who later condemned Margaret Thatcher's attempts to allow shops to trade on Sundays as contrary to "God's plan for living", was one of two SNP members of parliament to vote against it.
And the other? Why, none other than Gordon Wilson, a future Free Church member who was ten months into his modernising leadership of the party, and who would continue in the role for the rest of the 1980s. Of course, in the four decades since, the identity of the SNP has changed immeasurably, but that very transformation is as good a warning as any against assumptions that its status as a vehicle for the progressive left will not shift in the future.
Comments
 0 comments
Want to join the conversation? Please or to comment on this article.