Kate Copstick: Phillip Schofield affair was a sad, pointless distraction from a world in genuine crisis
The pointless Phillip Schofield affair only distracts from real-world issues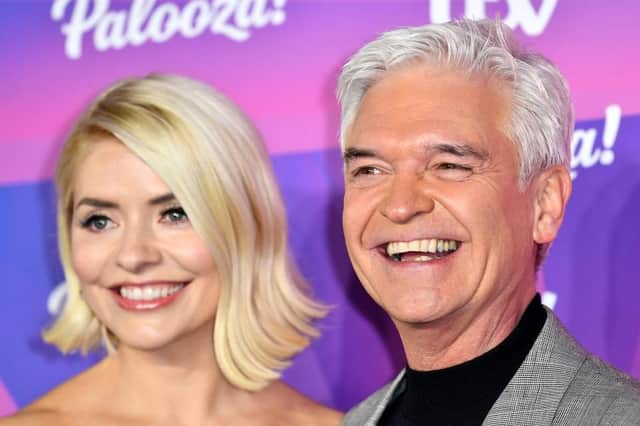 "Firstly … are you all ok ? I imagine that you have been feeling a lot like I have - shaken, troubled, let down, worried for the wellbeing of people on all sides of what's been going on, and full of questions …"
I am not that great, to be honest, Holly, thank you for being so concerned.
And, as chance might have it, I do have questions.
What is happening to the economy ? I am troubled that, while we have proof of 43,000 deliberately false Covid test results, there is no real sign that any guilty party will be brought to book over the affair. People died. Pockets were lined. Lies were told. And we only have to look at the tears shed over Phil's Fibs to see how destructive lies can be.
I am both shaken and very worried that, piece by piece, the UK's hard fought for human rights are being picked apart and thrown away by a government happy to defy and overrule (in all but name) its own House of Lords. The Public Order Act jookery pokery ( I am at a loss as to what other terms to use without risking a heavy edit) should terrify and enrage all who understand the rule of law.
And while we are asking questions, Holly, when will they release Julian Assange ?
But it is the morning of Monday the 5th June 2023, as I sit writing, barely able to contain my emotions, waiting, as the entire nation waits, for Holly's Statement. Excitingly, we have been told, she has thought carefully about what she is going to say. Adorably, we have been told, she will be kind.
We are almost at peak This Morning. Just Holly's announcement to go. And then it will all be lovely again.
Meanwhile, a two year old Palestinian boy, shot in the head, while sitting in a car which got in the path of an IDF incursion into a village on the occupied West Bank is on life support.
But Holly is now "holding back tears" so that's the important thing.
The spotlit spawn of a dire decade of 'reality' TV, together with a embittered grump of hoary old autocue readers are, of course, appalled/feel betrayed/suffered egregiously at the hands of Schofield's ego/choked in the 'toxic' atmosphere of the 'toxic' workplace that was 'toxic' at 'toxic' This Morning.
Don't your gums just bleed for them ? Although that may be malnutrition, as use of foodbanks is at an all time high and one in four children in Scotland is living in poverty - as we might know better if we were not all so horrified that a 61 year old married gay guy had a fling with a bloke a third of his age.
Talking of horrifying, Rishi Sunak's draconian Illegal Migration Bill goes back to the House of Lords today.
Are you not terrified that the kind of mind that could even contemplate legislation like this is in power here?
Even the tip of the iceberg contains 170,000 terrified people, held in frequently appalling conditions in a queue for refugee status that will, if Suella has anything to do with it, never come.
But, more importantly, Eamonn Holmes did not feel he was treated well. Or even fairly. So let's hear just some more from the man who has taken the hump to the extent that he now appears on Ordnance Survey Maps.
I knew Phil a lifetime ago at BBC children's and daytime TV in the 80s and 90s. Perfectly nice bloke. But fame corrupts, and no one is going to spend 40 years as TV royalty and come out of it without an ego that exerts its own gravitational pull, just a humble lad, standing rounds for fans in Wetherspoons.
I can easily think of half a dozen famous presenters I worked with whose entire production teams trembled at their name - for one reason or another.
Daytime current affairs and entertainment is an oddly frustrating place to present. That particular breed of media is not really bred to be powerful enough to get its teeth into the big boys. So, mostly, it just devours itself. In this current instance, with the kind of excitable viciousness of a shoal of underfed piranhas offered a side of dead meat.
Which reminds me, currently 47 per cent of Syrians are forced to rely on unsafe water, for drinking and preparing food, as a result of which, they have their first major cholera outbreak in a decade. Cholera epidemics are terrifying and mortalities are expected to be high. But I digress.
Holly has a desire to "heal" and to "get back to a place of warmth and magic." I assume she will be leaving telly.
The one person who could clear all this up in an instant would be the nameless paramour. And he is saying nothing. Which possibly speaks volumes. Or not. We shouldn't care.
But as a demonstration of the power of Juvenal's 'bread and circuses', to distract, so totally, a people and its myriad media from a world in genuine crisis - this sad, pointless saga, with its venal unpleasantness, and its cast of unsavoury, hypocritical, embittered, point scoring, and self-seeking media ciphers will take a lot to beat … although I'll bet Cheryl Cole is hoping no one on The Greatest Dancer remembers she met Liam Payne when he was 14 and she was 24 – officially 'dating' 14 years later.
Comments
 0 comments
Want to join the conversation? Please or to comment on this article.