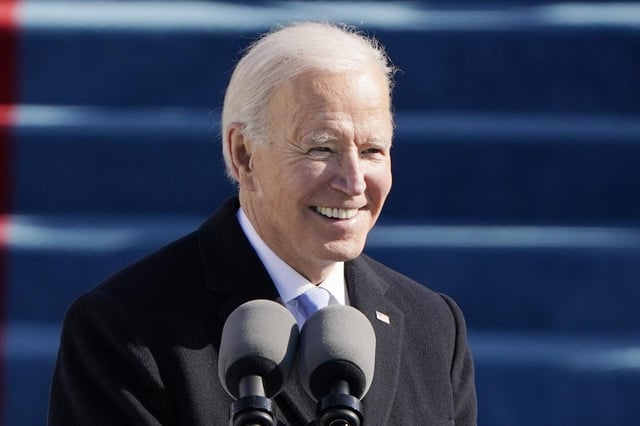 Joe Biden is now the US President, not Donald Trump (Picture: Patrick Semansky/pool/AP)
"We've learned again that democracy is precious. And at this hour, my friends, democracy has prevailed," he said, just two weeks after a violent mob stormed the US Capitol in what Republican senate leader Mitch McConnell, among others, called a "failed insurrection".
Meanwhile, the man who fired up that mob with false words and all but told them to attack the building where senators and representatives were ratifying the presidential election result – Biden's predecessor, Donald Trump – was absent, sulking and in disgrace. His Vice-President Mike Pence, who some Trump supporters had chanted should be hanged for not going along with their idol's lies, was present, however, and he clapped politely after Biden's speech was over.
In his remarks, Biden reached out to those who had voted for Trump, saying he would be a "president for all Americans".
But he also promised to protect democracy, warning of the threat posed by white supremacism and domestic terrorists, and "to defend the truth and defeat the lies". "We must reject the culture in which facts themselves are manipulated and even manufactured," he said.
Trump won power and sought to keep it by telling thousands upon thousands of lies and falsehoods, chief among them his baseless claim that he, not Biden, had actually won the election. It is a sad reflection on just how gullible humans can be that so many people were prepared to believe him. And it is a warning to democracies the world over about the need to uphold basic standards of honesty and truth if our way of life and freedoms are to be maintained.
Biden said he would "repair our alliances and engage with the world once again" with one of his first acts expected to be to sign the Paris Agreement on climate change, ditched by Trump, once again.
Former US Vice-President Mike Pence and his wife Karen Pence, facing camera, speak to former President Barack Obama and his wife Michelle Obama (Picture: Saul Loeb/pool/AFP via Getty Images)
If anyone doubts the impact of an American election on the world, Boris Johnson tweeted: "America's leadership is vital on the issues that matter to us all, from climate change to Covid."
How different his words would have been – and would have had to have been – if Trump had won.
A message from the Editor:
Thank you for reading this article. We're more reliant on your support than ever as the shift in consumer habits brought about by coronavirus impacts our advertisers.
If you haven't already, please consider supporting our trusted, fact-checked journalism by taking out a digital subscription.