Japan supercharges Scotland's green revolution - Jeremy Grant
When my great-grandfather Evan Grant was church minister in Nigg in the 1890s, he and the souls he served would have had no inkling that this once-quiet corner of the east coast would be part of the re-industrialisation of Scotland over a century later.
But this is what's in prospect, given some recent big developments in green energy, driven by Japan.
Scottish Secretary Alister Jack was in Nigg the other day talking up the job creation possibilities stemming from the award in January by the UK government of "green freeport" status to the port there in the Cromarty Firth. A key player will be Sumitomo Electric Industries, which last month said it would invest £200 million in manufacturing the subsea cables needed to connect offshore wind farms to the grid, creating 150 jobs.
Yet something much bigger emerged barely two weeks later — again, from Japan. As the leaders of the G7 group of industrialised countries were gathering in Hiroshima, one of the Japan's biggest companies, Marubeni, said it would sign a memorandum of understanding with the UK government that could see it invest as much as £10 billion over the next decade in the UK. This includes offshore wind in Scotland, and green hydrogen projects in Wales and Scotland. Marubeni opened its first office in Scotland, in Glasgow, in November last year.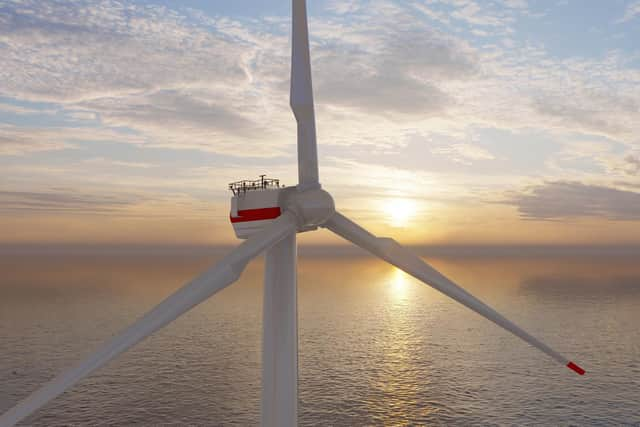 It can sometimes be hard to grasp the big picture significance of the headlines we read these days in renewable energy. But once you start to join the dots, it becomes clear that we are on the cusp of something very significant indeed. The supply chain infrastructure needs alone explain why I use the word "re-industrialisation".
Given that the British grid is old and creaky (technical term), much of the power generated by the offshore wind farms envisaged for the North Sea under the massive ScotWind project is likely to be used to make green hydrogen (so-called because it's made using power generated by renewable energy such as wind).
Some of that will be used domestically. But the big prize is exports. Small wonder that hydrogen is a key priority of the Scottish and UK governments.
A big piece of the export puzzle fell into place a few weeks ago with the signing of the Ostend Declaration, a joint effort between nine countries, including the UK, Norway and Germany, connecting member countries in cross-border offshore projects in wind and hydrogen production "at massive scale".
The obvious customer is Germany, which urgently needs hydrogen as an alternative to Russian gas, and as it shuts down its nuclear plants. David Scrimgeour, a Munich-based Scottish energy consultant, says ScotWind, having leased out its seabed sites, is "ahead of the offshore wind plans of other countries ringing the North Sea – and therefore ahead of the game". Notably, Marubeni is also a member of one of the ScotWind consortia alongside SSE.
A lot still has to happen, not least building pipelines to transport the hydrogen. The economics involved are unclear. And they would take about five years to build. Moreover, Spain, Chile, and Qatar are also vying to supply Germany with hydrogen.
But, thanks in part to Japan's strategic vision for places like Nigg, something profoundly important to Scotland's future is beginning.
​Jeremy Grant is a freelance writer and editor, and was a journalist at the Financial Times and Reuters for 25 years
Comments
 0 comments
Want to join the conversation? Please or to comment on this article.