Janet Christie's Mum's the Word - Never mind the players on the pitch, it's the mums that are the winners
Never mind the players on the pitch, it's the mums that are the winners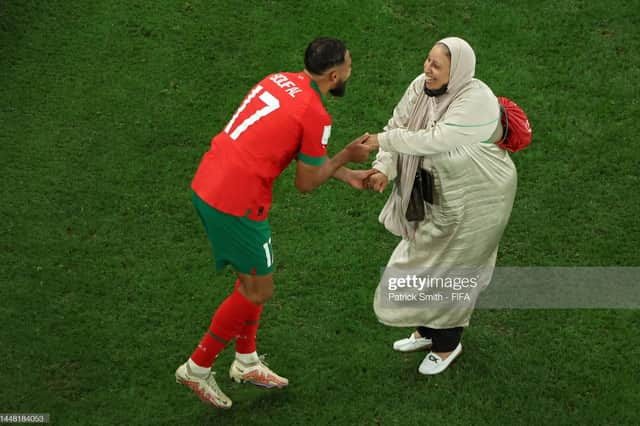 Whoever wins this year's men's World Cup tomorrow, the team that deserves the overused term of 'history making', so beloved by football pundits, politicians and royal commentators alike, must be the Moroccans, the first African team to reach the final stages.
But never mind the Atlas Lions' cast iron defence, creative midfield and speedy strikers, their phenomenal workrate and self-belief, the real power behind Morocco is surely off the pitch in the shape of their mums, the Atlas Lionesses.
Whether it's Achraf Hakimi celebrating with his mum in the crowd and getting a kiss after his penalty shoot out success against Spain, and another after the Portugal game, or Siofane Boufal bringing his mother down from the stand to dance on the pitch, it's a reminder women don't just play - and win - at football, they're crucial behind the scenes too.
Maybe other teams keen to emulate Moroccan success should ditch the WAGs and take the mums to tournaments. These are the women who've spent years buying the multiple footballs that bounce off the windows of the family home, who stand in parks, whatever the weather, wash countless crispy concertinaed socks, and in the case of players like Hakimi have made huge sacrifices to get their sons where they are now. Hakimi's mother worked as a cleaner in Madrid, while her husband was a street food vendor, as they raised their family and supported his talent, and if anyone deserves to dance, it's his mum.
Maybe it's time for the mothers to step it up and start running on the pitch with the magic spitty-licked hanky to apply to a bruise when a player goes down. Imagine a half time team talk from someone who knew the players before they even realised there was such a thing as masculinity, toxic or otherwise, and didn't tell them to grow a pair or man up, but calls them daft names like poppet and kisses them better whatever their age. Oh and gets them to bed on time on pre-match nights.
Missed a crucial penalty or the team's kicked out of a tournament? A mum will be waiting with a cuddle and to tell you you're brilliant whatever the trolls say. No wonder Cristiano Ronaldo - arguably the greatest player ever and still living with his mother at 37 – was in such a tear-stained rush to get off the pitch. Bet his mum was waiting in the dressing room.