"Orwellian" has predictably done the rounds to describe the move. But like the boy who cried wolf, everything has its moment – and this is not one. The 007 publishers commissioned a review by sensitivity readers of the series, which will mark 70 years since the publication of Fleming's inaugural Bond book, Casino Royale.
Reissued versions of Fleming's classic works will allegedly feature a disclaimer following a review by sensitivity readers. The changes include some depictions of black people being reworked or removed. In the new version of Live and Let Die, the n-word has been almost entirely erased from the revised texts.
Bond's assessment that would-be African criminals in the gold and diamond trades are "pretty law-abiding chaps I should have thought, except when they've drunk too much" becomes "pretty law-abiding chaps I should have thought".
The edits have drawn comparisons to changes to Roald Dahl's books "for young readers", with offensive language removed. The word "fat" was cut so that Augustus Gloop in Charlie and the Chocolate Factory is now described as "enormous". The Oompa Loompas are called "small people" instead of "small men". Gender-neutral terms have also been added.
The backlash was predictable and, for once, not entirely wrong. Puffin has amended its original decision, and the books will continue to exist in their original form, alongside the newly edited versions.
However, the question for Fleming enthusiasts is whether the changes to the originals go far enough. Two versions of Bond is no bad thing, in much the same way as some of the more sexual or violent elements are edited out of the movies for pre-watershed consumption. That seems lost on many criticising the changes – none of the outright racist elements translated to Bond's big screen incarnation. There was an insinuation, but nothing explicit, in 1962's Dr No, a mere nine years after the release of Casino Royale.
Bond has endured because the characters and stories are marvellous, brilliant and utterly thrilling entertainment. There are already innumerable edits, editions, interpretations, and translations of classic literature.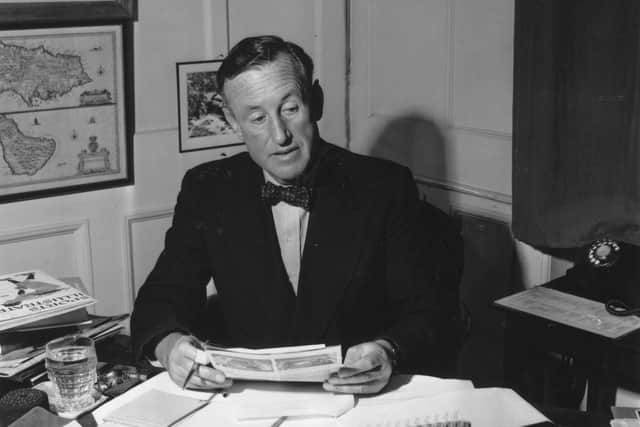 If two versions are available side by side, the original and an amended version, what possible issue can there be if they are clearly marked? Most of it depends on the editors' tastes, as their lengthy introductions attest.
The edits should go further. Dated references to other ethnicities, such as Bond's racial terms for east Asian people and the spy's disparaging views of Oddjob, Goldfinger's Korean henchman, will remain in the new editions.
And then there are the female characters. Fleming's high-society sadism remains untouched. References to the "sweet tang of rape", "blithering women", failing to do a "man's work", and homosexuality being a "stubborn disability" are somehow deemed acceptable, whereas descriptive racism is not.
One of the best Bond books you have likely never read is The Spy Who Loved Me. It is the only Bond novel written from the perspective of a lover, and it is utterly compelling. If anything might benefit from a tweak, it would be the "refined, erotic cruelty" towards female leads in the rest of the series that Fleming delights in.
This is no book burning or Orwellian erasure in which "nothing exists except an endless present in which the Party is always right", to quote 1984. Wokeness has not won the day. New edits make good commercial sense. It is hard to advocate Bond books as a premium product over the movies or to defend the extreme racism.
Excessive is the key here. Live and Let Die is notorious. The excuse Fleming was a product of his time, and the books reflect that, is valid – but only to a point. Official continuity authors like William Boyd, Sebastian Faulks, and Anthony Horowitz have abandoned the author's weaknesses and honed in on the motifs which make Bond, James Bond. One might forgive a cavalierness or insensitivity, but a white supremacist thread is apparent in Fleming.
The biggest mistake with pulling down the Edward Colston statue in Bristol was it was a one-time trick. The slaver is already an afterthought. Edinburgh has erected plaques on its controversial figures. Even if the messaging and language remain contested, keeping something aesthetically pleasing while teaching people about its history is preferable.
One should celebrate a diversification of the Bond pool with amended versions that expand a commercial base. This should be broadened consistently to what the exercise aims to achieve with no half-compromises about racist vernacular. It does not need to come at the price of editing out of existence the originals as the author intended them.
We must warn against two-lane moral snobbery. Reading the original Dahls or Flemings does not make you a closet bigot. Reading the redacted versions does not make you a prude or stupid. Selection and choice can be as harmless as picking an edition with a cover you are quite fond of.
Cultural wars are sometimes a sinister proxy for anti-state intervention and moral proselytising. Publishers would benefit enormously from PR communicators who explained, without room for interpretation, what is going on with the beloved legacies with which they have been entrusted.
Those books are still there – so only if there is any insinuation, doubt, or even a suspicion that they are to be purged on some bonfire of the moral vanities, should frustration rightly evolve to pious and indignant protest.