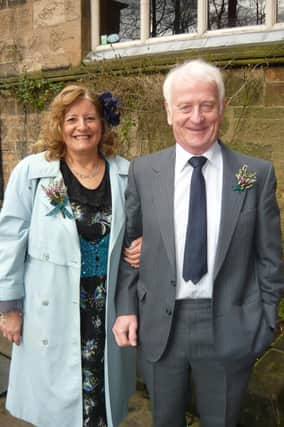 I was giving up a job that I loved in order to care full-time for my husband, Dave, who had vascular dementia.
My decision to give up work wasn't an easy or immediate one. In the beginning, it was just little things that weren't right; Dave would put the wrong cutlery out, or forget some words, but he was coping at home while I was at work.
Then we went to an assessment appointment which revealed the true extent of Dave's deterioration, which he'd been hiding from me. Then he began losing keys, bank cards and getting lost, so I decided to work part-time.
One year later, I walked out of the office door for the last time. I felt sad and anxious, facing the prospect of being alone 24/7 with Dave, who was rapidly losing his independence and recognition of me and the 36 years we'd spent together. I wanted to spend as much time with the man I loved, but I didn't know if, and for how long, I'd be able to cope alone, like so many carers looking after loved ones living with dementia.
I felt as though I was giving up my professional life too soon; losing my independence and taking on a full-time caring role that I'd never asked for or wanted.
And of course, there was the financial toll. My state pension didn't become available until nearly three years after I stopped working, but I was fortunate to have a small private pension, and we had Dave's pension too. I applied for Carer's Allowance when I realised I was eligible for it, but the rate was insultingly low; just over £60 a week for a job that I could never clock off from.
When Dave went into hospital for five months, the benefits like Carer's Allowance stopped, but my caring didn't. I visited Dave every day, took his washing home and even helped feed him at mealtimes. Meanwhile, I was dipping into my savings to adapt the house for Dave's return home which I hoped was for the foreseeable future.
Just four months after he came home, Dave was taken back into hospital and then moved permanently into a care home. For the following 18 months, I had more money going out than coming in and I was once again forced to turn to my savings; the money we'd saved to travel the world together in retirement. I still felt fortunate, because I couldn't begin to imagine how someone without savings could afford to put their loved one into long-term care.
When Dave passed away last year, I made a promise to myself that I'd come first. Then Covid hit, and I found myself caring for my 82-year-old sister. My contribution as an unpaid carer was once again invisible, except to my sister who really appreciated my efforts. I clapped for our amazing NHS, and for carers too, but society didn't acknowledge us.
Today marks Carer's Rights Day; which is supposed to be an opportunity to make sure carers across the UK are aware of their rights. But what about our right to be properly recognised and rewarded for our caring?
Caring is a full-time job, which leaves you with little time or energy to fill in forms and fight for the pittance that is Carer's Allowance, and once older carers receive their State Pension, they are not eligible for it anyway.
Despite everything, local and national governments still refuse to recognise unpaid carers' contribution to the UK economy, regardless of the fact that we save the country millions of pounds by looking after our loved ones.
All we want in return is the respite and support we need, enough money to live on and recognition of our efforts. Is that too much to ask?