It's time we learned to talk about death
There will be few of us who get through this plague without being touched in some way by loss, by death.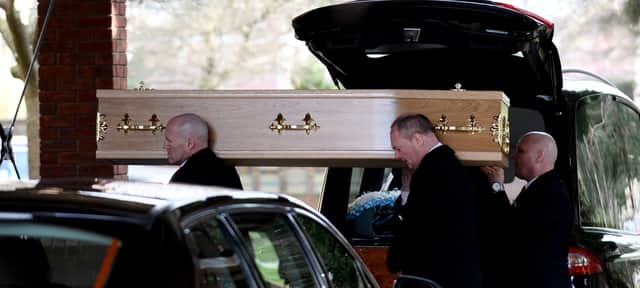 It may not, if we are fortunate, be a close member of the family, or even a friend, but there will be someone who loses their life to Covid-19; someone who loses their life to another illness for fear of going to the GP, of putting more "strain" on the NHS; someone who loses their life due to being captured in lockdown with an abuser; someone killed in a car crash as speed limits are no longer adhered to on strange, wide, empty roads; someone you knew in that six-degrees-of-separation way.
And the quietus will stir a silent remembrance at some point as we all carry on playing out our lives; the lack of a particular note only noticed by its absence when it's sound is most needed.
My family and the community where I grew up, lost someone last week. A good man, John Laing had an impact on the people he served from behind his newsagent counter for decades, an impact far greater than the one his 5p bags of neon-hued sherbet and 10p mixtures had on countless childrens' teeth.
He and his late wife Dorothy employed many young people, and many women who were looking for work during school hours, they were great supporters of local schools, ran a Christmas saving club and would give of their time to anyone who stepped into their shop. As a result, at his funeral people lined the streets – socially distanced – to pay their respects, and the outpouring of love and reminiscences on Facebook was overwhelming.
It's hard to imagine what the emptiness of the chapel felt like for his immediate family when they got to the crematorium. It should have been packed. But to have to sit alone from other family members, to be unable to hug each other and give that physical touch of comfort... well I just hope not to have to experience that.Ironically perhaps, this has been Dying Matters Week, an annual campaign where we are encouraged to talk about death, rather than shy away from it as is the usual human wont.
There will have been many, many more conversations of this ilk in the last eight weeks than normal. Even Scotland's Chief Medical Officer, Dr Gregor Smith, was urging those with elderly, more vulnerable relatives to have that heart-wrenching conversation about what they would like to happen should they become so unwell through coronavirus, or indeed any other illness, that resuscitation or ventilation would be required. Again, I hope not to have to experience that.But the campaign is right, that we need to talk about death, to plan for it, to be ready for it, to help each other grieve and of course, to remember. We need to know how, in these god-awful days, we can make sure those we love have a "good death", if such a thing is possible, and we can share the burden of grief. Without doubt at John's funeral, that leaden weight of loss was carried on many, many shoulders and I hope his family were able to feel their burden a little lifted at the sight.
This plague we're living with is inhuman, so now more than ever, we need to hold on to our humanity. A part of that is realising that death is no longer something with which we have to resolve in private; in a public health crisis, our losses are also public, and we should all cling to that for support at least.
Comments
 0 comments
Want to join the conversation? Please or to comment on this article.