It's time to embrace green space and show that learning is great outdoors – Rachel Cowper and Deryck Irving
Moving education outdoors would be beneficial to childhood health and wellbeing and ease the pressure on indoor setttings, write Rachel Cowper and Deryck Irving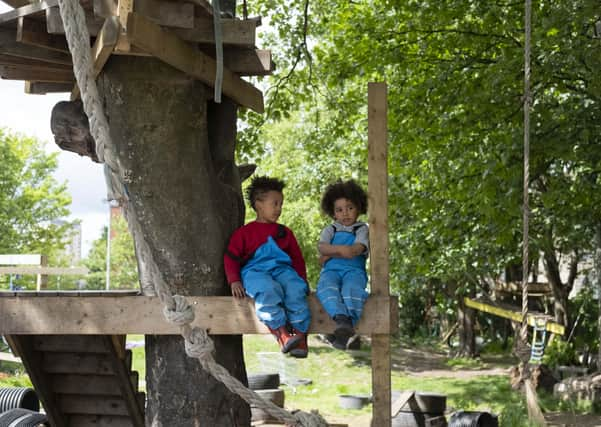 Phase 1 of the Scottish Government's lockdown easing measures included the reopening of childminders and fully outdoor nurseries. This is driven by evidence that transmission risk for Covid-19 is lower out of doors, and findings indicating outdoor settings have a positive impact on decision-making, problem solving and interpersonal skills.
According to national guidance, "an outdoor setting does not need a fully functioning building to deliver high quality, flexible early learning and childcare".
This notion leads directly to the question of whether this model could be replicated in primary or secondary education. In other words, could we have outdoor schools?
The answer should be emphatically yes, since our curriculum in Scotland, particularly at Primary level, can be delivered outside. Moreover, by moving education outdoors, we can provide additional benefits to childhood health and wellbeing, as well as ease the pressure on indoor settings.
Looking back to a pre-pandemic world for a moment, it's useful to think about where outdoor learning has typically taken place. Some of it has occurred on relatively sterile playgrounds, astroturf pitches and staff car parks. Other nurseries and schools might have made use of local greenspaces, but these can also be less than ideal.
Others still have created their own spaces from underused or unused land. Consider Baltic Street Adventure Playground, created on a derelict site in Dalmarnock as a temporary response to the lack of play space for children and families in the east end of Glasgow.
The site has become a permanent, supervised adventure playground for children aged six to 12, and a community haven for play, adventure, and learning.
While Baltic Street offers a wonderful example, there are currently only 31 registered fully outdoor nurseries in Scotland. There are more in the pipeline, but it is important to note that in Scandinavia, outdoor nurseries and classrooms are so commonplace that they are not separately identified in the registers of education provision.
We believe that any solution for educating in the early and school years must include increased access to, and use of, outdoor spaces for learning.
In order to do this, there are a few steps that can be considered. Some or all of them will help achieve this aim, and support children's health, wellbeing, attainment, and connection to their communities.
1. Improve school grounds as learning spaces. It's time to think outside the box and use recycled and loose parts materials to aid learning and encourage greater biodiversity in school grounds. Consider all external space as an opportunity – a car park may be perfect for chalk drawing and maths lessons.
2. Look outside your school grounds. What local spaces exist in your community? Could you use local parks and green spaces or other public places close to the school? Consider how you could improve greenspaces as learning spaces, including providing safe access from local schools.
3. Create new green spaces as learning spaces. Not every community or every school has access to greenspaces which could be used for outdoor learning. Recent research by Fields in Trust suggests that almost 320,000 people in Scotland do not have a greenspace within a ten-minute walk of their homes.
4. Be innovative. Look for opportunities to transform under and unused spaces such as vacant and derelict land. Analysis carried out by the Central Scotland Green Network Trust identified 86 land sites with the potential to provide new green spaces in areas where access is poor.
There is a pressing need to focus on making best use of what we've got while ensuring that what is there in the future is better. This will involve our communities having better access to local green spaces, with outdoor learning fully integrated into the curriculum.
Not only will this make us more ready for future public health challenges, it will also create better, healthier places for us all to live and work, increasing our contact with nature and reducing the negative impacts of vacant and derelict land on communities across urban Scotland.
We want to help more children, more schools, and more communities take the opportunity to use their local green and natural spaces. If you're considering how you might achieve this for your setting or community, please get in touch and speak to us.
Rachel Cowper is Programme Manager for Thrive Outdoors at Inspiring Scotland, [email protected]
Deryck Irving is Director of Strategy and Development, Central Scotland Green Network Trust, [email protected]
Comments
 0 comments
Want to join the conversation? Please or to comment on this article.