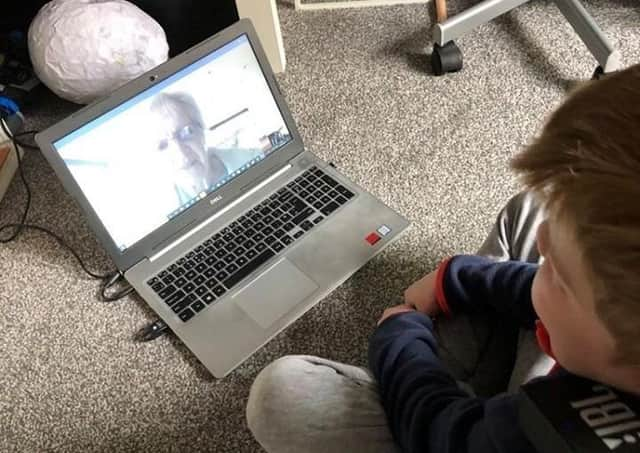 Bo, a pupil at the Royal Blind School receives an online lesson from Royal Blind School teacher Pam Young
It seems like such a long time ago now since March 23, when the lockdown to contain the coronavirus pandemic was first announced. All our lives have been changed in so many ways. But there can be no doubt that some groups in society have borne the brunt of these essential measures more than others. The poorest in our society are suffering most, and many vulnerable people face even greater challenges than they did before lockdown.
As Scotland's largest visual impairment charity, we are keenly aware of what the response to the pandemic has meant for blind and partially sighted people. People with visual impairment have not been defined as "vulnerable" in the government advice during the pandemic. While we understand why some people with particular conditions and health challenges are particularly at risk from coronavirus, this decision has had significant implications for people living with visual impairment.
Blind and partially sighted people who had relied on supermarket deliveries for many years have had huge problems securing deliveries. For those who had previously been able to visit supermarkets, the current measures mean they are no longer able to do so. Blind and partially sighted people often rely on touch and guiding from another person to navigate shops. During social distancing, this is no longer possible.
Mark O'Donnell, chief executive, Royal Blind and Scottish War Blinded.
Social distancing markers on floors and the introduction of one-way routes around supermarkets cannot easily be navigated by either long cane or guide dog users. The efforts blind and partially sighted people have made to highlight these issues has resulted in progress. For example, Tesco is now registering people with visual impairment as vulnerable customers. But problems still persist and have been preceded by weeks of anxiety and uncertainty. This could have been avoided if a different approach had been taken and blind and partially sighted people had been designated as a vulnerable group.
We're also concerned about the impact of the withdrawal of care services for many disabled people, including people with visual impairment. We understand the pressures on local authority care services and as a care provider ourselves recognise the challenges well. Nevertheless, too many disabled people now don't have access to lifeline care support. We risk marginalising further people who are already at greater risk of social isolation. Two thirds of people with visual impairment say they have experienced loneliness directly as a result of their sight loss.The current situation means that disabled people face increased isolation and severe impacts to their health and quality of life unless we act now to ensure vital support continues.
The necessary measures to tackle coronavirus must be balanced with maintaining the rights of disabled people. The correct balance has not always been struck since the pandemic began. That's why further action is required now and lessons must be learned to protect the rights and welfare of disabled people as we tackle coronavirus in the longer term.
In spite of these challenges, it is important to highlight how resilient many people with visual impairment have been in these difficult weeks and how we've worked together to respond innovatively to the situation. The Royal Blind School has arranged virtual lessons for pupils and provided advice for parents while children are at home. Accessibility is always an issue for our pupils, who are blind and partially-sighted, so we are selecting online resources carefully and often creating our own. We support young people with complex medical needs who may not be in good health for reasons unrelated to Covid-19 and who require a friendly and supportive voice at the end of a phone. In our residential services for children and young adults we've increased use of FaceTime and Skype so families who can't visit can keep in touch. We've received a number of iPads and tablets which have been generously donated by the public so residents in our care homes for older people with sight loss can see and speak to their families online. In one week alone our Scottish War Blinded outreach team made more than 900 calls to our veterans and their families, checking that everyone was safe and well and had everything they needed.
It is vital all of us who provide support to people with visual impairment work together to ensure key services continue, even in these remarkably challenging circumstances, and we are determined to make our contribution to this important work. Please support Royal Blind to do so by texting BLIND to 70460 to donate £3. Texts cost £3 plus one standard rate message.
Mark O'Donnell, chief executive, Royal Blind and Scottish War Blinded.