It is in all our interests for Labour's voice to be heard again - Christine Jardine
There is a news clip from 1985 that flashed through my mind the instant I heard that Jeremy Corbyn had been suspended from the Labour Party.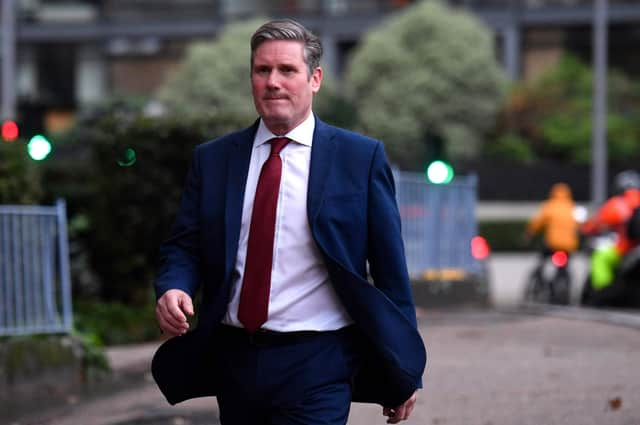 It was the speech to the annual conference in which Neil Kinnock called time on Militant Tendency in Liverpool for the 'grotesque chaos of a Labour Council hiring taxis to scuttle round a city handing out redundancy notices to its own workers.'
It was a defining moment in Neil Kinnock's leadership of his party and their recovery from the internal conflicts which had made them unelectable.
It did not immediately propel Labour back into power - there were two election defeats still to face - but it did set them on a course which brought the Thatcher/Tory era to an end.
There were echoes of that October 1985 day in Keir Starmer's reaction to the report from the Equality and Human Rights Commission on anti-semitism in the Labour Party.
And it is one which could prove significant for his party in Scotland.
In suspending Corbyn, Keir Starmer laid out his challenge to internal opponents just as confidently as Kinnock had done 35 years before.
Critics will point out that Corbyn was suspended for his reaction to the report rather than the report itself, but to suspend the immediate past leader, one with his own modern Militant Tendency-style network in the shape of Momentum, is bold.
The allegations of anti-semitism at the heart of the LabourParty have cast a long shadow over their parliamentary group for the entire time I have been elected to Westminster.
Even so the much anticipated report is staggering almost from the very first word.
Most damming perhaps is the statement that: "We have concluded that there were unlawful acts of harassment and discrimination for which the Labour Party is responsible."
The report also talks about a culture which, at best, did not prevent anti-semitism, and at worst accepted it, while it also points to evidence of political interference in the handling of anti-semitic complaints.
At least as bad as the report itself though, is what we know about the abuse that was suffered by Jewish members and elected representatives.
My own former colleague Luciana Berger has spoken of the abuse which eventually forced her out of the party, and another MP has described it as "a dreadful, lonely and frightening period of our lives."
That it existed at all in British politics should shame us all.
It has been immensely damaging, primarily for the LabourParty, but also for politics and politicians in general.
Democracy and good governance in this country needs a multitude of strong, honourable, voices raised in debate and rehearsing every aspect of the issues that confront us.
That the Labour Party has been largely absent from that public discourse, particularly in Scotland for the best part of a decade, is partly the result of that internal conflict and a lack of leadership.
Since their losses in both the UK and Scottish elections in 2010 and 2011 they have declined from the natural party of government to third at Holyrood with just 23 of the 129 seats and a sole Scottish representative at Westminster.
Certainly that cannot be entirely blamed on the damaging culture at its heart in London but it has been a contributory factor.
As has the leadership of Jeremy Corbyn, a man whose suspension was described by Lord Andrew Adonis, who was once central to Blair's New Labour project, as merely "an expulsion of a militant".
The question here in Scotland, however, will be what can his successor do to turn around the fortunes of his party here?
Answers on a postcard please.
Keir Starmer has another four years before his leadership is tested in a General Election but he has made no secret of the fact that he recognises the importance to his party of next year's Holyrood contest.
He told Sky TV in an interview that: "There's no route back for Labour that doesn't run through Scotland."
I tend to agree with him, but if he is to succeed his party will have to stop handing the Tory and SNP gifts like saying that the nationalists could have a mandate for IndyRef2.
And they will have to find some leadership. I mean no disrespect to Richard Leanord but opinion polls - and results last year - would suggest that it is not working with him in charge.
As someone whose own party has the distinction of having once been an asterisk I take no pleasure from the Labour party's current plight.
There is plenty of talent in Scottish politics, and in the Labour party, but it needs something to change, and change dramatically if it is to go where its new leadership desires.
I am old enough to remember a time when Labour was a by-word for success in Scotland.
Although I was never tempted to join their ranks - too centrally controlling for me - they are, as for most Scots in every party, an important part of my heritage.
We all, in politics should strive to do, and to be, better.
That is a goal which the EHRC report makes abundantly clear was not always the case in the highest echelons of the Labour party in recent years.
All of us have to hope that the stance their leader has taken this week will mark a significant departure in their attitudes, and make for better politics across the UK.
It is in all our interests for Labour's voice to be heard and respected again.
Comments
 0 comments
Want to join the conversation? Please or to comment on this article.