International Orangutan Day: How the Scottish Government could play a key role in saving the extinction-threatened Tapanuli orangutan – Professor Erik Meijaard
Campaign to save the Tapanuli orangutan calls for the Scottish Government to do its bit in halting a hydropower dam that is pushing the species to the brink of extinction
From my base in the Scottish Highlands, my thoughts are thousands of miles away in Indonesia on this International Orangutan Day. And I've got one species in mind in particular: the Tapanuli orangutan, the rarest of all the great apes. Found only in the mountainous Batang Toru forest of North Sumatra, it was only recognised as a distinct species in 2017. Numbering fewer than 800, if just a few are lost a year, the Tapanuli orangutan is on a path to extinction.
It's a sad reality that this species is closer to that fate than any other great ape. It's threatened on a number of fronts, from hunting to mining, but the biggest threat to its survival comes from the construction of a huge hydropower dam which is slicing through its forest home, fragmenting populations and destroying precious habitat. A future for the Tapanuli orangutan must mean stopping the dam. Having committed to protecting all wildlife both at home and overseas, the fate of this great ape could, unexpectedly, be in Scotland's hands.
At the United Nations' biodiversity summit COP15 in Montreal last year, the Scottish Government positioned itself as a global leader on protecting biodiversity, spearheading the Edinburgh Declaration, which saw more than 300 regions, cities and local authorities around the world sign an agreement committing to an ambitious global deal for all nature. The declaration recognises the "need for transformative change… whilst avoiding, mitigating or minimising the negative impact on biodiversity", adding that "Scotland will continue to work to halt biodiversity loss by 2030 and reversing declines by 2045". The Tapanuli orangutan doesn't have that long; it needs saving now.
SDIC, a Chinese state-owned company, is building the controversial Batang Toru dam, and was welcomed into Scotland in 2016, the year after it acquired Edinburgh-based Red Rock Power. Through Red Rock, SDIC is gaining more ground in the Scottish renewable energy sector, with offshore and onshore wind farms. The concrete for its wind turbines at Benbrack in Dumfries and Galloway is barely dry. And there are more farms in the pipeline.
So therein lies the conflict: we need a rapid and just transition to cleaner energy that benefits communities and workers, but who should deliver it for us? Can a company which is tearing down a forest, blasting its way through rock and pushing a species to the brink in a faraway land be allowed to keep bidding and winning contracts here in Scotland? Did the Scottish Government do its due diligence, or are ministers just eager to see investment, irrespective of the source?
The issue is gaining traction, having been raised in Holyrood earlier this year. Campaign groups from Scotland to Indonesia are joining forces to call for action to stop the dam. A petition has received more than 8,000 signatures in the UK. The Norwegian pension fund, the largest sovereign wealth fund in the world, recently recommended cutting all funding associated with the dam.
Is the Scottish Government also prepared to act? Does the Edinburgh Declaration have force? This is an opportunity to show that our commitments and values have real-world impacts, and benefits for threatened ecosystems. Or, if nothing changes, inaction right here in Scotland will likely contribute to the extinction of a species discovered only six years ago.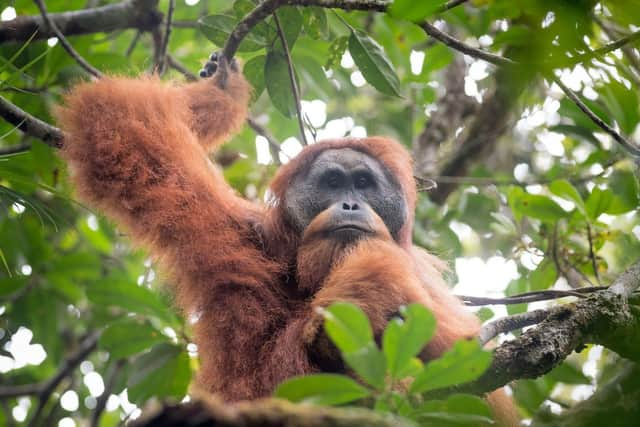 The Scottish Government must use its convening power to bring SDIC to the table, alongside representatives of the affected communities and the expert scientists who are trying to protect the Tapanuli orangutan and its habitat.
There's also a human toll. The dam is being built in an earthquake zone where landslides and tunnel collapses have claimed the lives of 18 workers and local people. There is a clear pattern of intimidation against those who challenge this project in Indonesia, including the death of an Indonesian environmental lawyer in suspicious circumstances.
First Minister Humza Yousaf wants to "lead from the front" on renewable energy, but clean energy for Scotland can be delivered without relying on a company which is destroying nature overseas and threatening to wipe a great ape species – some of our closest relatives – off the face of the Earth.
Professor Erik Meijaard is an international conservation scientist, affiliated with the University of Queensland and Durrell Institute of Conservation and Ecology at the University of Kent
Comments
 0 comments
Want to join the conversation? Please or to comment on this article.