The next generation of women is the world's only hope but much depends on access to education – Susan Dalgety
It is vital to challenge patriarchal ideas that a girl's appearance and her roles as a 'care-giver' and mother are more important than her education
It was International Day of the Girl on Wednesday, but I am not sure that the young women I met in Malamo secondary school noticed. Standing in the hot Malawi sun, solemn in their school uniform of navy skirt and white shirt, they were probably wondering why they had to pay homage to the mzungu (white person) who had just arrived.
Or perhaps they were thinking about their English or biology homework which they had to do that evening after fetching water from the borehole. Others would be dreaming about the boy in form three who had smiled at them or the young man in their village who had offered to walk her the five kilometres home after class.
None would be pondering call by the United Nations Children's Fund (Unicef) this week for a $1 billion increase in investment for adolescent girls, in their health, their education and to stop gender-based violence. Finding a few kwacha to buy their school lunch of nsima (maize porridge) or a notebook and pencil is a big enough challenge. Global campaigns, even ones where they are the focus, are simply not on their radar. They are adolescent girls after all, homework, hair and boys are more likely to be their preoccupation than "championing solutions and change in their communities", as UN body proclaims they should.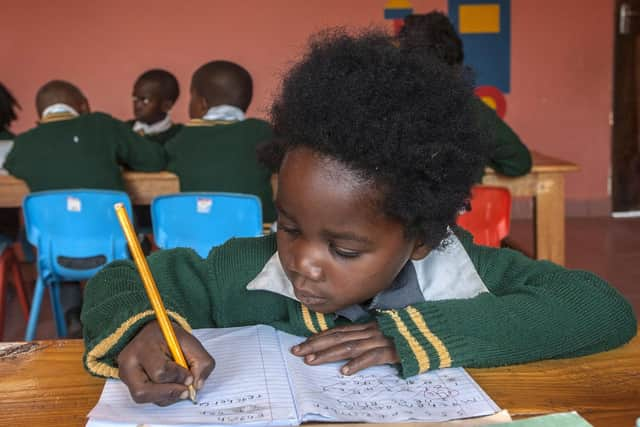 The contrast between Unicef's glossy campaign website for the Day of the Girl and Malamo school could not be more stark. The school was given two second-hand computers a while back. "I think it was the local MP," said Alick Ngoma, head of the languages department and my escort for the day. "But they don't work," he says. "They have not enough ram, they only work with Windows XP, they are worse than useless." He smiled and shrugged. "We still have blackboards and chalk."
I contrasted the girls' exercise books, many of them smeared with the red dust of a Malawi summer, with the new iPad my 12-year-old granddaughter received when she started secondary school in August. A digital native, Iona swiped through her timetable, her geography lessons, maths. "What's the point of algebra, granny?" she asked. For once, I was stumped for an answer. There are some questions that even Google can't answer easily.
Iona's iPad was free. An essential part of 21st-century school equipment in our world. In Malawi, and many other countries across the globe, an adolescent girl can only dream of owning a smartphone or laptop. And it is not just the economic divide that stops millions of girls from reaching their potential. The power dynamics of patriarchy still pervade every aspect of life across most of the globe, offering boys significant advantages over girls. This becomes particularly noticeable at adolescence.
Girls are left behind in almost every aspect of life. Even computers. According to Unicef, around 90 per cent of adolescent girls and young women in low-income countries do not use the internet while their male peers are twice as likely to be online. Globally, girls aged five to 14 spend 160 million more hours every day on unpaid care and domestic work than boys of the same age and this unequal distribution in unpaid work intensifies in adolescence.
The risk of teenage pregnancy looms large in their life. In Malawi, teenage girls account for 29 per cent of all pregnancies. Having a child in her teens not only destroys a girl's ambitions, it can kill. In low-income countries, pregnancy is a leading cause of mortality for adolescent girls.
Education, the easiest route out of poverty towards an independent life, is still out of reach for many millions of girls. The World Bank paints a stark picture. Globally, 129 million girls are out of school, including 32 million of primary school age, and 97 million of secondary school age.
For those girls 'lucky' enough to reach secondary school, their chances of completing their education are much less than those of their male peers. Only 36 per cent of girls complete lower secondary school compared to 44 per cent of boys; in upper secondary school, the rate is 26 per cent for young men, 21 per cent for young women.
That was why I was in Malamo Community Day Secondary School this week. A foundation set up by former First Minister Jack McConnell provides scholarships for 200 girls in Malawi, including 25 in Malamo, and I was there representing the charity. The scholarships may seem modest, but £120 a year ensures the costs of a girls' secondary education are met: the school "development" fees, uniforms, books and stationery. And fees for national examinations.
Imagine the uproar if the Scottish Government charged our children a few hundred pounds to sit their Nat 5's. In Malawi, even the poorest parent or guardian has to find enough cash to allow their child sit their Malawi School Certificate of Education. Hard work and talent are not enough.
Sitting in the deputy headteacher's office, I spotted the school's motto on his door: "Determination is a key to success." "Yes," said Peter Chiwowa, "We are determined our girls succeed."
But it takes more than grit to ensure that a girl growing up anywhere in the world thrives, rather than simply survives. It requires an end to the patriarchal culture and gender norms that reinforce the belief that a girl's appearance and her roles as a 'care-giver' and mother are more important than her education. And it requires investment – for national governments, global institutions and charities, big and small – to focus their resources on girls and young women.
As the world appears to collapse into chaos before our very eyes, as young men destroy the planet and behead babies, while old men, from Biden to Xi, refuse to relinquish their iron grip on power, our only hope is the next generation of women. Those girls in Malamo, my granddaughters, your girls, are our future.
Comments
 0 comments
Want to join the conversation? Please or to comment on this article.