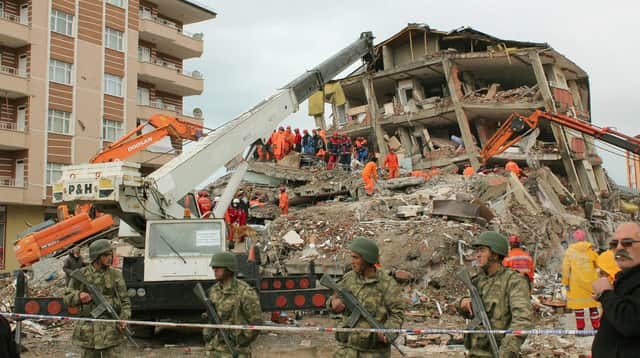 The Scottish aid world has a distinctive humanitarian tradition, which is rooted in community, social activism, the missionary movement, and the hope "that man to man the world o'er shall brothers be…" It has benefited from outstanding mentors, like Dr Runa Mackay and Stephanie Wolfe Murray.
Scottish aid workers have stood shoulder to shoulder with their neighbours, often taking the lead in world humanitarian action. This success is due in part to the UK's commendable decision to fix the aid budget at 0.7 per cent of Gross National Income in 2015, and in part to the quality of UK aid workers on the ground.
This includes global programmes supported by the authors of this article, ranging from the former Department for International Development's Girl's Education Challenge, which helped 1.5 million girls to access quality education, to relief projects like the reconstruction of 125,000 houses washed away in floods in Pakistan.
Life support for millions
Then there are numerous smaller scale initiatives, like Edinburgh Direct Aid's ongoing programme, led by Maggie Tookey, training and employing Syrian refugees from North Beqaa to replace blast-damaged windows in the most deprived areas of Beirut.
As Gross National Income is predicted to fall significantly, the British taxpayer will pay proportionally less in aid anyway. This, combined with the Chancellor's cuts, a predicted 48 per cent post-Covid drop in non-institutional funding and the continuing effects of a volatile pound, is likely to result in a near 50 per cent reduction in UK aid capacity in real terms.
The urgent issue is that UK aid interventions provide life support to many tens of millions of the most vulnerable people in the world. In previous times of crisis, our nation has shown generosity to the rest of the world and benefited richly in return.
However, there has been a sustained campaign of disinformation directed against the aid budget and aid workers by populist politicians and the tabloids.
The UK does not give aid to the Indian government, as claimed by the Sun newspaper. Those of us who work "on the ground" can attest that we have not seen UK money unaccounted for and available for transfer to Swiss bank accounts, nor a single warlord driving a UK-funded BMW.
Misleading figures
The frequently misquoted World Bank report on Elite Capture of Foreign Aid, published in February 2020, is an audit of World Bank transfers and private haven accounts, not of humanitarian finances.
The report speculates 7.5 per cent of aid funds transferred by the World Bank is captured by elites. This is misleading. If all relevant humanitarian transactions are included, the figure is below 1.25 per cent.
And in any case, co-author Bob Rijkers made clear in a presentation in October 2019 that aid capture is only a "potential explanation". His team "do not observe who stores wealth in havens" and "cannot identify the economic mechanism". This paper is currently presented uncritically on the UK government's Research for Development website. Such complacency has opened the door to a populist misinformation campaign.
On February 9, 2018, Jacob Rees Mogg arrived in Downing St with a choc-ice box containing a petition organised by the Daily Express demanding the axing of the entire UK aid budget. Simultaneously the Times published the disappointing story of Oxfam employees accused of associating with prostitutes in Haiti.
On 13 February 2018, the Daily Mail published a story implying that aid workers were involved in a prostitution racket trafficking girls "into Bosnia from neighbouring Moldova" and that "whistleblowers are not tolerated in the aid industry's ranks". Bosnia has no border with Moldova.
Aid workers rescue trafficking victims
The detailed Human Rights Watch report of 2002 identifies mafias, police and US/UK outsourced security contractors as responsible for this disgrace. It describes how girls were rescued and sheltered by aid workers from women's NGOs (43 per cent of humanitarian workers are women) like Lara of Bijeljina and the Ring network, including the excellent Žena BiH Mostar, proudly supported by authors of this article.
Aid workers serve vulnerable communities, so there must be scrupulous oversight and zero tolerance of exploitation or abuse. But for effective safeguarding there also has to be truth and justice. In Care International, which serves more than 92 million people, for example, 0.5 per cent of staff reported harassment or abuse, external or internal in 2019. This is 0.5 per cent too many. But it may be compared in vigilance and responsibility with the 20 per cent level of harassment and abuse in Westminster reported in 2018.
Populist panjandrums, including those who showboat in front of posters of desperate refugees, may spare a thought for the families of the 483 aid workers who were killed, wounded or held hostage in 2019, noting that in Afghanistan, the number of emergency aid workers killed "in action" equalled figures for all coalition forces combined.
The UK government is currently assuming the presidency of G7 group of nations, and in November hosts the United Nations' climate change conference in Glasgow.
Rather than offer leadership, it has chosen to cave in to a mendacious campaign, to break election promises, to threaten the lives of millions of people and to damage an endeavour that enables the UK to hold its head up high in the world.
In the process, Westminster has shown disregard for the humanitarian traditions of a significant sector of Scottish society.
A message from the Editor:
Thank you for reading this article. We're more reliant on your support than ever as the shift in consumer habits brought about by coronavirus impacts our advertisers.
If you haven't already, please consider supporting our trusted, fact-checked journalism by taking out a digital subscription.