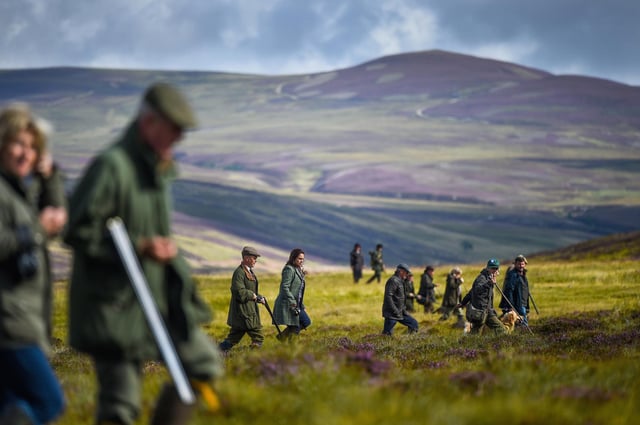 Campaigns from pressure groups outweigh the lived experiences of those who work the land in rural Scotland, says Dee Ward (Picture: Jeff J Mitchell/Getty Images)
A feeling that their and their community's concerns have been ignored by decision-makers resonates in the swathes of our country untouched by urbanisation.
On Friday many of them, until now apolitical or disinterested in the affairs of the Scottish Parliament, came together to make their voices heard. To demand that rural workers' lived experiences are taken into account when policy that will impact their lives and livelihoods is made.
Those standing to represent us in May must make a commitment to listen to their voices. The countryside has no greater friends, and our rural businesses have no stronger attribute than the rural workers who make a vital contribution to the environment, wildlife management and rural economy. Yet they feel ignored and undervalued, that their jobs are under threat because of decisions out of their control.
Many in our communities feel a growing disaffection with recent decisions made for rural Scotland, with little input from rural Scotland. There is a sense that our decision-makers do not fully understand rural issues and worse still, seemingly do not want to learn about them.
As our communities remain behind urban centres in terms of connectivity and access to services, rural priorities seem perpetually put on the backburner for urban parliamentarians.
Campaigns from pressure groups outweigh the lived experiences of those who know rural Scotland best, the farmers, land managers and gamekeepers who work the land. The corridors of power and those who inhabit them seem very removed from what is happening on the ground.
Over the past year, rural businesses have been hit particularly hard by the pandemic. Many rural jobs rely on international and domestic tourism. Yet Covid regulations crafted in Edinburgh, though well-meaning, have led to difficulty accessing job-saving funds, which are desperately needed during the pandemic.
The looming threat of regulations, inappropriate for the often-unique requirements of our rural businesses, casts a long shadow over our recovery.
As such, the growing discontent among rural workers should not surprise anyone. Thousands of well-paid, skilled and steady jobs, funded by private capital and supporting local businesses and communities in villages and market towns throughout Scotland are at risk.
Politicians would not countenance legislation or regulation that threatened heavy industry on the shipyards of the Clyde or Fife. Workers in traditional industries deserve the same respect from their elected officials. Talk of fantasy "new jobs" in the rural economy by pressure groups with little or no experience of land management, just does not cut it.
When lockdown restrictions allow, our elected officials must get out to visit estates and rural communities, to see rural workers at work. To witness first-hand not only the economic boost their jobs offer rural Scotland but the social and environmental work they undertake in some of the most isolated parts of our country.
How rural workers help our push to meet ambitious biodiversity and climate change targets and play their part in attracting overseas tourists to visit Scotland time and again. To hear how they, as elected officials, can do more to support these workers and be sure that the decisions they take are rooted in lived experience and scientific evidence, so that rural workers never feel undervalued again.
Dee Ward is owner of Rottal Estate
A message from the Editor:
Thank you for reading this article. We're more reliant on your support than ever as the shift in consumer habits brought about by coronavirus impacts our advertisers.
If you haven't already, please consider supporting our trusted, fact-checked journalism by taking out a digital subscription.