If Edinburgh city centre suffers, all of Scotland will suffer – Roddy Smith
As visitors and residents alike stay away businesses are struggling to cope, says Roddy Smith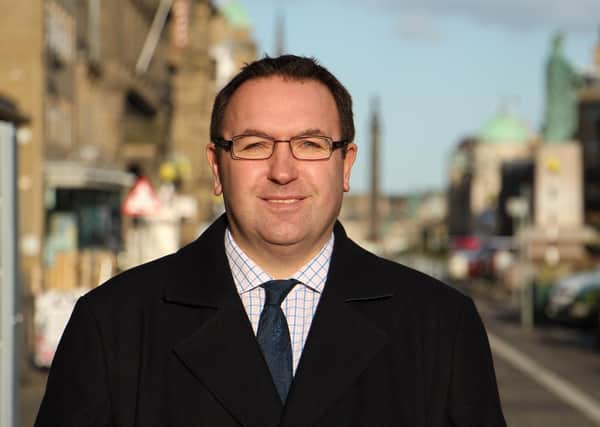 Edinburgh city centre has been undergoing significant change in recent years. We have seen major new hotels, restaurants and bars come into the city as well as fantastic new developments such as Edinburgh St James, Johnnie Walker, Gleneagles and Red Carnation Hotels. When combined with the creation of new Grade A office space, the city has had a period of sustained investment and growth, cementing our place as the economic and tourist hub of Scotland.
The Covid-19 pandemic is having a seismic impact on all aspects of the city, but nowhere more severe than in the city centre. Footfall on Princes Street has fallen on average by 85 to 90 per cent since the last weeks of March and although there are some small signs of people returning to the city centre it will take many months before any sense of normality resumes. The loss of our tourist visitors and festivals has had an obvious and stark effect on footfall numbers, but of equal concern is the loss of the workers coming into offices, shops and hospitality businesses.
More than 40,000 Lothian residents spend their working day in the city centre, and it is these people that sustain our coffee and sandwich shops, our hospitality businesses for breakfast and lunch, the convenience stores and of course they also pop into retail stores during their lunch break and after work to purchase goods. Many of the hotels cater for large numbers of business visitors to the city. With large employers, including the council, now using home working effectively, they are reluctant to return their staff to offices in the short term, with a return unlikely until 2021. This is absolutely understandable in the current emergency conditions we all live under, but in the longer term if the new working practices continue, then the city centre offering will suffer.
Already the list of vacant retail properties is growing with the Essential Edinburgh area having 30-plus such properties. The loss of the workforce from Edinburgh city centre is equally as damaging as losing tourist numbers. Our visitors will return at some point as we are and will always be a fabulous destination, but we also need to promote the city centre as a superb and safe place for commuters and residents to come to work.
Governments both local and national are actively promoting people to 'shop local' during the pandemic and to support their local businesses. Again, this is commendable but for our city centres across Scotland to function effectively they need support equally as much as local communities. Many people may see this as an opportunity for rebalancing what city centres and local communities are for, but the stark facts are that with this threat, as well as the changing nature of the retail environment through the growth of online sales, our city centres and local communities need to co-exist and support the needs of our city's population. It cannot be one over another.
Essential Edinburgh fully supports the new Tourism Recovery Plan which in being facilitated by ETAG, with support from City of Edinburgh Council and industry partners. The campaign will highlight our amazing city and what is available across all parts of Edinburgh. It is a great opportunity for residents to get out and visit parts of the city they haven't been to in a while. However, in the short term the population of Edinburgh (580,000) will not sustain the retail and leisure businesses which have become accustomed to 4,500,000 visitors a year. We need a combined effort to support the retail, hospitality and tourist business community across the whole city to help them get through the short term and survive for the long term.
Edinburgh will continue to evolve and the recent announcement about the reimagination of the Debenhams building on Princes Street into a mixed use hotel, leisure and retail development is great news, and another excellent example of how we can redevelop former retail units for the future. The change in planning guidelines by the council has been a welcome and proactive boost in this regard although moving forward we may have to consider even less need to keep as many retail spaces on Princes Street.
Business rates in Edinburgh city centre are one of the most severe in the UK and although at present many businesses are enjoying a rates 'holiday' when they return to normal, they are and will be, a barrier for many businesses looking to trade in Edinburgh. This needs to be addressed quickly as the assumptions made in terms of footfall and income no longer hold sway, and indeed rates are a disincentive to many looking to enter the city. Trading conditions have changed both nationally and locally and government need to acknowledge and address this.
Edinburgh is a special place and it will bounce back in time. It will continue to evolve and change as societal needs alter, working and leisure practices change, as well as it adapting to the requirements of our visitors post-Covid. However, the anticipated changing nature of the city centre may well have just been hit by the fast-forward button. Edinburgh city centre is a significant economic driver, the benefits of which are felt right across Scotland, ignore it and wider Scotland will suffer.
Comments
 0 comments
Want to join the conversation? Please or to comment on this article.