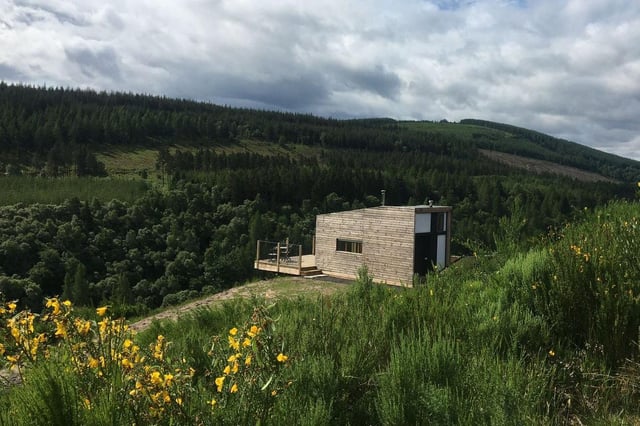 The Bothanna cabin on the Drummuir Estate
At the same time, the desire, and need, for many farmers and landowners to diversify and seek out additional sources of income has not diminished, particularly in the face of additional challenges brought on by Covid-19.
Keeping a close eye on customer demand is critical. It is increasingly obvious that terms such as off-grid, solitude, re-energising, ecological and wild are what truly get responsible holidaymakers interested.
As someone who creates buildings which perfectly complement their surrounding scenery, can be operated sustainably, and are entirely unique, I thrive on working with others who also want to make tourism greener and more special.
James Hunt, Bothanna Cabins
The relationship I've forged with The Drummuir Estate, which sits in the heart of whisky country, between Dufftown and Keith has served to inspire and enthuse me about the ways in which the next generation of land managers take care of the land for future generations. Like many farms and estates, sustainable farming is at the very centre of The Drummuir Estate's ethos.
Whilst the estate's home farm has been organic since 1985, long before organic farming became 'mainstream', Torquil Gordon-Duff, and his wife Fiona, who run the estate with Torquil's parents, recently turned their attention towards green tourism.
Following a connection made back in 2018, Torquil and Fiona approached me to design and build an off-grid 'cabin', aiming to create an additional income source and provide work for a local resident, all the while building something beautiful, unique and low impact.
Covering 4,000 hectares, the estate understands, values and takes pride in its 'sense of place' within the community. The family is committed to regional development and being in a marginal area, understand the need to unlock the potential of the estate and its wider setting.
Very much taking some of the overarching principles of organic farming – environmentally friendly, beneficial to biodiversity, water and soils, and working in harmony with nature – with them, they have focused on sustainable tourism.
I am so passionate about the future of buildings like this and it has been so rewarding working with Torquil and Fiona to make their dream become reality. Tourists are seeking something which works with, rather than against, our natural environment and yet is perfect for a holiday and I think that, together, we have achieved that at Drummuir.
The Bothanna cabin was designed to maximise space and give visitors a full appreciation of the site's dramatic views over a loch end, looking south towards the Cairngorms. You enter underneath the mezzanine and then the space opens up into an open plan living room kitchen with a fully glazed front elevation to view the stunning landscape. It truly is a sight to behold.
Torquil says: "It was serendipitous that we met James and Bothanna at the time we were thinking about doing something within sustainable tourism. It has been great to work with someone like-minded and, since restrictions were lifted, we have hit the ground running with five-star reviews. Being off grid gives us a niche to match the uniqueness of our location. Long may the passion for staycations remain!"
I truly believe that Scotland has the perfect scenery, and the perfect people, to set itself apart in the area of sustainable tourism and I share the views of Visit Scotland: we believe that the success of Scotland's tourism industry rests on protecting and enhancing the Scottish environment, society and culture, which are vital to the brand, the tourism industry and sustaining Scotland's economic growth.
A sustainable approach to tourism growth is the only way to ensure long-term success of tourism in Scotland.
Anyone with land who is looking for a wilderness retreat, or who wants to diversify, is welcome to get in touch about a commission that prioritises sustainability and the objectives of the business.
James Hunt, Bothanna Cabins