Humza Yousaf's pro-growth Programme for Government signals change in direction - Scott Wright
The recently-published Fraser of Allander Institute Scottish Business Monitor – which revealed that only eight per cent of Scottish firms agree that the Scottish Government engages effectively with their sector – may have featured prominently in the mind of First Minister Humza Yousaf at Holyrood on Tuesday as he prepared to deliver his first Programme for Government (PfG).
Attempting to strike a more pro-business tone than characterised during the tenure of his predecessor, he began by reflecting on the life of his grandfather, Muhammad Yousaf, a successful small business owner who raised a young family after the passing of his wife. The hardships his grandfather faced and the state support he received helped unleash an "entrepreneurial spirit" which enabled his grandfather to create jobs and contribute significantly to society - and this set the scene for the First Minister to pronounce that his first PfG was "unashamedly anti-poverty and pro-growth".
In recent years, the PfG has focussed increasingly on social policy with economic growth sometimes relegated – in perception at least – to second place. Cognisant of this dynamic and the challenges it can create, since entering Bute House Yousaf has actively set out to try and "develop a new and stronger relationship" with business.
Much of the action Yousaf has taken appears to have been well-received in business circles, namely the establishment of the New Deal for Business Group – tasked with reducing the regulatory burden facing businesses – and it was encouraging to hear that this Group's recommendations will be implemented in the year ahead and that a "Team Scotland" approach to policymaking will be adopted.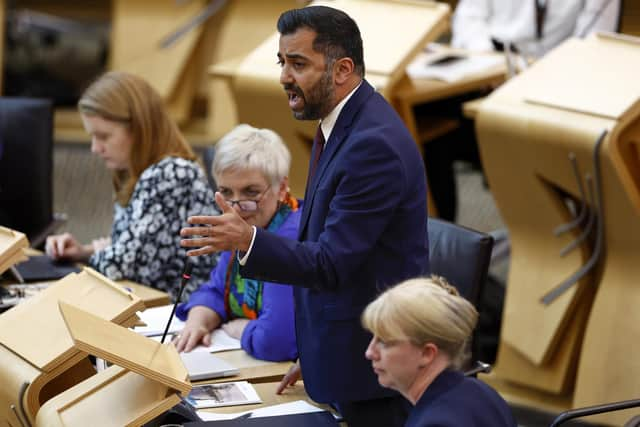 Action to reform non-domestic rates, establishing a Small Business Unit to ensure their views are better represented in policy development, and the removal of regulations that exacerbate the cost burden and measures to enhance employability support, will also be welcomed, though delivery will be key.
The First Minister's approach to climate policy not only acknowledges his Green government colleagues but may also be broadly welcomed by renewable energy businesses. The commitment to establish an onshore wind sector deal to halve the consenting time for new Section 36 applications will be welcomed by many and the development of a Green Industrial Strategy demonstrates that Yousaf is keen to utilise the economic opportunities presented by Net Zero.
While this PfG represents a conscious step to repair the damaged relationship between government, major challenges loom on the horizon for Yousaf and his government. Conspicuous by its absence from the programme beyond an assessment that "we continue to face one of the most challenging financial situations since devolution", was an indication of how the Scottish Government intends to counteract a large negative tax reconciliation which will kick in in the next budget year and is set to outstrip borrowing powers. This hole in public finances asks major questions, including how the Scottish Government intends to pay for many of the social policies contained within this year's programme, such as the expansion of childcare provision.
Businesses interest will now turn to December's Scottish Budget, to see how pro-growth the Scottish Government can be, while simultaneously trying to deliver social policies aimed at tackling and lifting people out of poverty in the face of dire financial headwinds.
​Scott Wright, Public Policy specialist and Scottish Affairs lead at Pinsent Masons
Comments
 0 comments
Want to join the conversation? Please or to comment on this article.