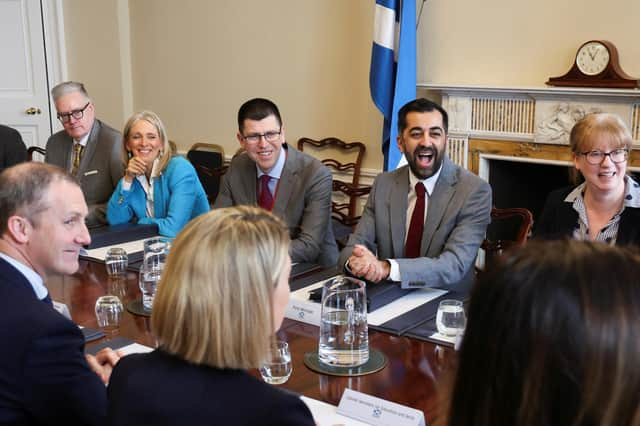 Certainly, the personnel selected by our new First Minister suggests that quality is more elusive than quantity. When "the return of Angela Constance" is the headline, and this is followed by the recall of a politician previously debarred for bigoted remarks against just about every minority available to be mocked, then the omens are not promising.
Some job descriptions are also a bit strange. "Transport" was dropped from Cabinet Secretary status. "Tourism", which is Scotland's biggest employer, did not even rank a place in a junior ministerial title. Maybe the Greens have decided tourism is a Bad Thing. Look out!
The straightforward "Economy" has been replaced by "the Well-being Economy". I think I know what "the economy" means and we are all in favour of "well-being". Putting the two together is either virtue-signalling Green-speak or else a pernicious abdication of responsibility. Is every form of economic activity in Scotland, every potential inward investment, every opportunity to create or protect employment to be measured against a hierarchy of values decreed by a cabal which has been licensed to define our collective "well-being"?
There is a live example of how this works – the Scottish Government's pursuit of highly protected marine areas has provoked despair and disbelief in coastal communities. Kate Forbes condemned it as "an example of how not to do government" but the Greens hold the veto and Humza Yousaf bought into it. What next?
For most people, "well-being" depends on a decent income, a secure home and reliance on high-quality public services which underpin a clean, safe local environment. In the real world, that means decently funded councils, an efficient NHS and a vibrant economy that is needed to pay for them.
Pretentious titles are no substitute. The environment and transition to renewable energy present economic opportunities which, to date, have been largely squandered; 20,000 jobs instead of the promised 120,000. So why not just do things better to support "well-being" instead of relying on meaningless jargon?
There is much talk in the Yousaf context of failure being rewarded. He's not the only one. An appointment that borders on the satirical is Jenny Gilruth's elevation to Cabinet Secretary for Education and Skills, in recognition of her glittering previous career as transport minister.
This happened on a day the collapse of west coast ferry services reached its nadir (though in this saga there's always worse to follow). Obviously, Ms Gilruth was a latecomer to the debacle who then proved utterly inept in addressing it. In short, she did what she was told by the civil servants – which was to stay clear and hope it went away, which it hasn't. Why would she be different in education?
Yet again, the Aberdonian appointed to replace her is as far removed as possible from Transport Scotland's most conspicuous area of failure. Another lump of putty in the hands of those who have so catastrophically failed the islands and, really, this is one area of the Scottish Government which should be broken up to start again.
Holyrood's Public Audit Committee found Transport Scotland's conduct throughout the ferries scandal a source of "serious concern". Its oversight of the Ferguson project was "weak and toothless". Evidence from its chief executive, Roy Brannen, which sought to exonerate ministers other than the departed Derek Mackay, was "firmly rejected".
Then, the day after the committee reported, Transport Scotland handed over evidence it was asked for last November. For all this, Mr Brannen has now been appointed "director of net zero" within the Scottish Government which will doubtless come as great encouragement to those promoting "the Wellness Economy".
As for the minister who mocked black people, Jews, disabled and transgender people, Gillian Martin, she was not a teenager at the time but in her 40s. The redemptive effects of being found out produced contrition and Mr Yousaf says she is "on a journey". It still seems curious that her destination should be as a minister in the oh-so-progressive Scottish Government. Or maybe not. It's all a bit odd.