Humza Yousaf's confrontational, nationalist approach won't impress people afraid to get sick amid NHS crisis – Christine Jardine
It might have only been a week but already we can see a glimmer of what the country might look like and where Humza Yousaf intends to steer Scotland.
It will of course be a historic journey. Scotland's first minority ethnic First Minister taking office is something of which we should all be proud. As he told us about his upbringing and his family's journey, it was hard not to be moved. A reminder of the good that can happen in our politics.
Yet as emotive as it was, that feeling was also fleeting. At a time when families, pensioners and businesses are all struggling to cope with the cost-of-living crisis, many of us had hoped for a brave new positive approach to working with our other government at Westminster. A mind open to cooperation and common purpose.
But the route he appears to have chosen reflects more of the same old shallow political nationalism, feeding on easy opposition to an unpopular UK Government. A careful examination of both his early statements and his chosen team warns that the immediate future may be more about causing a fight, than fighting for the common cause that would be in the best interests of all of the people of Scotland.
The inclusion of a minister for independence, for example, rather than one for mental health, social security or dedicated to housing – instead of being lumped together with other areas of less interest to our SNP/Green Scottish Government – tells us much. As does the decision to go without the undoubted talent of Kate Forbes in a senior, indeed in any role, in his administration after offering her what could be interpreted as a demotion once she is back from maternity leave.
Good leadership would surely have demanded the offer of an unrefusable olive branch to bring the former Finance Secretary and her supporters onto the same side of a mended bridge. How can our new First Minister hope to heal a divided nation with a party torn apart by internal dissent and personal animosity?
Only 52 per cent of his own party members gave him their endorsement, and not all of them at first time of asking. Division and dispute, and he's doing it with a smile. Confrontation already looks baked into this government. And not just with each other.
That minister for independence will be paid for by Scotland's taxpayers, the majority of whom do not want independence, and may find it difficult not to take umbrage at a gesture which comes with a price tag of almost £100,000. Neither will it offer any comfort for the constituents who come to my office every week, or email with problems over housing, social care, and complaints about the lack of NHS dentists and lengthy hospital waiting lists.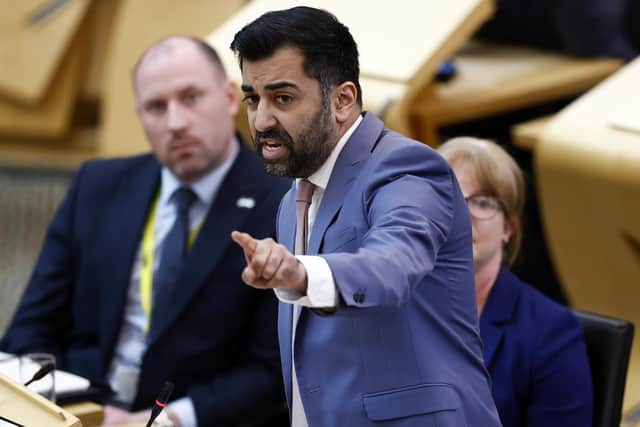 First Minister's Questions was not the start he would have hoped for, as issue after issue was raised pointing out failings which happened under his watch in various ministerial posts. People want the extra tax pounds which they pay in Scotland compared to elsewhere in the UK to offer more concrete action to improve their public services than the SNP and Greens are offering.
My own health board has failed to reach A&E targets for two-and-a-half years, further adding to the stress which staff face and the fears of queueing patients. When people are afraid to be unwell in the area where they live, something has to change.
Then there is the leadership election promise to challenge the UK Government over the controversial Gender Recognition Reform Bill and a Cabinet packed with those who charted its route through Holyrood. Regardless of one's views on the issue, surely none of us can want to put some of the most vulnerable members of society through the pain of yet more of that damaging, toxic debate.
We have, all of us in politics, experienced its bitter impact. In announcing that it would be blocked using a section 35 order as laid down by the Scotland Act, the Secretary of State for Scotland admitted that there was a version of the bill that he would accept. Would it be so awful to hold him to his word, to find out whether that version could be negotiated, and a solution found?
This week parliament is in recess and I shall spend my time at home in Edinburgh listening to my constituents as they provide a daily reminder of the scale of the common problems we face. I do not ask if they feel the need to pursue a nationalist agenda and I cannot remember the last time any of them raised it with me.
But I do hear a constant narrative of dissatisfaction with what they are being offered by both of their governments. It is the health and well-being of their children or elderly parents, the uncertain future of their businesses or employment, or their need for decent housing that concerns them most.
Increasingly our SNP/Green Scottish Government feels as out of touch with those needs as our Tory one. I couldn't help the wry smile I felt spread across my face as I watched the announcement of the new SNP leader staged at Murrayfield stadium. I am not sure what message the party meant to send but while they were there it might have done them more good to listen to nearby residents who, only two weeks before, roundly rejected them in a by-election to replace the former SNP Lord Provost of Edinburgh.
The message they would have heard should have persuaded our new First Minister that he needs to take a very different policy route from the one he has chosen. It is time to stop fighting with everyone who doesn't want to follow that narrow nationalist path and work for the wider common good.
Comments
 0 comments
Want to join the conversation? Please or to comment on this article.