Humza Yousaf is on borrowed time as First Minister as SNP continue to fall apart and Labour revival gathers momentum – Jackie Baillie
The political theatre of the first 100 days as a measure of a new leader's progress stems from the presidency of Franklin D Roosevelt who pulled America out of the Great Depression.
But never mind that yardstick, just the first seven days have been a disaster for Useless Humza Yousaf. It is a source of pride for Scotland to have a First Minister from an ethnic minority background. However, it is dismal that the leader the SNP chose is one of the worst-performing ministers of the party's 16 years of power.
It is only one week since Mr Yousaf was declared winner of the most divisive leadership election since, well, since Liz Truss beat Rishi Sunak. Every day since has been a stumble, a mumble or a political prat-fall for the Norman Wisdom of Scottish politics. The only respite for the new incumbent of Bute House is that last Friday the schools broke up, and so the parliament shut down. Never in the history of Holyrood has a First Minister's team needed so much to be saved by the school holidays.
A week into his term as First Minister, Mr Yousaf has been given a breather to plan his first re-launch. This is necessary because he arrived lacking a plan as much as he lacks a mandate from the public to move into the First Minister's residence in Edinburgh. But by the time Friday came around it was clear Mr Yousaf was already blundering his way into office. It made you wonder if there were any ornaments left unbroken in Bute House.
The timbers of the SNP's tower were, as we know, already rotten. The reason Nicola Sturgeon walked away is that the "impossible dream" of independence was receding faster than the tail lights of a Formula One racing car. That happened not just because the grand strategist of a former First Minister cornered herself into a referendum-or-bust general election strategy. In the midst of the cost-of-living crisis, with one on seven on NHS waiting lists and not enough ferries to keep milk and bread going to the islands, people had stopped believing in the 'Big Rock Candy Mountain' promises. Even the SNP candidates, when they were not tearing lumps out of each other, admitted that.
Shona Robison, promoted to deputy leader, strangely in charge of Scottish finance but not the Scottish economy, confirmed this with a prophetic statement that independence will "take as long as it takes". This SNP newspeak for "how long is a piece of string?" shows that the B-team may have inherited Ms Sturgeon's seals of office but not her ability to spin silver out of straw.
A party already divided needed to be healed. Mr Yousaf, elected on a minority of first-choice votes from the members, really needed to reach out to the other side. Naturally, he excluded Ash Regan, leaving her supporters to continue to bleed off the SNP membership lists, while the cynicism with which he treated Kate Forbes was breathtaking.
Offering Ms Forbes the rural affairs brief was an object lesson in how this 50 per cent-plus-one politician would treat the rest of a divided nation if reality ever caught up with his ambition. Mr Yousaf knew his rival could not accept this Cabinet post because she had pledged to keep Green party paws off coastal communities threatened by the hated highly protected marine areas plans. It was a crass display of character by the new FM and a signal that he rates Green votes in Holyrood over people's votes in rural Scotland.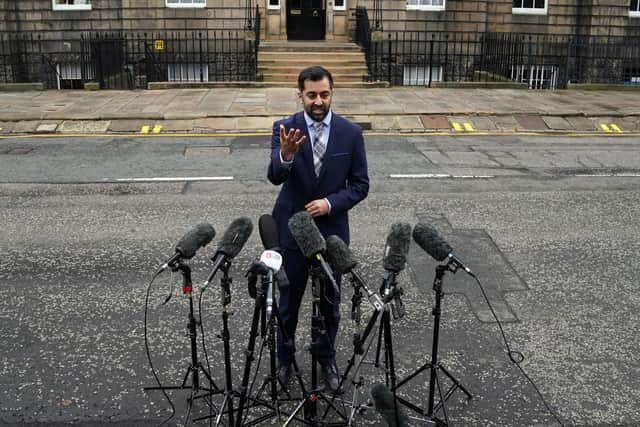 I thought that Ms Robison's feeble excuse that Ms Forbes backed out of government because she needed a better work-life balance was particularly risible. She did not seem to realise that spinning only worked while the SNP kept the merry-go-round going. It has now ground to a halt and such misdirection falls flat, especially when Ms Forbes was available to the microphones to directly contradict her.
Mr Yousaf's petulant appearance at First Minister's Questions, when the tension was broken by repeated interruptions from the public gallery, was fairly flat-footed too. You could see from the faces on the SNP benches that they realised they had paid a high price for continuity at any cost.
Just as the mask is slipping, the polling shows all the signs of the SNP running on a flat tyre too. The figures for Labour are encouraging as people see that the SNP are out of energy, out of ideas and out of road. I know we have to prove our worth to the people of Scotland, not just wait for the SNP to collapse and pick up the broken pieces of public policy. But only Labour can remove the Tories from office and we have never been more confident of being ready to lead in Scotland and the UK.
The first opportunity to demonstrate that Labour is back in action may come if the criminally convicted MP for Rutherglen and Hamilton West is forced to face the consequences of her actions. Margaret Ferrier's reckless behaviour during lockdown rode roughshod over the rules everyone else followed and put people at risk. If she does not stand down willingly, she should be suspended by the Commons as parliament's Standards Committee recommended.
Her constituents deserve better and that means a by-election which Labour and the people of Rutherglen and Hamilton West are eager for. This is about representation but it is also about sending a 'first 100 days' message to the man on borrowed time in Bute House.
Jackie Baillie is MSP for Dumbarton, Scottish Labour's deputy leader and her party's spokesperson for health
Comments
 0 comments
Want to join the conversation? Please or to comment on this article.