Humza Yousaf is not the new broom that the SNP desperately needs – Kenny MacAskill
The first hundred days sets the tone as to how you'll be viewed. For Humza Yousaf it's not even been that, just three weeks.
To be fair, it's been baptism of fire with his predecessor having placed land mines whichever way he stepped. But this is how he's going to be judged. It's continuity despite suggestions it wouldn't be. Indeed it's worse – a cementing of the old order.
The Queen is dead, long live the King. Sturgeon has gone but Yousaf is ensuring the Ancien Regime continues. For sure, they'll cut Peter Murrell loose and deny culpability for her failings – "I'm with Nicola" stickers replaced by "who was Nicola?" comments. Other than that, it's a continuation of the old order. Policy failings doubled down on and the catastrophic Green coalition confirmed.
It's the same in personnel as in policy. Murrell being replaced by his deputy, Sue Ruddick, is hardly a fresh look for an institution where secrecy seemed endemic. Similarly, someone who was rejected by the membership for an elected office, Julie Hepburn, is appointed by Yousaf as a new supremo. She was part of the old order and is the wife of Jamie Hepburn, his close pal and a minister. Hardly a restoration of the democracy that's been posted missing in New SNP.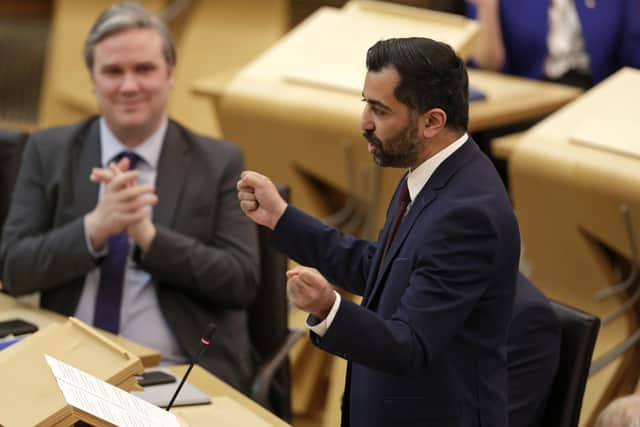 The review of party governance sees those who were there or thereabouts conducting it. Ian Blackford and Jeanne Freeman are hardly clean skins. They've been in with the bricks since Sturgeon set out to create her new order. Even if they didn't know some specifics, they most certainly knew the generalities.
Other senior figures are similar. I recall warning one out of friendship but who insisted that "the money was threaded through the accounts". It'll be easier to thread a campervan through the eye of a needle than justify that now. Naïve but also weak. Office bearers have a duty to the membership, not just the leadership.
There's some in the SNP who'll say any sins were Sturgeon's or Murrell's and Humza deserves unswerving loyalty. But that just won't wash with an increasingly disgruntled rank and file, let alone the electorate.
Comments
 0 comments
Want to join the conversation? Please or to comment on this article.