How the Ministry of Defence is working to protect the environment in Scotland – Baroness Annabel Goldie
In Angus, the Defence Infrastructure Organisation has been restoring habitats for a rare species of butterfly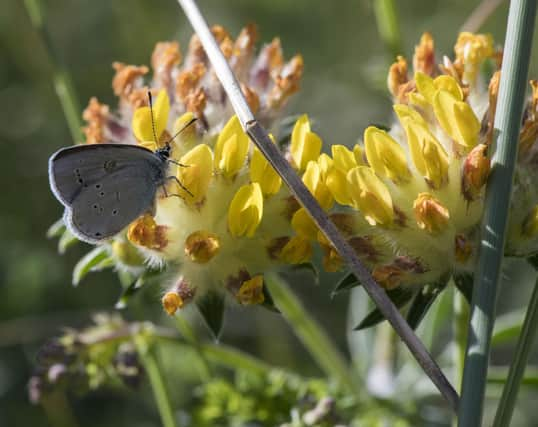 Loss of biodiversity and damage to the natural environment is one of the greatest challenges the world is facing. Throughout my time as minister of state for defence, I've championed and encouraged sustainability and conservation to be at the forefront in defence, and embedded in all we do. It is my firm belief that our efforts to keep the nation safe can go hand in hand with protecting our environment and reducing biodiversity loss.
And across Scotland, there is outstanding work taking place to do just that. At Kirkcudbright Training Centre in Dumfries and Galloway, a project has helped native red squirrels to flourish by encouraging a permanent population of pine martens across its estate. The project is based on research which has shown that where pine martens have been reintroduced or encouraged, red squirrels thrive. Installing pine marten dens has led to an increase in the number of red squirrels in the area, with double the number of sightings over the last few months.
At Barry Buddon Training Area in Angus, the Defence Infrastructure Organisation has carried out successful work to restore habitats for a rare small blue butterfly, with a pair of the butterflies sighted on the site this summer. All over Scotland, the Royal Air Force's Ornithological Society – a volunteer group of serving and retired personnel with a common interest in bird conservation – has carried out exercises including 'Winter Duck' expeditions which have been taking place since 1999 to track and record bird populations to inform sustainability and conservation efforts.
Projects like these improve and protect biodiversity across the Ministry of Defence estate, and with defence responsible for 64,900 hectares of land in Scotland – that's four times the size of Glasgow – we are committed to doing everything we can for the environment that our Armed Forces live, work, train and rely on.
The efforts must be celebrated, encouraged and commended which is why the Ministry of Defence Sanctuary Awards take place annually, championing the outstanding sustainability and conservation work that's taking place.
Our efforts across Scotland are an example of how defence is rising to the challenges of a more contested world while supporting and championing sustainability, conservation and environmental protection. Ultimately, this work will help secure our nation now and into the future, and we're committed to doing all we can to protect the wonderful environments we get to call home.
Baroness Annabel Goldie is a UK Government defence minister
Comments
 0 comments
Want to join the conversation? Please or to comment on this article.