How the BBC's MasterChef has become a wonderfully reassuring British institution – Stephen Jardine
John Torode and Gregg Wallace used to have a sharper edge but now approach their job like Tyson Fury teaching boxing to nursery school kids
Certain things indicate the beginning of summer. Swallows return from Africa, shops start stocking Halloween gear and MasterChef comes to its inevitable conclusion.
Just as the sun starts to split the sky, another Masterchef champion is crowned and John Torode and Gregg Wallace are returned to cold storage for another year before we can be subjected to them in shorts. This year's victor was Chariya but that isn't really the point. Masterchef is all about the journey, not the destination. It arrives on our screens in winter with the dependability of a parking ticket in central Edinburgh.
The initial episodes are packed with the delightfully deluded, like Richard who wanted to open a small bistro on the south coast, but served up raw salmon. On Masterchef, a rough rule of thumb is that the more ambitious people are in terms of their ability, the more likely they are to burn toast and try to fry eggs in their shells. If you want to spot a winner early on, look for the quietest, most modest contestants.
Those initial rounds are the secret of the show's success. On paper, why would we want to watch yet another cookery show? It's bad enough seeing Jamie, Gordon and Nigella whipping up a delicious-looking vanilla panna cotta and then realising the only ingredients we have in the cupboard are some digestive biscuits and a tub of glace cherries from 1987.
Masterchef draws us in by making us think we could be a contender if only we had enough time, practise and miso paste. When the series begins I'm usually in awe of anyone being brave enough to take part. By episode three, I'm looking at the acrid smoke and cut fingers and thinking, why on earth didn't I enter?
By that time it's too late but we can invest our hopes and dreams in the remaining contestants. At the beginning, Carol from Maidstone who works in accounts might have seemed a bit irritating but by the end we were in tears when her souffle rose and she dedicated it to her mum who taught her to cook.
That engagement is down to John and Gregg, the Statler and Waldorf of TV cookery shows. Now in its 19th year on our screens, Masterchef used to have a sharper edge but these are different days and we care about feelings so the duo approach their job the same way Tyson Fury would teach boxing to nursery school kids.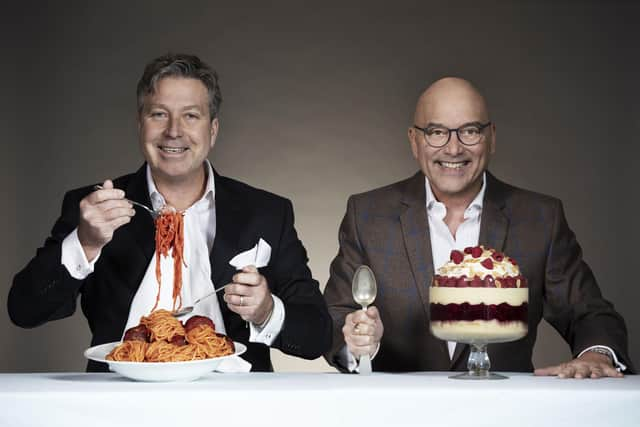 It's easy to forget John Torode is a fantastically talented chef yet he sets that aside to chew through a frazzled pork chop and declare it "not bad, just a little overdone". Similarly, Gregg Wallace knows more about fruit and vegetables than anyone outside Spitalfields Market but he will happily taste asparagus cooked inside banana skins and declare it to be "unusual, but actually quite edible".
Where food critics can destroy a chef's reputation, John and Greg know their job is to help the everyday cooks of Britain live their kitchen dreams. Next year will be the 20th anniversary of Masterchef. Gregg says he plans to mark that milestone by "coming into work, eating a load of food, having a few giggles and enjoying our work". In these troubled times, that sounds wonderfully reassuring. Long may it continue.
Comments
 0 comments
Want to join the conversation? Please or to comment on this article.