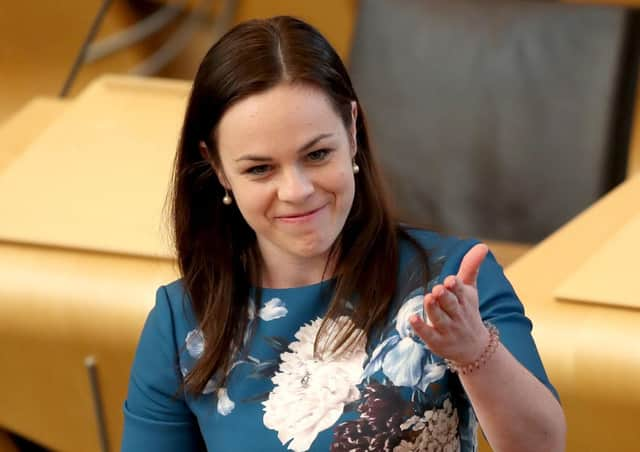 Scotland's Finance Secretary Kate Forbes's Budget does not make a firm commitment to free bus travel for under-19s but will result in further cuts for councils' capital spending (Picture: Jane Barlow/PA Wire)
In these troubled times, it is always good to have certainties in life that we can rely upon. In Scotland, we can always rely on the weather in February to be miserable. We can be confident our football team will perform dreadfully against whichever low-ranked opponent they are playing this week. And we can guarantee that, despite all their posturing and bluster, the Scottish Greens will always end up voting for the SNP's Budget.
So it turned out once again last week, when the Greens fell into line with their fellow nationalists. And it does seem that this year they have sold themselves particularly cheaply.
Only a few weeks ago, the Greens set out their red lines for the Budget, demanding that road-building projects such as the A9 and A96 dualling be stopped. They even called for a four-day working week to be introduced across the public sector.
When the SNP-Green deal emerged last Wednesday, it was clear that none of these things had been delivered, to the relief of anyone concerned about the future of the Scottish economy. Instead, we saw the Greens celebrating that free bus travel was to be introduced for all those aged 18 and under. Green MSPs crowed that this was a substantial concession from the SNP Government, and would have a major impact on helping tackle climate change.
Sadly for them, the reality is somewhat different. What has actually been agreed falls far short of a firm commitment from the Scottish Government. To quote precisely from the Finance Secretary Kate Forbes, what the SNP have committed to is "£15 million to support preparations to introduce new concessionary free bus travel for young people aged 18 and under, with the aim if possible to begin in January 2021".
We know that the annual estimated cost of introducing this policy would be £80 million. Instead, what we are seeing is a commitment to fund just £15 million in the coming year, which will just cover the cost of "preparations". There is not even a firm timetable agreed, the introduction is stated to be just "if possible".
It is not only on that policy that the Greens have been sold short. They had also demanded that the proposed flyover at the Sherrifhall Roundabout should be revisited, a vital infrastructure project connecting Edinburgh to Midlothian and the Borders. But this is a scheme that forms part of the Edinburgh City Deal, and any reconsideration of it requires the agreement of the UK Government, and local authority partners.
I cannot imagine those representing residents in Midlothian and the Borders are going to be in any way sympathetic to reviewing a project which is desperately required to tackle this traffic bottleneck which currently causes huge delays for those trying to get to work and go about their business.
So it appears that, despite all their spin, the Greens have sold themselves very cheaply. Despite only having been in her job for nine days, Kate Forbes stitched up Patrick Harvie far more effectively than her predecessor as Finance Secretary did in more than three years.
A Budget that delivers cuts
Overall the Budget was a disappointment, and could have been so much better. It was based upon a 3.7 per cent uplift in real terms in the total resource spending available, thanks to increased Westminster spending by the UK Conservative Government. And yet, despite the extra money available, it is a Budget that still delivers cuts.
An extra £95 million in revenue for local government has been identified which is welcome, but local authorities across Scotland will still see a real terms cut of £117 million in capital spending. This means that projects currently being planned, including local roads and infrastructure, new school builds and refurbishments, leisure and recreation centre investments, will all now have to be rethought because the SNP Government, backed up by the Greens, are again slashing the funding of local councils.
Last week and this, local authorities are meeting to set budgets, and without exception are having to make cuts. If we do indeed see the introduction of free bus travel for the under-19s, it will only be funded through reductions in council services. The irony is that vital climate change projects, part of the spending of local authorities, will be sacrificed in order to give Patrick Harvie and his colleagues a headline.
There is currently an estimated £3 billion backlog in local road repairs across Scotland; a statistic which will come as no surprise to anyone driving on our pot-holed roads over the last few weeks. With less money being delivered to local councils, the condition of our roads is only going to deteriorate. Youngsters may be excited at the prospect of free bus travel, but without more money to repair the roads, it looks like being a very bumpy ride.
Murdo Fraser is a Conservative MSP for Mid Scotland and Fife