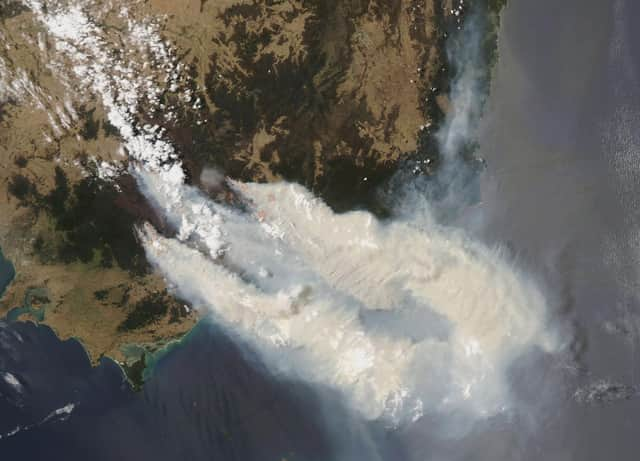 A Nasa satellite image shows smoke from bushfires burning in Victoria's Great Dividing Range (Picture: Nasa via Getty Images)
Since that day, I've been on a mission to further conservation efforts and nature-based solutions powered by satellite-imaging data and innovation.
While on-the-ground fieldwork remains vital in gathering forest and conservation data, we have an increasing need to implement a broader framework which coordinates global efforts to conserve natural environments.
As discussed this month at COP27, if governments, NGOs and investors are looking to support nature-based solutions for the climate crisis they need solid, accurate data on the approach being taken, and the expected impact it will have.
For example, in 2009, Gabon's Climate Change Department developed a forest biomass mapping project, with partners including Nasa and Ed Mitchard at the University of Edinburgh. The project used data from L-band radar (a low frequency wavelength as used in GPS, radio and phones) on satellites to map above-ground biomass.
Shortly after, the Obama administration made data from its Earth-observing satellites freely accessible. This massive change was then followed by the European Space Agency launching two Earth-observing satellites whose data was also free of charge. As a result, we gained access to terabytes of data.
The challenge then shifted to turning this raw data into actionable insight for governments and organisations looking for solutions. Seeing the potential of this space innovation sparked a real interest in the sector and led me to Scotland for a Royal Society of Edinburgh Enterprise Fellowship to study using these methods in a commercial setting. The availability of high-quality satellite datasets has led to a massive increase in its use, including specifically for forest monitoring.
While it's easy to get excited about this in an academic setting, the challenge is explaining its use in conserving our environment and restoring forests to global leaders and encouraging them to use the data in policy and decision-making.
The work I now undertake creates this specific insight for different users. Using AI and machine learning, we combine optical satellite data (capturing sunlight reflected from the surface of the Earth) and synthetic aperture radar satellite data (measured by sending microwave pulses at the Earth's surface and recording the reflected energy). These echoes inform us about the structure of the forest and the amount of carbon it stores.
In Scotland, our research has shown us that of the 7.9 million hectares mapped in 2020, there are approximately 32 per cent grasslands, 18 per cent peatlands and bogs, 18 per cent heathland and scrub, 16 per cent woodland, and eight per cent agricultural land. This data can be used to show the importance of peatland restoration to slow Scottish greenhouse emissions.
While we are increasingly aware of our changing climate and the integral role of nature-based solutions, without a data-driven approach including robust analysis of the potential impact, we won't be able to secure the public and private financial support we need.
Dr Murray Collins, a member of Royal Society of Edinburgh's Young Academy of Scotland, is chief executive of Space Intelligence, a climate tech company specialising in quality assurance of forestry projects developed to mitigate climate change. This article expresses his views. The RSE, Scotland's national academy, is on Twitter at @RoyalSocEd