How not-for-profit 'local markets', not 'supermarkets', can save Scotland's high streets from disaster – Lynzi Leroy
The recent collapse of Debenhams is a reminder, if any was needed, that our high streets are broken. You only need to walk through some of Scotland's skeletal town and city centres to see that something has gone badly wrong.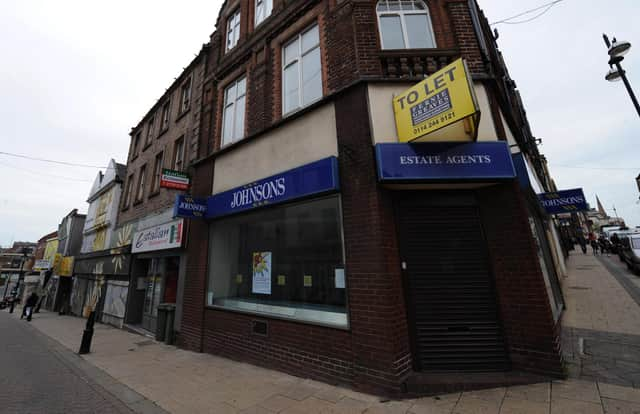 Online shopping has created a problem for traditional retail which is not going away. Shoppers have less need for corporate chains selling items they can buy cheaper and in greater variety online and have delivered to their homes.
This has been a slow-burn collapse of an industry, years in the making, yet retailers have persisted with the same failing model.
Identical brands appear on every high street and in every shopping mall so, whether you're in Edinburgh or York, Glasgow or Gloucester, the retail landscape has a dreary familiarity about it.
Tourists walking down Princes Street, or the Royal Mile must despair when they realise that, apart from a few locally branded trinkets, they can find none of the high quality, expertly crafted Scottish goods they reasonably expected, having long heard about our global reputation for innovation and commerce.
Instead, the Scottish experience is represented by cheap kitsch representations of tartan bonnets, Scottie dogs and Highland cows – many of them manufactured in the Far East.
Yet, in this beautiful and varied country we have so much more to offer, from arts to food, history and culture to business and scientific innovation.
It was this deficit that prompted me to launch the Scottish Design Exchange's first outlet at the Ocean Terminal shopping centre, Leith, in 2015 after noticing one of its units had lain empty for months.
At the same time, I knew there was a wealth of creative talent, working in kitchens, studies and workshops with no shop window for their products because they couldn't afford high street rents or massive marketing budgets to advertise online.
I approached the shopping centre's owners with a plan to turn the empty unit into a store for independent artists, designers, and craftspeople. I would staff the store and ask the producers to pay a minimal rent; after that, everything they sold would be paid to them. I had £5,000 of savings that I was prepared to invest in getting the idea off the ground.
The centre owners were sceptical but agreed to give me the unit free-of-charge for six months, after which I'd have to pay the full market rent.
From the day we opened, it was a success and it's not hard to figure out why. We sell high quality products made by some of Scotland's most talented and creative people. Our products are handmade, individual and produced with passion and love.
It worked so well that it helped me attract funding to launch a second outlet, at Buchanan Galleries in Glasgow, and we recently moved from Leith to a new store on Edinburgh's George Street.
Both outlets are run as a not-for-profit social enterprise. Producers pay a small rent, and they keep 100 per cent of sales revenues. In return they get a high street presence with the services of our trained sales staff, centralised marketing and their products are also sold on our online store.
Since 2015, we have generated almost £3 million in revenue for more than 300 small independent producers.
Now, having proven the model a success, I now want to take it further, providing high street spaces for people with traditional skills to sell their services. With more and more shops lying empty, especially in some of our smaller towns, why not provide the same opportunity to small growers, craftspeople, clothes-makers, up-cyclers, farmers, skincare and soap producers.
We may not return to the days of the butcher, the baker, and the candlestick maker but we can revitalise our forlorn high streets with colour, vibrancy, unique experiences and products. Not only will this model bring shoppers back in numbers, it will also help rebalance our economy.
Firstly, the money stays in the local economy and secondly, the supplier gets a fair return. If I was a farmer, held to ransom by a supermarket chain, I would despair at the margins I had to endure.
On the supply side, there is some hope on the horizon. Our artists and designers work with small local manufacturers to keep the profits coming into the Scottish economy and we partner with other social enterprise companies, such as Bare Branding, that allows artists to print small test runs of products and to reprint what they need, when they need it.
What they offer is revolutionary in the art world as artists pay to print what they need to test the market, without having to invest lots of money on stock – a far cry from global mass production. Imagine if that same revolution was encouraged across different services and products and our high streets provided them with sales outlets.
People need a reason to go shopping and that's what my model offers. It sells unique, high-quality items, made by hundreds of small, independent producers that shoppers can't find anywhere else. And we bring these small craftspeople direct onto the High Street.
We know people want to buy local, but not everyone is going to go off the beaten track to do so. We must bring the horse to the water, so to speak. It's been a huge success, with customers telling us daily our stores are what they've been waiting for. These ideas are not new or revolutionary. They work in other countries like France and Spain that have a tradition of local markets, where most people do their shopping.
The Scottish Design Exchange model can help to solve some of the problems of a high street in decline. We know it can because we've implemented it and we've seen it work. All we need is recognition it can succeed and the political will to support us.
Lynzi Leroy is the founder and chief executive of The Scottish Design Exchange
A message from the Editor:
Thank you for reading this article. We're more reliant on your support than ever as the shift in consumer habits brought about by coronavirus impacts our advertisers.
If you haven't already, please consider supporting our trusted, fact-checked journalism by taking out a digital subscription.
Comments
 0 comments
Want to join the conversation? Please or to comment on this article.