How George Galloway would shake up Scotland's boring politics – Jim Duffy
How boring is Scottish politics? Well maybe not the politics of haggis versus fish suppers, but actually the politicians themselves.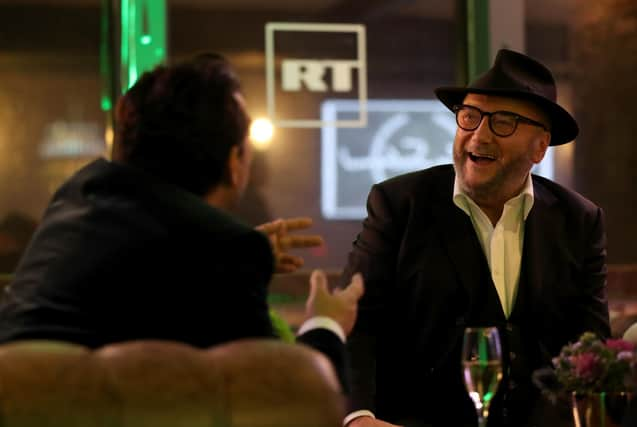 Yes, it is fair to say we have possibly the most boring set of politicians ever in the history of the Scottish parliament. The terminology I would use as descriptors for this bunch ranges from yawn to dull.
It's just as well they don't charge a fee to get into Holyrood or the public gallery would be deserted. They cannot even do "Punch and Judy" all that well. It needs shaking up a bit!
And I have just the tonic… the man who would be king... guess whose back?
Enter Mr George Galloway. And not before time I say. The mega-maverick is back and has travelled north with his family. And George we have no time to lose, so please get stuck in. Hurray for Galloway is the shout out from this column. Time to bring back some passion, cut-through, common-sense and zip to Scottish politics.
Mr Galloway has certainly not snuck back in across the Scottish Border. He has not quietly travelled up the M74 looking inconspicuous with nothing to say for himself.
No, George has tweeted his intentions so that those in power know he is motoring towards them. He's coming home and, if I were the SNP, I would hold one of those Cobra meetings (without the English) to assess the incoming damage and group response.
In fact, I bet the SNP front bench have all been on the blower to Sturgo warning her "Nicola – nae mare sayin' sorry and lookin' teary-eyed oan the TV, Galloway is marching north and he'll bleuter ye big time! Git yersel ready hen". And that is it folks. They know that a brain with brawn has cruised north to pick a fight.
Labour will be even more worried. Imagine George Galloway having verbal square-go with Richard Leonard. It would not be pretty. Leonard would take a beating and probably go running to his mummy at the playground gates, screaming that a "big boy hit me and ran away".
No, Leonard is no match in debate when it comes to Galloway. But, who else in the Scottish Labour ranks has the skills to butt up against Galloway? Exactly, none come to mind eh? They will probably roll out ex-Prime Minister Gordon Brown as their mouthpiece. Mr Brown still has some gravitas when he speaks. But, Galloway has the measure of him of old and will be more than ready for the rammy.
It's rather sad to be honest. There is not a skilled, eloquent, ferocious or super-smart personality among the current crop we have at Holyrood.
Ask yourself this, would you hire any of them? Okay, perhaps Ruth Davidson get some votes. Or that wee dude fae the Green Party wi the specs? He can make a decent pitch can wee Patrick Harvey. But, being a decent orator with designer glasses in slick suit is not enough when taking on Georgie-boy.
Oh no, his whit is razor sharp. It's the old lawyer in him. Throw in the fact that he's a showman to boot and I'd pay a tenner to enter the public gallery just to see him punish that sad lot there. And please don't tell me John Swinney could take him on.
Swinney, albeit a great politician and elder statesman of whom you know I am a fan, has not formed an argument in donkey's years. He's just there to hold Nicola upright – and everyone in Holyrood knows that. It's kind of like the Spitting Image puppet of Norman Tebbit minding Mrs Thatcher's back.
So what will Galloway bring back to Scottish politics that is sorely missing? After all, the First Minister appears to have done well in her briefings on Covid-19. The Salmond Inquiry will probably do what all inquiries do – cost a lot and offer little, so that's no longer a real worry there for the SNP.
And we know that Sturgo won't chat about Galloway making a comeback with her hubby. Most certainly not. So, he can't offer any tips on how to duck and dive.
But, all that aside, Galloway has not taken a trip north just to see the snow or show his family the charity shops adorning main streets in a town near you. No, he's back to make a point. And I have already booked a ringside seat.
Guys like Galloway have nothing lose. He's not in power and doesn't need to tow any party line. He knows the game inside out. He doesn't hide from from opponents. He's a pugilist, a scrapper and he knows how to inflict a fatal blow.
He can see how awful and grey the Scottish politicians are and he is about to add some colour and excitement like Muhammad Ali entering the ring for the Rumble in the Jungle. And the political journos he tweets at will just love him. I bet they've been on the phone already looking for scoops. And George is the ice-cream man with his chimes blaring and his lights flashing.
There you have it – but it's just one man's opinion. You can disagree with me and tell me he's old now and past his best. He's not got the same stamina. He's flabby and out of shape – ring rusty perhaps. Oh dear, please be careful… that makes him even more dangerous as you underestimate the quality of the man.
Welcome back George Galloway. Time to shake things up.
A message from the Editor:
Thank you for reading this article. We're more reliant on your support than ever as the shift in consumer habits brought about by coronavirus impacts our advertisers.
If you haven't already, please consider supporting our trusted, fact-checked journalism by taking out a digital subscription.
Comments
 0 comments
Want to join the conversation? Please or to comment on this article.