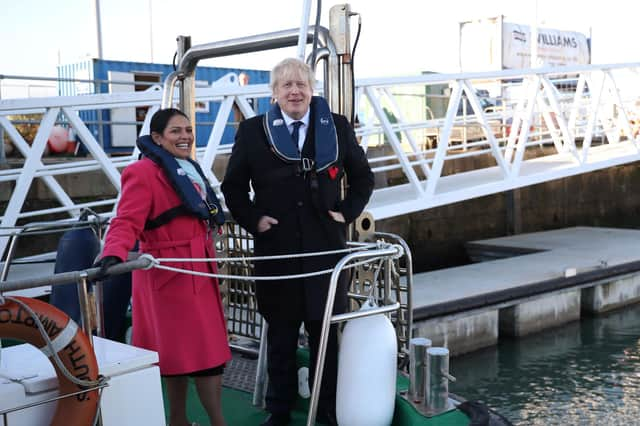 When asked about the bullying charges against his Home Secretary, Priti Patel he declared: "I'm sticking by her." He certainly picks his moments.
At the time, it was reported that Mr Johnson had sent a text round his MPs urging them to "form a square around the Pritster".
It came after the explosive news that the Home Office's most senior civil servant, Sir Philip Rutnam had resigned from his post and would be pursing a claim of constructive dismissal against the government.
That case was due to be heard at an employment tribunal in September but last week it was revealed that the case had been settled out of court for a "healthy six-figure sum" that is said to amount to £340,000, as well as Sir Philip's legal costs.
A magic money tree appears
In a statement, the Home Office said that the government and Sir Philip had "jointly concluded that it is in both parties' best interests to reach a settlement at this stage".
"The government does not accept liability in this matter and it was right that the government defended the case," a government spokesperson said.
This pay-out seems to suggest that the fabled magic money tree does in fact exist and can be vigorously shaken whenever a government minister is accused of wrongdoing: a point that Labour's Shadow Home Secretary Nick Thomas-Symonds was quick to make.
"Taxpayers will be appalled at having to pick up the bill for the Home Secretary's unacceptable behaviour," he said.
Labour now want to know how much in total the settlement with Sir Philip Rutnam has cost the taxpayer and whether any other bullying cases have been opened by the Home Office since July 2019. "This whole episode continues to raise serious questions about standards of behaviour, responsibility and leadership at the highest level of government," Mr Thomas-Symonds added.
While the government may not accept liability, the fact that they have settled the case before it could be heard at the tribunal does seem to suggest that Ms Patel is not merely a victim of sexism in the workplace, as was claimed when she was first accused of bullying.
Shoogly foundations
Back then, Tory MPs were sent forth to the television studios to explain their new-found feminism and their theory that maybe all those who had raised concerns about Ms Patel's behaviour just couldn't handle a strong, forthright woman.
Of course, anybody who was paying attention would have realised at the time that such claims were built on very shoogly foundations.
Were we to believe that the Conservative party: the party of the rape clause, cuts to working tax credits and austerity, had suddenly developed a desire to address gender inequality?
I wonder what it was about having one of their own accused of "shouting and swearing, belittling people and making unreasonable demands" and behaving in a way that had "created fear" that led to their sudden about-turn.
When former Speaker of the House of Commons John Bercow was accused of similar behaviour towards staff the Conservatives deemed the allegations serious enough to block his elevation to the House of Lords.
Even before the news broke on the hefty out-of-court settlement with the former permanent secretary, Ms Patel was already a topic of conversation.
'They're worse than us!'
This week the inquiry investigating the Scottish government's mishandling of complaints against Alex Salmond heard evidence from Nicola Sturgeon. A separate investigation by James Hamilton QC into whether the First Minister has broken the ministerial code – which she denies – is nearing its conclusion, leading some to ask if she will resign if it is found that she has. In response, Ms Sturgeon's allies asked: what about Priti?
Last year's investigation by standards chief Sir Alex Allan found that Ms Patel's behaviour did amount to bullying and that she had broken the ministerial code. The Prime Minister disagreed with Sir Allan's conclusions and rejected them, citing mitigating factors such as Ms Patel's apparent lack of awareness about the impact her behaviour was having. In response, Sir Allan resigned from his post. Ms Patel did not.
This exposes one of the many downsides of having politicians who take an inconsistent, partisan approach to standards based wholly on whether it is their party that is under pressure.
It provides a breeding ground for this tiresome whataboutery, where each party points to the other and says "but they're so much worse than us!"
Sycophants preferred
The protective square around the Pritster held firm when it was found that she had broken the ministerial code but will it be as robust now we know how much taxpayers money has been spent on compensating for her bad behaviour?
In all likelihood, yes. And we need only look to Mr Johnson's Cabinet to see why. The Prime Minister has not surrounded himself with the best and the brightest that his party has to offer. He hasn't chosen ministers for their competence, but for their loyalty.
If they can answer questions at the dispatch box with a modicum of authority and have a reasonable grasp of their brief then that is a bonus but it's not the deciding factor.
Mr Johnson doesn't want the most talented Cabinet, he wants the most sycophantic Cabinet. He doesn't want people who will challenge his ideas or his leadership, he wants people that are able to nod and clap at the same time.
He is sticking by the Pritster because he knows that she will stick by him.
You can't put a price on friendship but it seems you can put a price on loyalty when the taxpayer is footing the bill.
It costs around £340,000 plus expenses.
A message from the Editor:
Thank you for reading this article. We're more reliant on your support than ever as the shift in consumer habits brought about by coronavirus impacts our advertisers.
If you haven't already, please consider supporting our trusted, fact-checked journalism by taking out a digital subscription.