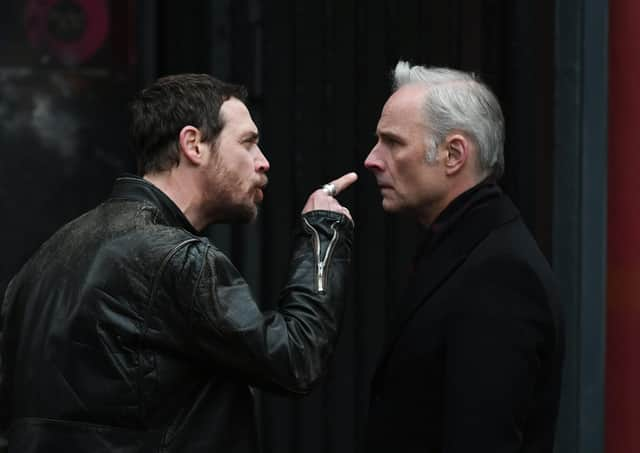 Actors Mark Bonnar and Jamie Sives star in the acclaimed drama Guilt (Picture: John Devlin)
In the TV drama Guilt, which nearly everyone agrees has been the best thing on the new BBC Scotland channel, the two brothers are atop Arthur's Seat with its fine views of the Hibernian football stadium and some other fairly interesting Edinburgh buildings.
Max, the rich and successful one, is teasing Jake, who runs a record shop with virtually no customers, over his continuing devotion to Hibs after they were relegated. Jake hits back: "It's called loyalty, Max. It's called 'Keeping the faith'." Then Max sneers: "It's called 'f*** all else to do'."
The scene seems to be a metaphor for how Scotland feels about the channel, which has just celebrated its first birthday. It is much criticised and, worse than that, it is being ignored. Viewing figures, especially for its most radical offering, The Nine, have been poor.
But others desperately want the channel to succeed. As an expression of ourselves, especially at this time, it's vital. They are keeping the faith.
I'm keeping the faith but, jings, sometimes it's hard. I have good intentions. I want to watch The Nine, the flagship news show, or rather, sometimes feel I should. But when it comes around, when small fingers have been prised off the remote and I'm back in control of the idiot-lantern for the last hour before bed, I just want to wind down with Carrie from Homeland or Sex Education.
Elsewhere, the channel has been quietly heroic. The factual lens has veered hither and yon. We've had world-class swearing from a Scottish football manager plying his trade in Kashmir, world-class community spirit at the Bo'ness Fair (this from former Scotsman colleague Peter Ross), and Ireland's Troubles and their impact on Scotland when bombs tossed into Gorbals boozers were kicked right back out again.
And of course Guilt. All these programmes were terrific and prove that we have stories to tell. We could surely tell more of them, and tell them better, with a bigger budget.
How do we secure one with audiences this modest? Ian Blackford, the SNP's leader at Westminster, a man who you feel has never suffered from an inferiority complex, has once again shunned coyness. He's bullishly calling for £100 million for the channel and the Gaelic station BBC Alba to make them "as good as they should be".
I'd love to see us get that extra spend though with the BBC not having its problems to seek, or its enemies to find, this is probably unlikely. But whatever happens next I fear The Nine will have to go, or at least be moved.
It's been a bold idea to slam an hour of news into primetime. I'm sure vainglorious motives weren't involved, but right from the start the scheduling looked highly impressive. What an intelligent, rarefied and engaged place this must be! Well, we're all those things, of course, and at the time the channel launched it did seem that we'd all turned into current affairs junkies as Brexit fermented and indyref2 was never very far from the news agenda.
And now, have we tired of it all? Have we indeed got the Prime Minister we deserve: scatty on detail, ordering staff to keep memos brief and being slow to summon Cobra? I don't think so. We want to be informed, but just not at nine o'clock when there's so much good stuff on other channels.
Some have claimed the problem with The Nine is its relaxed, open-shirted style but I see it as simply one of competition at the moment when most networks roll out their prestige dramas. If you've caught the teatime news and are committed to the 10pm bulletins then in between you probably want to relax with some top divorce lawyers who're all shagging each other.
It's true that 9pm was once the sacred news slot on the Beeb but that was way back in Michael Aspel's day, before he moved on to Crackerjack and Miss World. At that time the news on ITV was at ten o'clock although my father always maintained this was because Reggie Bosanquet insisted on an extra hour's drinking before going on air. Now, sadly, The Nine must face facts: on some nights the audience has been as low as 4,000, allowing the channel's critics the opportunity to thumb through gazetteers and find villages with populations that totty.
Still, there's always Guilt, and the buzz about Neil Forsyth's black comedy continues, spreading UK-wide. Just the other day the Daily Telegraph was taking exception to the Beeb rewriting the classics so small-screen versions are "woke". Instead, the article said, the Corporation should concentrate on new and contemporary stories and it named Guilt, which was repeated on BBC2, as 2019's best drama.
I was worried the twisty tale of sibling rivalry might have buckled under the weight of all this praise following another viewing. But, no: there was Max (Mark Bonnar) activating the heated seats of his fancy motor and there was Jake (Jamie Sives) chastising him thus: "Eighty percent of the world's population are living in poverty and you're driving around toasting your arse!"
A frustration of Scottish-made dramas has been failing to do justice to sex and death.
Reluctant to put that down to inherent primness, I've tended to blame restrictive production values. Well Guilt pulled off both – sapphic love in the spinning class, indeed – despite not having had a fortune spent on it.
It's not every day – or nearly often enough – that a bloke appears on telly with a modest suburb of our capital city – "Lochend" – tattooed on his chest. And with Steely Dan and krautrockers Can on the soundtrack, what's not to like?