Housing crisis: SNP letting Scotland down as eviction rates soar and homelessness hits record levels – Jackie Baillie
Being in politics for the long haul has its rewards but also its frustrations. It is infuriating to see the progress in improving people's lives unravel in front of your eyes.
Back when Labour was in government in Scotland, I was the minister covering homelessness and then, as Social Justice Secretary, housing was in my brief. We worked hard at understanding housing need and tackling the problems so this issue has a special place in my heart.
We put through the Housing Scotland Act 2001 which paved the way for record levels of investment by lifting council debts and renovating tens of thousands of homes as a result of stock transfer. In Glasgow and across Scotland, we improved the quality of housing across the board.
Now, as people struggle with the high cost of living, we are on the verge of a new crisis. People are already struggling with mortgage payments, homelessness in Scotland is at record levels and almost one in ten homes are estimated to suffer from mould.
To have a roof over your head, somewhere that you can call home, that you can be settled in is a fundamental and basic need. Your home is where you've shared happy memories, sad memories, brought up families and witnessed lots of life events. For me having a home, whether it is owned or rented, is about safety, security and stability.
Houses provide an anchor for our lives. If you're homeless, if you're sofa-surfing with family or friends, if you are, at its extreme, living on the streets, then you find it really difficult, if not impossible, to hold down a job and live a stable life.
When we were in government, Labour had ambitious targets to reduce the level of homelessness, end rough sleeping and build new homes. We worked hard at reaching these targets. We practically ended the need for people to sleep rough by ensuring there was enough temporary accommodation, including hostels.
Now, the problem appears to be getting worse. I see more people on the streets, particularly as a result of the cost-of-living crisis. There were 28,944 homeless cases as of last September, the highest since Scottish Government records began in 2002.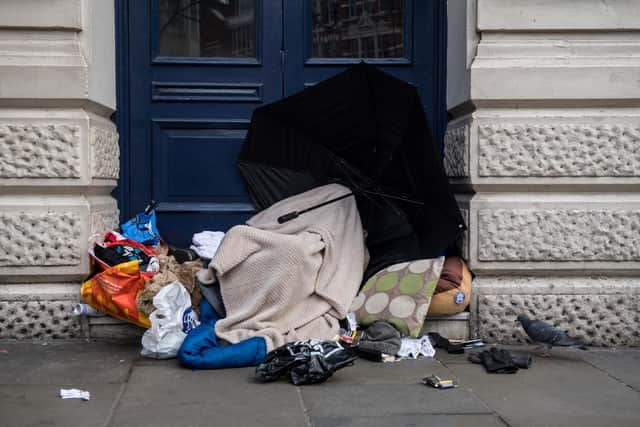 Though it didn't have many upsides, the Covid pandemic was instructive in terms of housing policy. The government took everybody off the streets and either put them up in a hostel or hotel accommodation in a demonstration that, if there is a political will, you can end the most extreme form of homelessness.
After the pandemic, evictions increased six-fold because the SNP ended legal protections before support to prevent homelessness was put in place. Rents were rising at a record rate making many homes simply unaffordable.
Thanks to the Tories' economic mismanagement, we are all going to be paying extra on our borrowing for years and many face going into mortgage arrears. Interest rates are soaring to their highest levels since 2008 which, I fear, will have a chilling effect on home ownership.
We have been relatively fortunate that mortgage interest rates have been low for many years. People haven't seen sharp increases the way that previous generations did, but repayments are becoming an increasing problem.
In own my constituency, I know couples who both have jobs, who work hard and earn good salaries, but their debt is becoming unserviceable because their wages aren't keeping pace with inflation and their mortgage payments are rising. Their debt is typically a mortgage and a car, the normal kind of things which you would not anticipate people having problems with. But at the end of the month, the sums don't add up because of energy bills and now rising mortgage bills.
I worry that people are going to lose their homes as a result of this cost-of-living crisis and the Scottish Government has been too slow to act. Labour suggested a mortgage rescue scheme that would work effectively, which would keep people in their homes and help them out, but the Scottish Government has so far done nothing.
The SNP's shared equity scheme for homeowners has not had one single successful applicant since 2016 which, when we're about to see a wave of people struggling with mortgages, shows the Scottish Government's lack of focus. A snail moves faster.
As with so much of what they do, ministers actually don't appear to have much idea of how to deliver on policy. It's quite extraordinary and they have presided over a decline in the availability of housing and housing budgets. The 2023-24 SNP budget will cut money for affordable housing by 19 per cent while inflation in the social housing sector is running at as much as 22 per cent.
More investment is clearly required to keep pace with housing demand. Already there are good partnerships between the private and public sectors which are building mixed-tenure estates, increasing housing for rent and for home ownership.
And then there is the issue of quality. I'm getting a growing number of complaints from local tenants about mould because of the age of housing and the lack of investment. Almost one in ten households suffer from mould, according to a Fraser of Allander study on health inequalities. Sustaining people in their own homes, instead of a decline in the standard of repair, is what we need. Yes, it does take money, but it is potentially more cost-effective to repair and help someone to stay in their own home than to rehouse them.
For me, one of the government's main responsibilities is to understand the housing market, appreciating demand and ensuring supply, creating land opportunities and making planning and policy work effectively. SNP ministers simply do not place enough importance on housing and, in all of these responsibilities of government, the SNP have simply failed.
Jackie Baillie is MSP for Dumbarton, Scottish Labour's deputy leader and her party's spokesperson for health
Comments
 0 comments
Want to join the conversation? Please or to comment on this article.