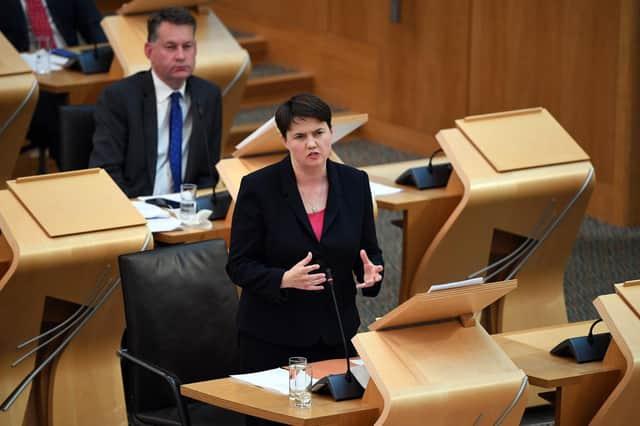 Ruth Davidson believe the House of Lords should be replaced by an elected chamber (Picture: Andy Buchanan/pool/AFP via Getty Images)
For while her elevation to the peerage has provided ammunition for her political opponents, Davidson aims to change Britain's second house so that appointments like hers are no longer in the gift of politicians but, instead, voters.
Reform of Britain's unelected second chamber has long been a topic of conversation among political geeks but, with constitutional reform pushed higher up the agenda to a large degree by the Scottish independence debate, it may be gaining traction.
"I think we should have an elected second chamber and will absolutely vote for it and will hopefully help work to establish what an elected second chamber is going to look like," Davidson said, adding there was "pretty much agreement across all the major parties that it should be an elected chamber".
The Lords, which now has more than 800 members after the latest arrivals in February, is the second-largest legislative chamber in the world, behind only China's similarly undemocratic National People's Congress. In contrast, Germany's revising chamber has 69 members.
Research by the Electoral Reform Society found that 56 per cent of peers lived in just three parts of the UK – London, the South-East and East of England. Nearly three-quarters of Lords are male, and 54 per cent are over 70. And for all the talk about the importance of the Lords' "expertise", the ERS found just 15 peers had a background in medicine or healthcare.
So while the continued presence of hereditary peers is a particular affront to democracy, even if they were to go, the current make-up of the Lords would still be problematic.
One consideration is whether the UK government would have the bandwidth to carry out what would be a significant endeavour while running the country, particularly given the Covid crisis' effects are likely to be long-lasting.
But perhaps the key question is what form any replacement would take. Any Bill would need to be carefully considered, scrutinised for unintended consequences and, perhaps, revised by the Lords.
Ruth Davidson did not succeed in her previous ambition of becoming Scotland's First Minister, but she could yet be the Lord who brings their House down.
A message from the Editor:
Thank you for reading this article. We're more reliant on your support than ever as the shift in consumer habits brought about by coronavirus impacts our advertisers.
If you haven't already, please consider supporting our trusted, fact-checked journalism by taking out a digital subscription.