Hoarding powers in Edinburgh is no more acceptable than hoarding powers in Whitehall - Brian Wilson
"The argument", said Sir Keir Starmer in his big speech, "is devastatingly simple. The decisions which create wealth in our communities should be taken by local people with skin in the game".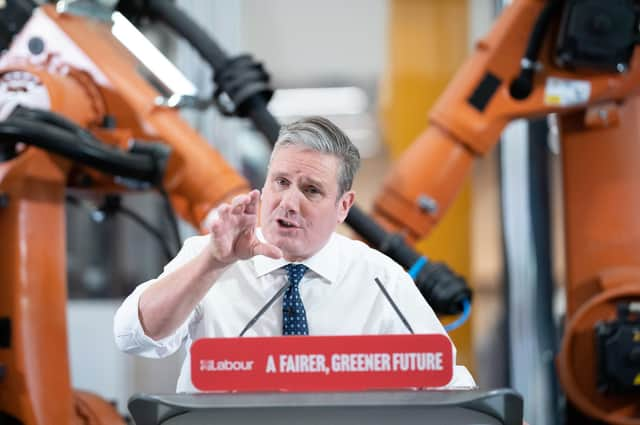 At this point, I might have stood to applaud. Then again when he spoke of devolving power to give people "public services they could rely on. High streets they could be proud of. Opportunities for the next generation. And all of this in their town or city".
Starmer astutely linked these sentiments to a Brexit slogan in order to redefine it. "It's not unreasonable for us to recognise the desire for communities to stand on their own feet. It's what Take Back Control meant.
"The control people want is control over their lives and their community".
The speech did not distinguish between different parts of the UK in terms of this philosophy, and why should it because the same imperative applies equally. It might have been an idea for Scottish Labour to have synchronised with exactly the same message.
Otherwise there is a danger of misinterpretation. In Scottish politics, any mention of enhanced "devolution" is lazily equated to giving Holyrood more powers, which is a separate argument and, in the wrong hands, the antithesis of what Starmer was talking about.
The devolution to which he committed Labour was to people; to towns and cities; to communities. That vision needs to be equally clear in Scotland both because it is right and also because it offers an extremely sharp alternative to what currently prevails.
Labour in Scotland needs to tell every community in Scotland that hoarding powers in Edinburgh is no more acceptable than hoarding powers in Whitehall. Since many of those most relevant to people's daily experience are already devolved to Holyrood, Starmer's message needs refinement for a Scottish audience.
The past 15 years in Scotland have seen a relentless process of centralisation at the expense of exactly the kind of devolution Starmer was talking about. Local authorities have been starved of resources and powers removed. Eighty per cent of their remaining budgets are ring-fenced by Scottish Ministers.
We see around us the physical evidence of that mentality – the dismal high streets, the overflowing bins, the locked park gates, the struggle to provide even basic services. It is inconceivable this would have evolved if local funding had been maintained in real terms and councils empowered to make decisions crucial to their own communities, but of little interest beyond them.
There is now a massive further transfer of powers in prospect through a so-called National Care Service. This week, the Convention of Scottish Local Authorities called for these plans to be put on hold and the hundreds of millions being ploughed into reorganisation committed to front-line services instead.
The SNP's intention is to create another batch of quangos to oversee the new structure, with the local authority role removed not just from care but also social work and children's services. The idea that boards appointed by Ministers will lead to better services flies in the face of experience while the certainty is that local accountability would evaporate.
For any politician with an inquiring mind, the whole subject of Quango Scotland is ripe for investigation because it is such a crucial feature of the SNP's controlling, centralisation agenda. The same network of individuals crops up time and again; the only criterion for survival being total fealty to the writ of those who appoint them.
The system is rotten and designed to eliminate challenge. My own part of the world is among its victims. Does anyone believe the debacle surrounding ferry services would have happened if there had been any element of local input allowed? Instead, the whole show is run from Edinburgh with ongoing disastrous consequences for island communities.
It is not enough to respond in isolation to each such example of how Edinburgh centralisation damages the fabric of Scotland. There also has to be a counter-philosophy. As Starmer said, the argument in its favour is "devastatingly simple" – but first it has to be articulated, in Scotland at least as much as anywhere else.
Comments
 0 comments
Want to join the conversation? Please or to comment on this article.