Highly protected marine areas (HPMAs): Nicola Sturgeon and Scottish Greens have left a dangerous legacy – Brian Wilson
Highly protected marine areas are not the only threats to coastal communities
When Nicola Sturgeon signed the grandly named Bute House Agreement in August 2021, surrounded by Saltires and Greens, her last consideration was the well-being of Scotland's coastal communities. Job done. Political fix achieved. "Pro-independence" majority at Holyrood guaranteed. Then onto the next headline-chasing stunt that would never come to much. To Ms Sturgeon, that's what politics was about – fixes and headlines with outcomes an optional extra.
Bequeathing problems to a successor was not a consideration because there wasn't going to be one any time soon. Operation Branchform lay ahead. In the unlikely event of internal opposition to her Green Deal, it would be crushed with a frosty glare. These days are past and in the past they must remain.
Humza Yousaf was the last acolyte who might have foreseen danger in the greenery. During the leadership contest, he insisted that highly protected marine areas (HPMAs) must be implemented because they were "a key part of the Bute House Agreement". So that was that.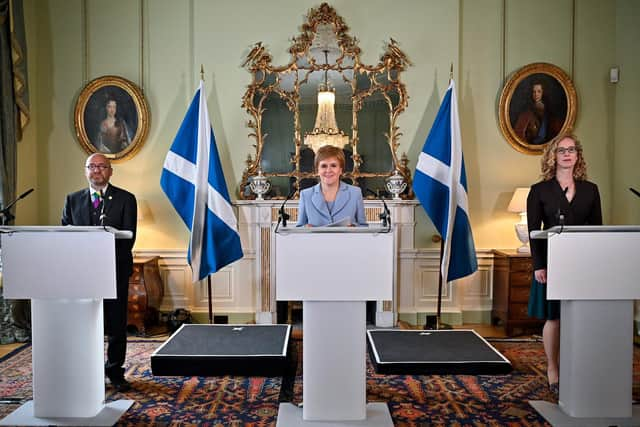 Except it wasn't. It is Mr Yousaf's misfortune that his rival, Kate Forbes, understands what is at stake. Then there is Fergus reminding him that nationalist hell hath no fury like a Ewing scorned. Even my own MSP in the Western Isles was forced off a very uncomfortable fence.
It is doubtful if many of their colleagues would voluntarily support HPMAs, though some probably think the initials relate to prisons rather than scallops. The fate of Hebridean fishermen is not the talk of urban steamies but a survival instinct tells them the Green Deal is bad news.
They are right. Unless the HPMA consultation is abandoned, that story alone will drag on for years. On this and other fronts, the convenience of keeping the Greens on board will eventually be outweighed by the political cost of doing so.
Believe me, real damage is already being caused by the uncertainty and sheer despair created by the HPMA threat. Mr Yousaf was asked to explain what communities must do, to meet his guarantee they will not be imposed upon them. He didn't have a clue and neither does anyone else, so they fear the worst and plan accordingly.
Mr Yousaf and the unfortunate minister, Mairi McAllan, keep saying the process has just begun, so await the outcome. The problem with this is that it isn't true. The process began with the Bute House Agreement. Immediately, fishermen and others warned it had the potential to wipe out their livelihoods. I wrote about it as far back as then, so I know.
For more than a year, warnings were ignored before a consultation document of stunning insensitivity emerged. As Fergus Ewing said, it represented "an incredible act of provocation". Because of its data-free starting point (explicitly attributed to the Bute House Agreement), trust is tarnished beyond redemption.
The fundamental error is to equate "marine protection" with external busybodies drawing lines on charts before banning everything in sight. For decades, places which would be devastated by HPMAs have pleaded for local management, precisely to protect their own waters from predatory activity inflicted by more powerful fishing sectors.
That should be the starting point for fisheries management; not an afterthought to which lip-service is forced by outraged opposition. There still seems to be minimal understanding of why a blunt instrument driven purely by a political imperative was such a doomed, disrespectful approach to decent people and fragile places.
Of course, HPMAs are not the only designations they live with. There are already MPAs (marine protection areas). Separately, NatureScot is drawing up charts to create PMFs (priority marine features, since you ask) which would have similar effects. This alphabet soup of zealotry is both vindictive and symbolic of dysfunctional government which nobody bothers to join up.
The HPMA case study is critical to coastal communities but also important to the whole of Scotland for what it represents – the arrogance of centralised government that believes itself to be untouchable, the mediocrity of policy-making in Edinburgh, and the pernicious influence of an intolerant Green veto.
Mr Yousaf has inherited these three handicaps but was also a willing accomplice in creating them.
Comments
 0 comments
Want to join the conversation? Please or to comment on this article.