Here is what Alba needs to do if it wants to make up ground - John McLellan
The jury cleared me. It's a line we're likely to hear regularly in the next five weeks of the Scottish election campaign, as former First Minister and now Alba Party leader Alex Salmond tries to brush off the charge from all political opponents that he is not a fit and proper person to hold public office.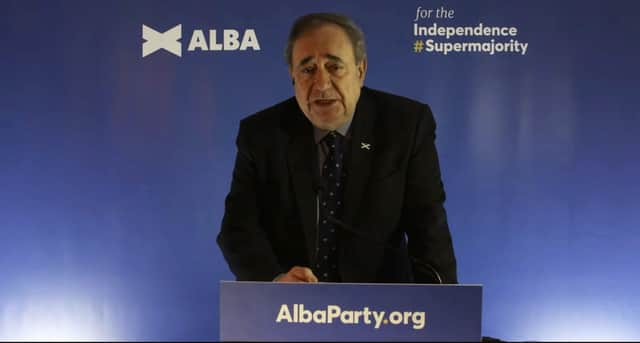 It was effectively all he had to say on the Radio 4 Today programme on Thursday when during a ferocious interview Mishal Husain accused him of being a sex pest, something about which his lawyers will almost certainly be speaking to the BBC. From the moment the most serious sexual harassment charges against him were laid, it was obvious Mr Salmond needed to admit to very close contact with his accusers, and the "sleepy cuddle" explanation contributed to a defence which persuaded the jury to clear him on all counts. But while there is no set height for the bar of fitness to hold public office, it's considerably lower than criminality, as both disgraced SNP MSPs Derek Mackay and Mark McDonald can testify as they leave the public stage for gross errors of judgement which did not result in arrests never mind a full criminal trial. Mr Salmond, it seems, is not even prepared to admit publicly to poor judgement.
The low public regard with which Mr Salmond is now held was reflected in the first poll to measure support for the new party, with Survation for Dundee Courier publisher DC Thomson putting Alba on just three per cent, which would not be enough to return any MSPs. It would surely stamp out the last embers of Mr Salmond's political career most people thought was over anyway, after a cringeworthy Fringe comedy foray and his equally credibility-busting chat show on Russian-owned TV. And as long as the polls stay that way it's easy for broadcast regulator Ofcom to dismiss Mr Salmond's demand that he be included in further TV election debates, crucial exposure for a party with no electoral machinery.
As Survation polls are based on telephone conversations it's possible that people caught on the hop won't admit to telling a stranger they are likely to back a man whose popularity in Scotland is lower than Boris Johnson's. But it increases the need for something which grabs attention, and the golden opportunity is for Alba to argue for an independent Scotland to join Norway, Iceland and Switzerland in the European Free Trade Association and stay out of the EU, as renegade now ex-SNP MP Kenny MacAskill this week strongly hinted it would. An estimated 400,000 independence purists voted to leave the EU in 2016, people the SNP has done its best to ignore, and with Yes-Leavers apparently making up around 11 per cent of the electorate that's a significant chunk of the electorate with no standard-bearer, shamed or otherwise.
Canvassing in the SNP's Edinburgh East stronghold before lockdown, I came across a few "I hate Brussels more than London" types, and if there was any doubt in Mr Salmond's mind about going after them, then the poor Survation return should have swept that away. And although it's easy to joke that Nigel Farage's praise for Mr Salmond and his gang was just what Ms Sturgeon needed, why worry about putting the pro-EU Nationalist mainstream off his SNP-Alba combination on the two ballot papers if they are snubbing him anyway? Alba needs more than an electoral tactic as its unique selling point because otherwise the UK Government can justifiably say the super-majority still represents a minority of voters.
New Scottish Labour leader Anas Sarwar's argument that the election should not be about what he called the Sturgeon-Salmond "psychodrama" is understandable, when one analysis indicated Labour would lose three seats if Alba won just five per cent of the regional votes. But psychodrama, revenge, cynical manipulation or not, Mr Salmond's intervention has electrified this election in a way never been seen before. The SDP's Gang of Four schism from Labour in 1981 was two years before an election was held, and contained none of the overt personal animosity behind Alba. Change UK in 2019 was just a hissy fit compared to this.
But Mr Sarwar is correct that this election should be about what the next Scottish Government will do with the vast powers and resources at its disposal, and the opportunity for Conservative leader Douglas Ross is to focus on a growing portfolio of positive policies and engage in a battle of ideas with Mr Sarwar, knowing a clear majority of people reject a referendum while the country is recovering from the pandemic. They can talk about why pensioner poverty has increased more in Scotland than elsewhere in the UK, the failure to close the education attainment gap, unmet health promises, and the shocking level of drug deaths to name but four. As Ms Sturgeon promises an early referendum to keep her party together as unrest grows, knowing there isn't going to be one should allow Mr Ross to talk about his programme and point to the UK Government's vaccination success, its Covid financial support and its climate change programme as positive evidence of the benefits Union brings.
The separatist movement is on the brink of a bitter civil war, with followers of discredited dinosaur on one side, and on the other those of a successor who denies turning Nelson's eye to his behaviour because it suited the movement. It also gives undecided voters a snap-shot of the division which would rage after independence, if even its supporters can't agree on the best way forward.
While Nationalist scores are being settled, Unionists can contrast that with a measured but optimistic debate about how talents, resources and energy can be focused on the recovery against a background of political stability. Never mind electoral pacts, just let the jury decide on that.
Comments
 0 comments
Want to join the conversation? Please or to comment on this article.